CEO's Report: Solar calculator simplified
September 3, 2020
Heartland reintroduces customer tool as a web-based application
School has started which means summer has come to an end. It also means our summer interns left us to get back to class.
But, they left behind great work, including a tool that will benefit our customers for years to come.
Heartland's solar calculator was developed in 2019 to help end-use customers determine true cost savings of solar installations.
It was available for download from our website as an Excel worksheet. Though fully functional, it did have limitations.
Now the calculator is completely web-based, accessed through an online form. This modified process is much more user-friendly and resolves snags from the previous version.
Determines costs, savings
The calculator analyzes projects that fall in one of two categories: retail or utility.
The retail calculator is for customers who want to install solar panels on their property.
Users must provide some data, such as average monthly electric bill and project size or budget. The calculator determines the project's generation output, savings and payback period.
It also indicates the likelihood of paying off the array, based on an average array lifespan of 20 years
The utility calculator helps determine the cost impact of a solar installation on a retail utility. Users provide the solar array size and the customer's previous kWh usage.
Both make certain assumptions to determine true cost savings from installing a renewable system on a home or business.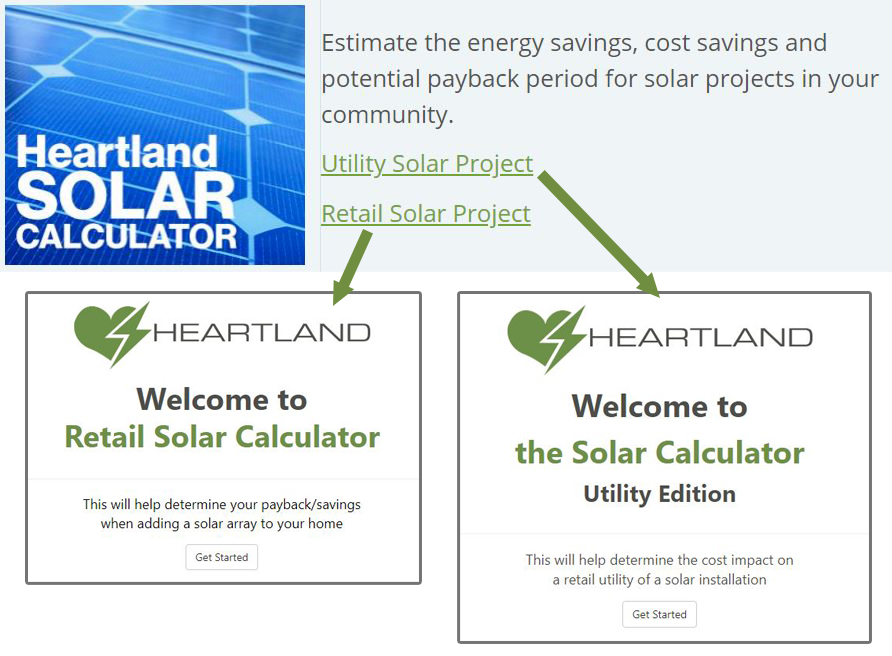 DEED helps fund internships
Interns developed both the Excel and web versions of the calculator. The internships were made possible in part by APPA's Demonstration of Energy and Efficiency Development (DEED) program.
DEED funds research and innovation projects to improve operations and services of public power utilities. Scholarships are awarded for paid work experience at participating utilities.
Electrical engineering student Peter Choudek created the original version during his internship in 2019. This tool gained national recognition with an Energy Innovator Award from APPA.
In 2020, Heartland was again awarded a DEED scholarship to make the renewable calculator web ready. Computer science major John Kirkvold completed this work this past summer.
Links to the web calculators are available on Heartland's website. Users will also find a step-by-step video tutorial, created by Kirkvold.
Tool helps make informed decision
A new report from research group BloombergNEF says solar power is the global leader in new power generation. In fact, at least 1MW of solar plants were installed in 81 different countries in 2019.
It's true–solar technology is less expensive than before and widely available for homes, businesses and grids. What's less clear is the value and suitability of small-scale installations.
Factors including roof space, location, state laws and more impact the payback period and savings that may be achieved.
With the ease of an online form, Heartland's solar calculator can simplify this cost-benefit analysis and help residents–and the utilities that serve them–make informed decisions.