Increase comfort. Save money.
Half of your energy bill is typically dedicated to heating and cooling.
It makes sense as we all want to be comfortable in our homes. But, are you utilizing the most efficient system?
Heat pumps offer an energy efficient alternative to furnaces and air conditioners and provide both heating and cooling.
Heat pumps use electricity to transfer heat, rather than generate it, making them more efficient. During the heating season, heat pumps move heat from the cool outdoors into your warm house. During the cooling season, heat pumps move heat from your house into the outdoors.
The Power Forward heat pump program provides rebates for purchasing a new ENERGY STAR qualified air-source heat pump or geothermal heat pump. Keep your energy bills low, have peace of mind and keep your home comfortable by choosing an electric heat pump.
Apply for a rebate* by completing the application and turning it into your local utility or city office.
The Inflation Reduction Act of 2022 also now provides tax credits for improving the efficiency of your home, including purchasing a heat pump. This tax credit is effective for products purchased and installed between January 1, 2023, and December 31, 2032. You can claim 30% of the project cost, with a maximum credit of $2,000 allowed. Learn more by visiting the Energy Star website.
Air-Source Heat Pump | $600 Rebate
Electric air-source heat pumps use the difference between outdoor air temperatures and indoor air temperatures to cool and heat. ENERGY STAR qualified heat pumps have higher SEER and EER ratings, as well as a higher heating seasonal performance factor (HSPF) than standard models, making them about 9% more productive than standard new models and 20% more productive than what you may currently be using.
Geothermal Heat Pump | $1,200 Rebate
Geothermal heat pumps are among the most productive and comfortable heating and cooling technologies currently available, because they use the earth's natural heat to provide heating and cooling. ENERGY STAR qualified geothermal heat pumps are over 45% more productive than standard options.
Air-Source Heat Pump with Backup Electric Furnace/Boiler | $1,200 Rebate
Heat pump must be 2 tons or larger, minimum SEER Rating of 15 and minimum HSPF of 8.5
*Must be a residential customer of a participating utility. Sioux Falls, SD residents click HERE for rebate information and applications. Madison, SD residents click HERE for rebate information and applications. Additional rebates may be available if backup heat is electric. Contact Ann Hyland below for details.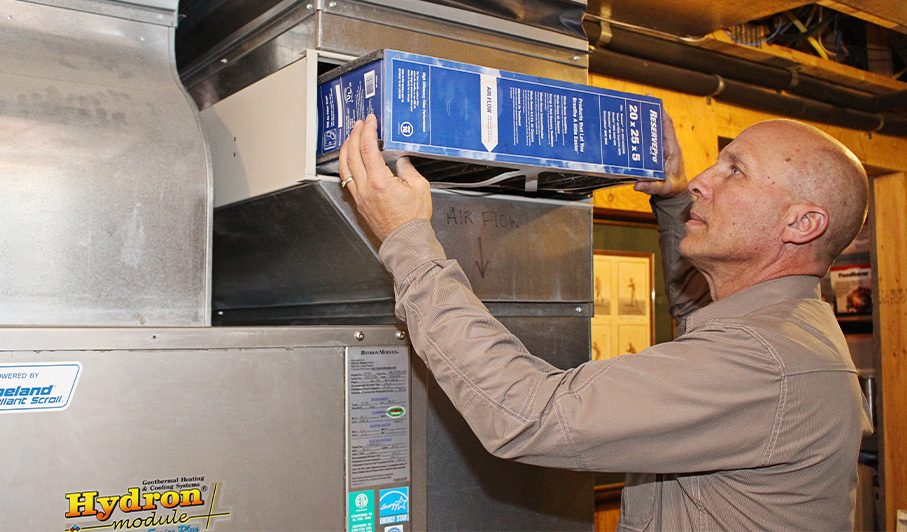 Newsroom
For all things heating and cooling, energy-saving tips and how Heartland is impacting your community, check out our latest news.
Read More