CEO's Report: Rural Minnesota communities threatened by Carbon-Free bill
February 1, 2023
A new law is rapidly advancing through the Minnesota Legislature which has the potential to increase electric rates as well as cause rolling blackouts and outages.
Senate File 4 and House File 7 call for Minnesota's energy to be 100 percent carbon free by 2040.
While Heartland Energy is well positioned to meet a 2040 target of providing carbon free energy to our customers in Minnesota, we do not support this proposed legislation.
Renewable energy should be part of any balanced power supply portfolio. However, this bill is severely flawed and will have the biggest impact on rural, municipal utilities.
The Minnesota Municipal Utilities Association has been hard at work, educating legislators on the potential impacts of these bills. However, thus far, their concerns have been ignored and the bill passed out of the House on a party-line vote.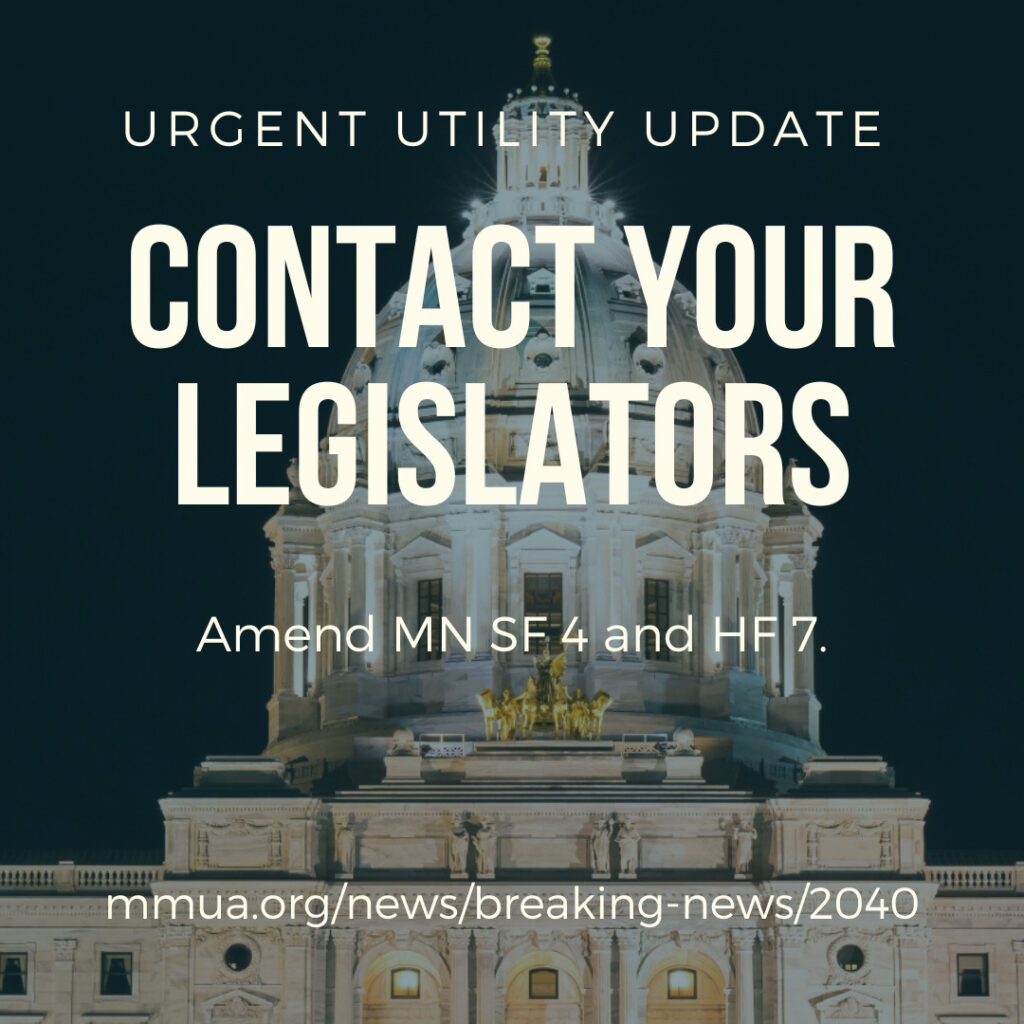 MMUA is now encouraging ratepayers across Minnesota to raise their concerns with legislators and Governor Walz. The organization has submitted a press release outlining their concerns to media outlets across the state.
Given the momentum of the bill, it is likely that opposing the bill will not work. However, there is still a chance for improvements to be made to help municipal utilities.
Municipal utilities can make their voices heard by sharing the press release with both ratepayers and local media outlets. You can also write your own version of the release stating how the legislation would affect your community.
You can write letters to the editor outlining the facts and calls to action MMUA states in their release. Encourage your ratepayers to do the same.
MMUA has also created a graphic (pictured at left) to share on your social media pages.
MMUA urges legislators to make adjustments to ensure that flaws in the bills are addressed so hometown ratepayers are protected from forces beyond their control.
Specifically:
The bills should ensure that municipal utilities and their ratepayers are not negatively affected by the need to generate power with locally owned legacy equipment during weather and grid emergencies.
Language should be removed that weakens customer protections against devastating blackouts and high rate increases.
The bills should exempt municipal utilities from repercussions of decisions made by entities with whom they may have contractual agreements that pre-date the new law.
MMUA CEO Karleen Kos has been actively asking for help in educating legislators on the impact this bill will have. She states:
Hometown utility leaders are right to be concerned about these well-intentioned bills as currently written. I have never met a municipal utility customer or employee who wasn't supportive of clean energy, but this law is not realistic for small town utility operations. What makes sense for Xcel is simply not feasible for Ely or Elbow Lake.
The story told most commonly in the press right now is that this is a great step forward for Minnesota. MMUA needs your help in showing that the proposed law must be improved or it will be very bad for the state.
Only you can help change the narrative. Make your voices heard. Contact your legislators, newspapers, media outlets and share on social media. Encourage your ratepayers to do the same. Reach out to the MMUA Government Relations team should you have any questions.
If you would like assistance in drafting messages to your legislators or media, please contact Heartland Energy Chief Communications Officer Ann Hyland at 605-256-6536.