CEO's Report: Meeting customers' needs
May 5, 2021
With COVID-19 controlling what most of us did throughout 2020, there wasn't as much opportunity to interact with customers as we'd like.
Now that many activities and events are returning to normal, we once again can meet in person and connect.
Annual Meeting offers valuable tools, insight
Heartland is excited to host our Annual Meeting May 12 after cancelling the event last year due to the pandemic.
We have an excellent speaker lined up. Mike Oster grew up in rural South Dakota and uses his many life experiences to speak on leadership, teamwork, and motivation.
While not everyone may see value in these topics, I challenge you to think again.
We all serve in leadership positions. All too often the words leadership and management get confused. All managers are not leaders and all leaders are not managers.
Anyone can be a leader, no matter your position. Maybe there is something in your community you'd like to see happen, or an idea you want to come to fruition. It takes leadership to get things done.
Successful communities are full of leaders who turn ideas into reality.
Leaders are excellent communicators. As a public power utility, you interact with consumers every day. While not all those interactions are positive, Mike provides tools and resources to make them more meaningful. The idea is to help build positive relationships through more effective communication.
I encourage you to take a day from the office to listen to Mike. I guarantee you will walk away with at least one valuable tool. You will also have the chance to vote for new members of the Customer Connections Committee.
The committee has been creative over the past year, meeting mostly virtually to share ideas. Workforce continues to be a struggle for many Heartland customers and the committee is looking for creative ways to help recruit quality employees. It is important for your community to cast a vote to elect members.
You'll also have plenty of time to visit with other customers and Heartland staff. It's a great time to share ideas and ask questions.
Although our RSVP deadline has passed, you can still join us. Simply reach out to Danielle Kearin or Ann Hyland and let them know you want to attend. I guarantee you won't regret it.
Addressing critical needs
Heartland offers a variety of programs for the benefit of customers. We pride ourselves on making these relevant to the communities we serve. However, needs are constantly changing, and we do our best to keep up.
With input from the Customer Connections Committee, we announced a new workforce development program at the end of 2020 to help customers tackle the hiring challenges many industries are facing.
Many in the public power sector are nearing retirement and replacements are needed. The areas of power line construction and maintenance seem to be the biggest concern, but customers are also seeing the retirement of finance officers and administrative staff.
Heartland developed a flexible program to aid customers in training and attracting new hires.
A few customers have already taken advantage of the program to offer hiring bonuses and assist with education costs. I encourage you to get in touch with Kelly Dybdahl if you foresee hiring new employees and would like more details.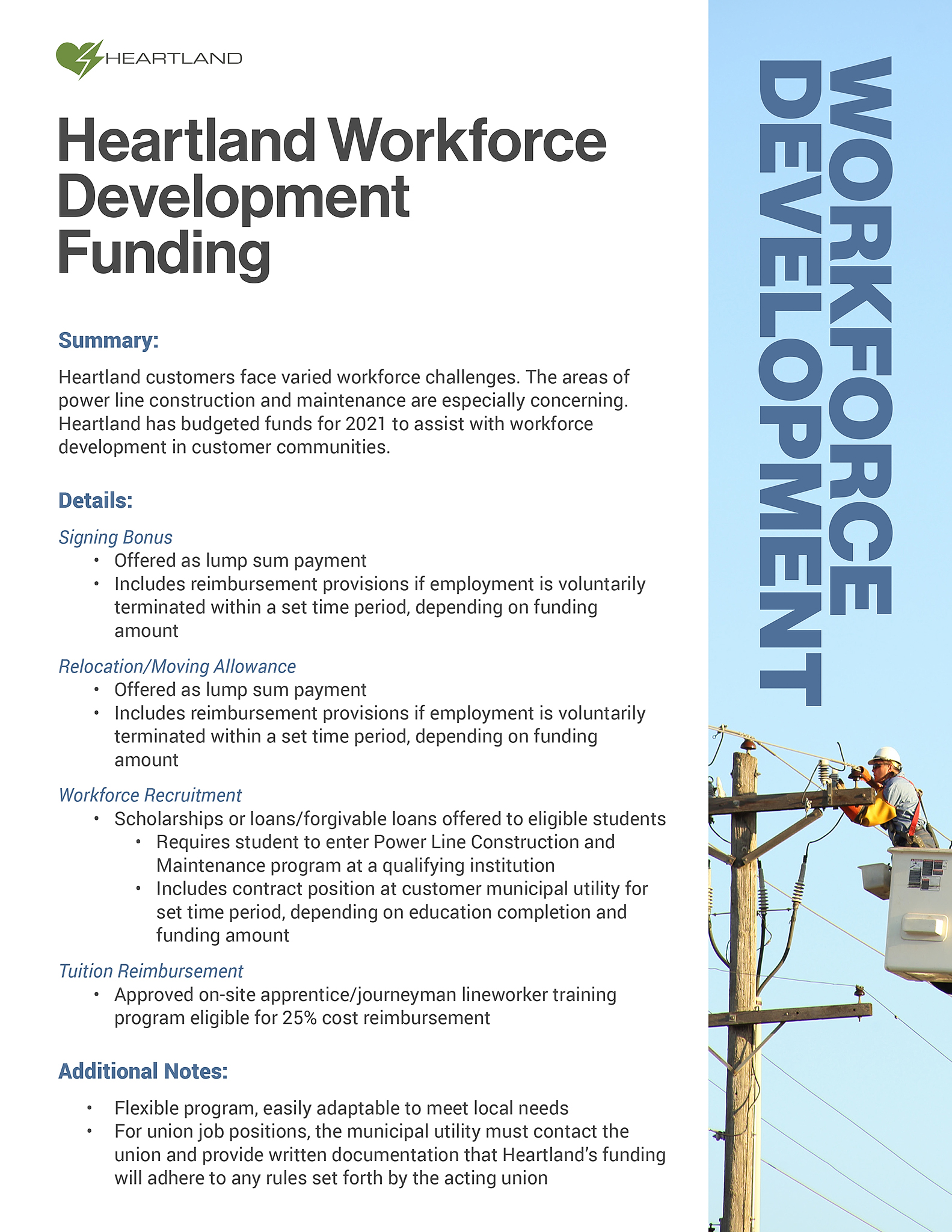 Education is key
It is important for not just staff but mayors and city or utility commission personnel to understand our programs. We are happy to visit with anyone about the details to ensure communities can take full advantage.
Even if you have been given the rundown of the programs already, we're happy to do it again. There is a lot of information to cover. Don't ever hesitate to give us a call if you have questions.
One area I'd like to receive more focus is cybersecurity.
Public power utilities provide essential services. A few months ago, hackers broke into a city's SCADA system in Florida to poison their water supply. They exploited the city's outdated operating system and weak passwords to gain access.
Examples like this show hackers aren't always looking for monetary gain. Significant damage can be inflicted without ever accessing account numbers. Utility and city personnel need to be on high alert and prepare for such instances.
Heartland works with industry partners to provide professional services to ensure your utility is secure. Utilizing these services now could prevent a devastating attack later, and the cost will be far less.
Contact Ann Hyland at Heartland for more information.
Suggestions welcome
We will continue offering programs and services that will make an impact on your community. However, if you would like to see a change to a program or have an idea for a new one, pleas let us know. No one knows better than you what would offer your community the most benefit.
In addition to our Annual Meeting, we are already gearing up for our Summer Conference, scheduled for July 27. We are excited to bring this event back to Madison, utilizing event space offered by the Best Western Plus. We are working on lining up some excellent speakers to help spark ideas for community growth and prosperity.
I look forward to seeing you at our Annual Meeting on the 12th and getting the chance to visit in person again.