A sweet find in Wessington Springs
May 5, 2021
Sweet Grass earns first Community Spark Award from Heartland
Something special exists in the heart of Wessington Springs, South Dakota.
The aroma of fresh coffee and baked goods draw patrons inside a two-story brick building on Main Street. Built in 1918, modern updates complement its original brick façade and lead windows.
Inside, they are welcomed by a warm, inviting atmosphere with eclectic furnishings. The building is home to Sweet Grass, an eatery, bakery, coffee shop and catering service.
Opened by Heather Larson in 2012, the business fills a niche in the rural community of just under 900.
Larson aimed for an upscale atmosphere and high quality, made-from-scratch cooking. Residents say she's accomplished that and so much more.
"Sweet Grass is high class in a small town," says one customer. "It's a beautiful establishment that attracts visitors from all over the region."
Sweet Grass is the inaugural recipient of the Community Spark Award from Heartland Consumers Power District. The award recognizes outstanding small businesses in Heartland customer communities.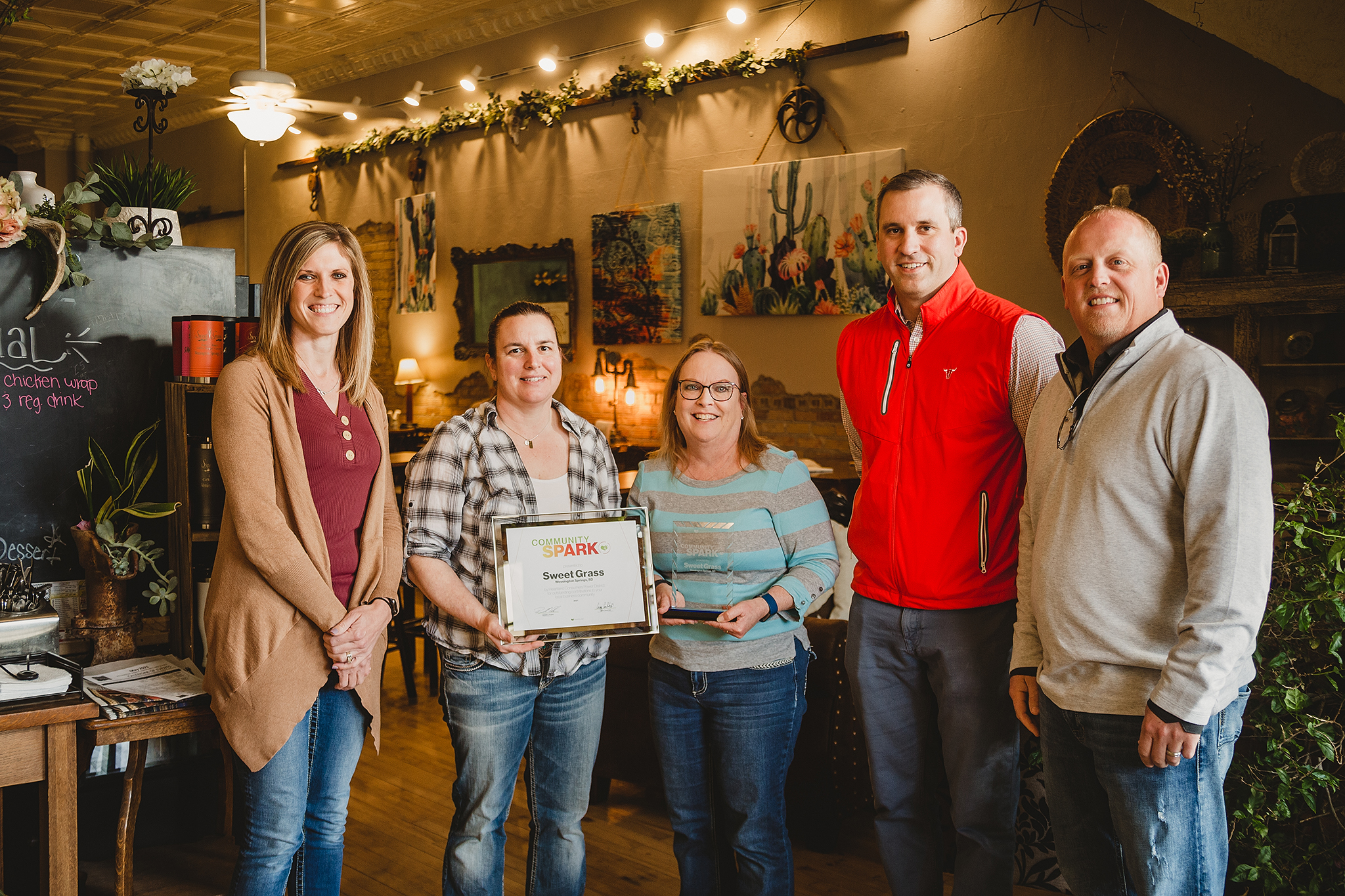 Destined for Sweet Grass
Larson grew up in San Antonio, Texas. She relocated to the Midwest with her family as a young adult.
She graduated from South Dakota State University with a degree in Animal Science. In 2000, she moved to Wessington Springs with her husband, Brad, and two children, Ellie and Riley.
She spent the next decade commuting to Mitchell to work for SDSU Extension Service. Eventually, she reached a crossroads.
"I could go back to school, get my master's degree and continue on that career path," she said. "But I hated the commute, and I wasn't very passionate about the work."
Meanwhile, she had been baking cakes and providing catering services in her free time.
"I was using my own kitchen and it was becoming overwhelming. I found myself reading cookbooks instead of cattle books for work."
Ultimately, she took the plunge into the small business world. Although the work is more rewarding, the days are much longer.
Luckily for Wessington Springs, Larson wouldn't have it any other way.
"I never wake up not wanting to go to work," she said. "I love this building and I love to cook."
Delicious and diverse
Sweet Grass serves breakfast and lunch five days a week, plus dinner on Friday and Saturday evenings. The menu includes a mix of familiar favorites and upscale fare.
The java shop's menu features South Dakota-roasted coffee. A large variety of wines, domestic beers and teas are also available.
The bakery features freshly baked pies, cookies, cakes, breads and more. Homemade jams, salsa, and apple sauce, as well as Sweet Grass rubs and seasonings are also available.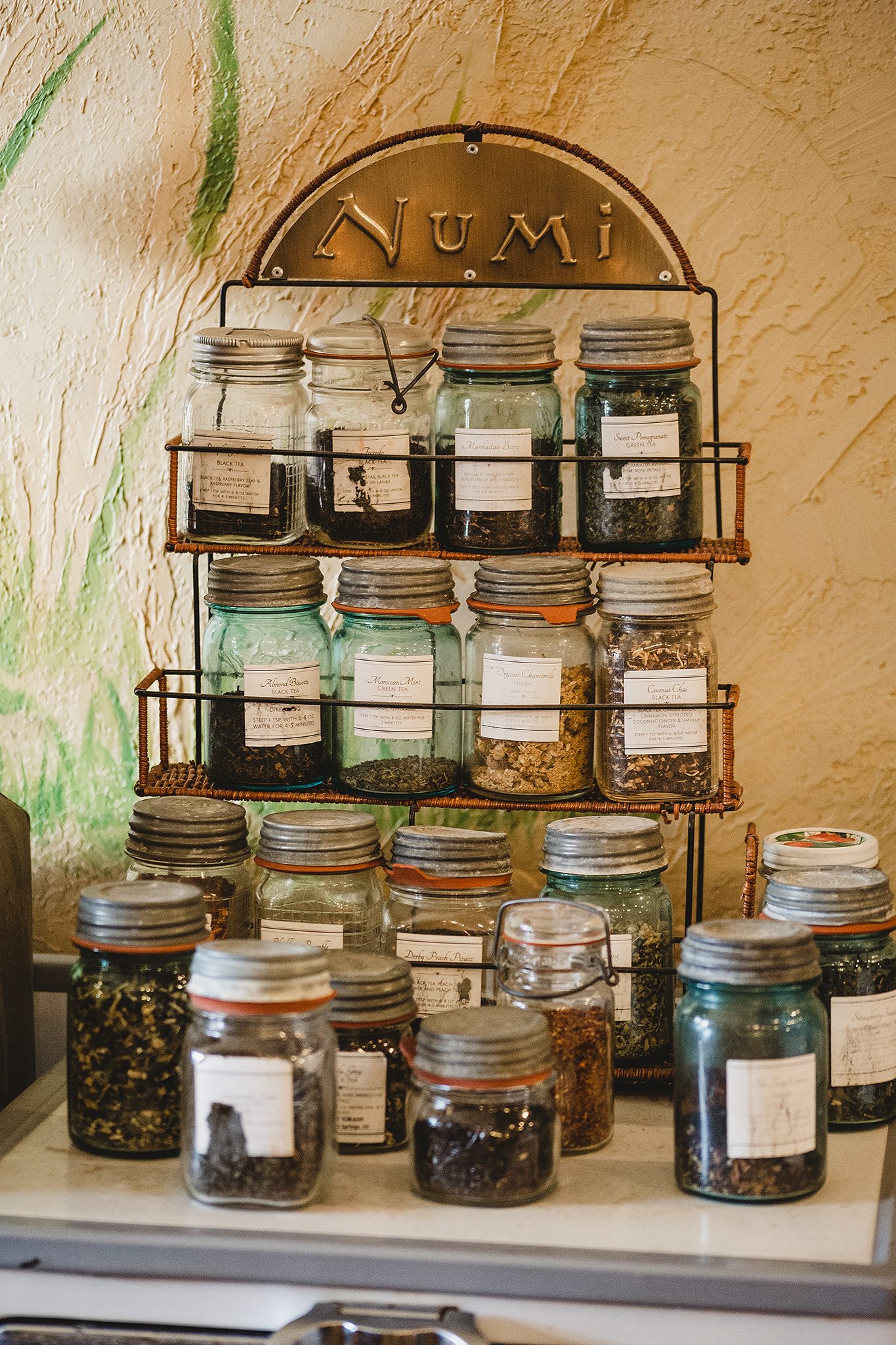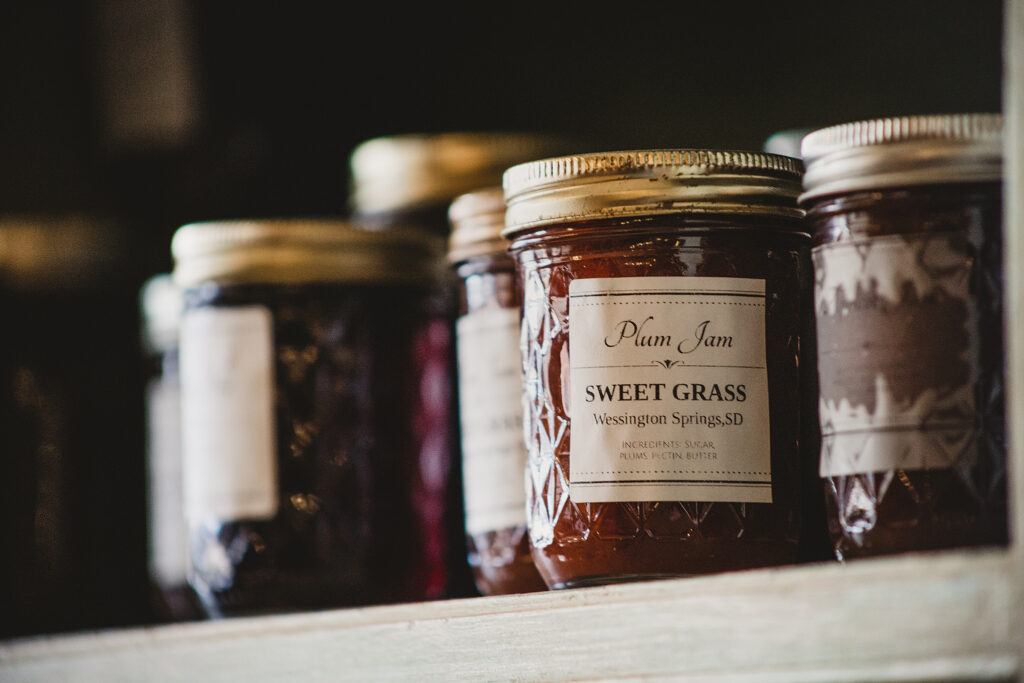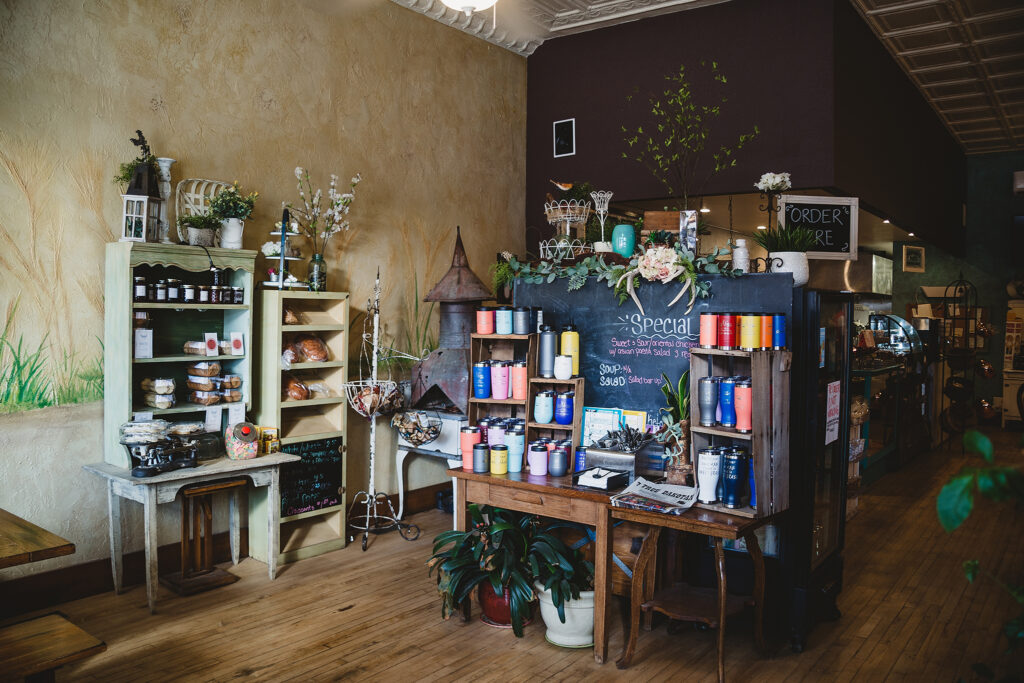 Sweet Grass also offers catering within a 150-mile radius. Larson creates custom menus for each occasion or follows special recipes upon request.
Larson's passion for food is evident with every dish served.
"I grew up in Texas, so I use a lot of flavor," she said. "If it doesn't leave an impression, it doesn't get served. I want people to walk away feeling amazed."
Lending to Sweet Grass' charm is the historic building it occupies.
In its lifetime, the first floor has served as a community room, dance hall and car dealership, among other uses. The second floor was once home to the Masonic Lodge and Eastern Star.
Larson transformed the main floor when she took over, mixing in modern features with remnants of the original occupants.
Mismatched and repurposed furniture, exposed brick, and the original tin ceiling give the space a slight industrial, yet warm and comfortable feel.
"I want this place to feel like home but with a touch of class. I'm inspired by it and hope others are too," Larson says.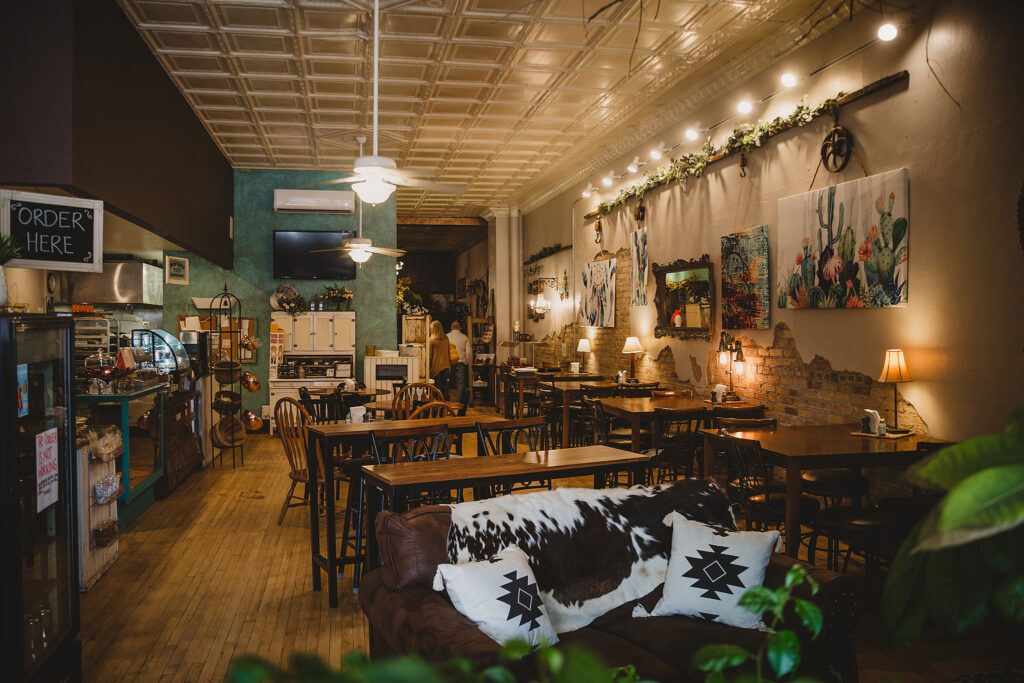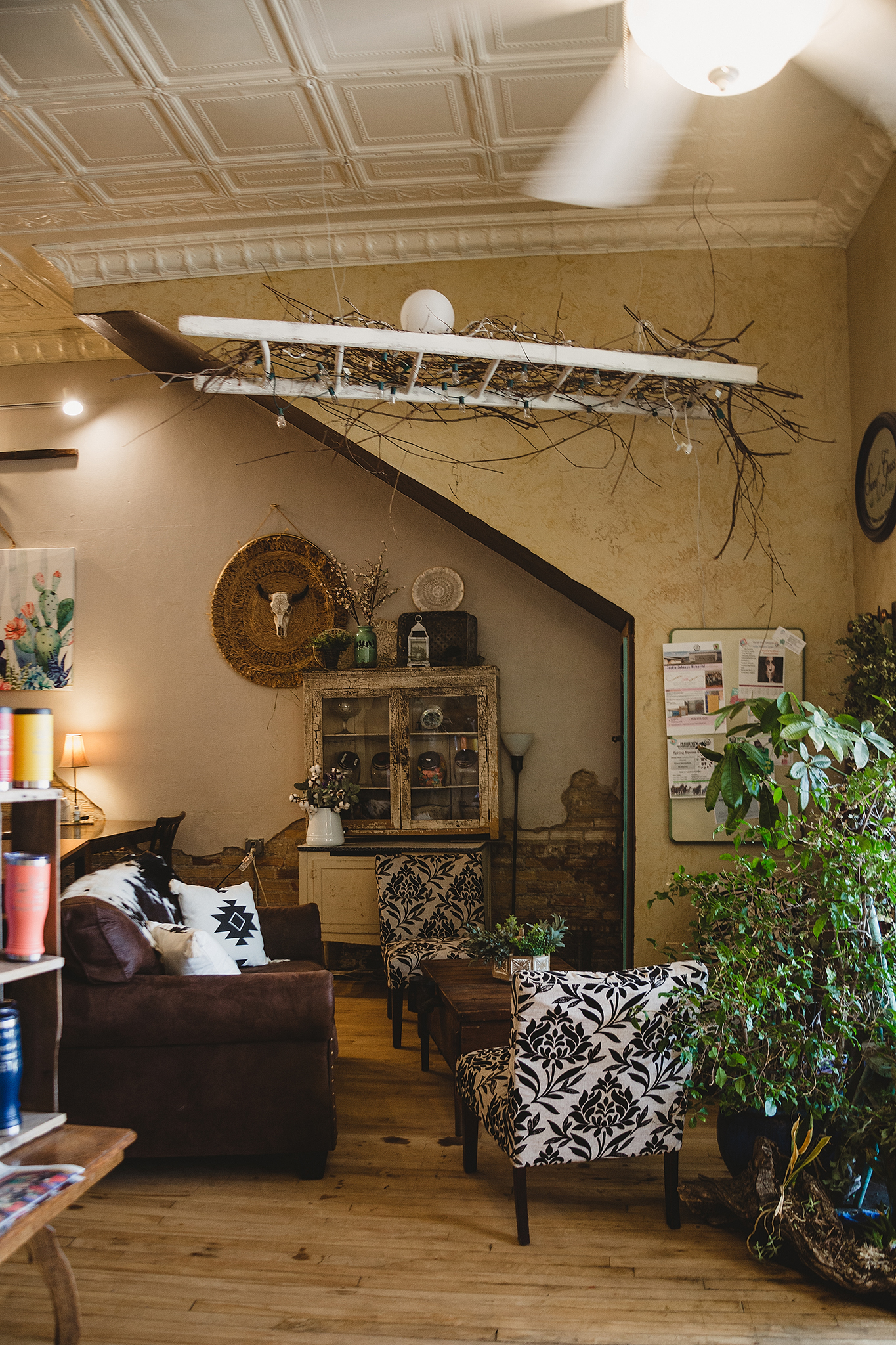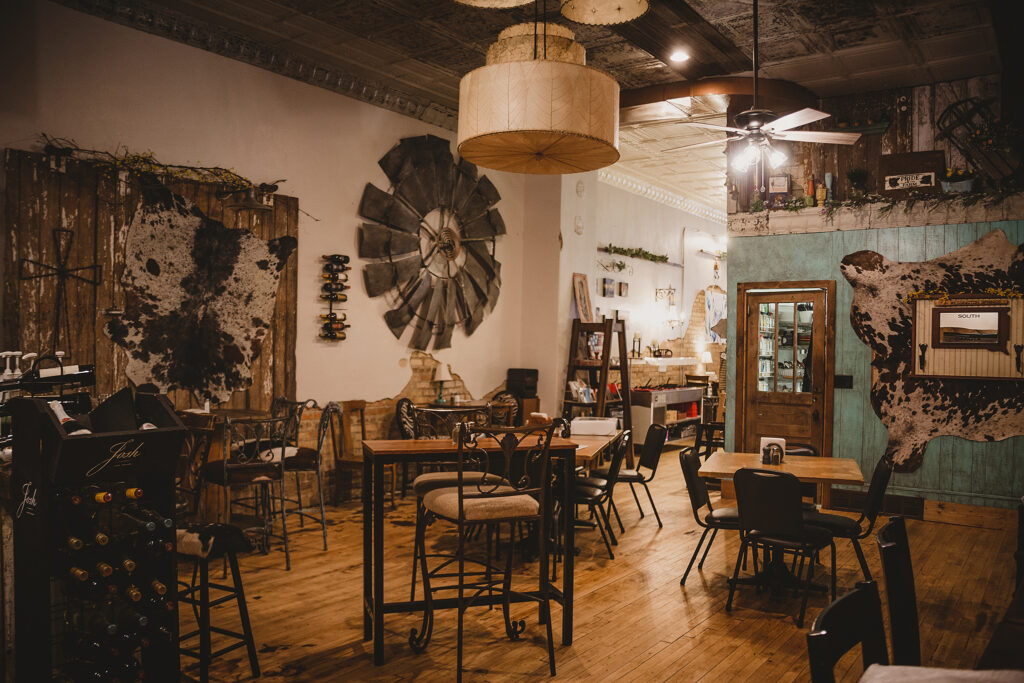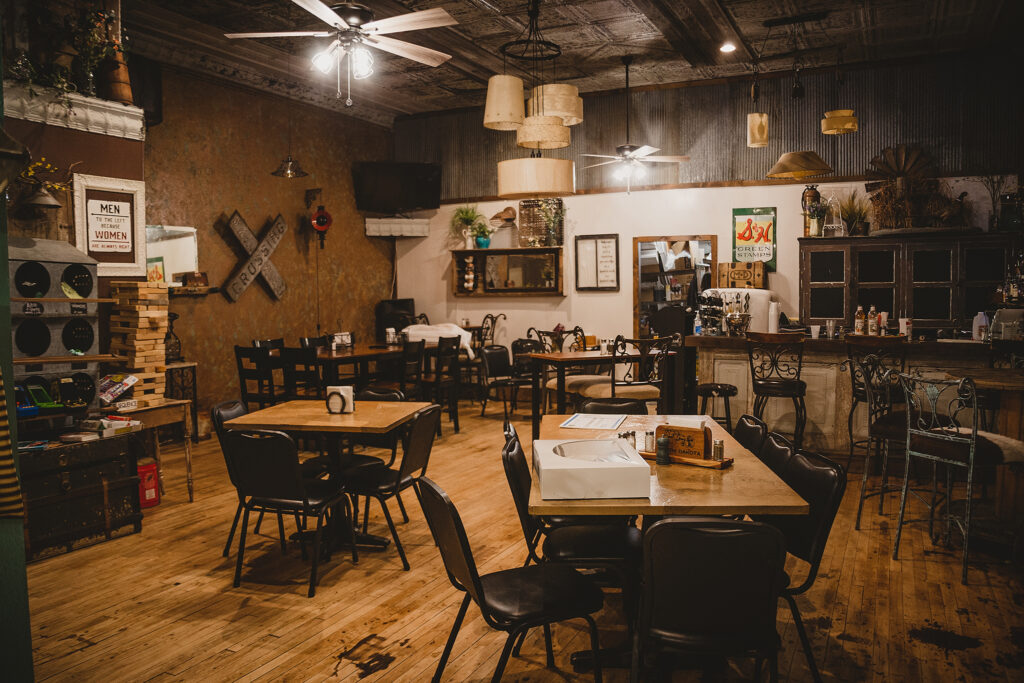 Commitment to local
Larson utilizes the best fresh, local ingredients for her menu items.
"About three-fourths of my supply comes from the local grocery store across the street," she said. "Ryan is great to work with and I think it's important to support fellow business owners."
Ryan Jensen owns Springs Food Market. He previously worked in the banking industry.
"I actually helped Heather with the financing to open the business," Jensen said. "It has been wonderful to witness her journey and now work with her in this new capacity."
Jensen credits Larson for helping draw people to Wessington Springs–especially those who are passionate about supporting small businesses in rural communities.
"Sweet Grass is the type of place people will go out of their way to visit," he said. "While here, they may also visit the locally owned-grocery store or other shops. The business helps expose people to the greater Wessington Springs area."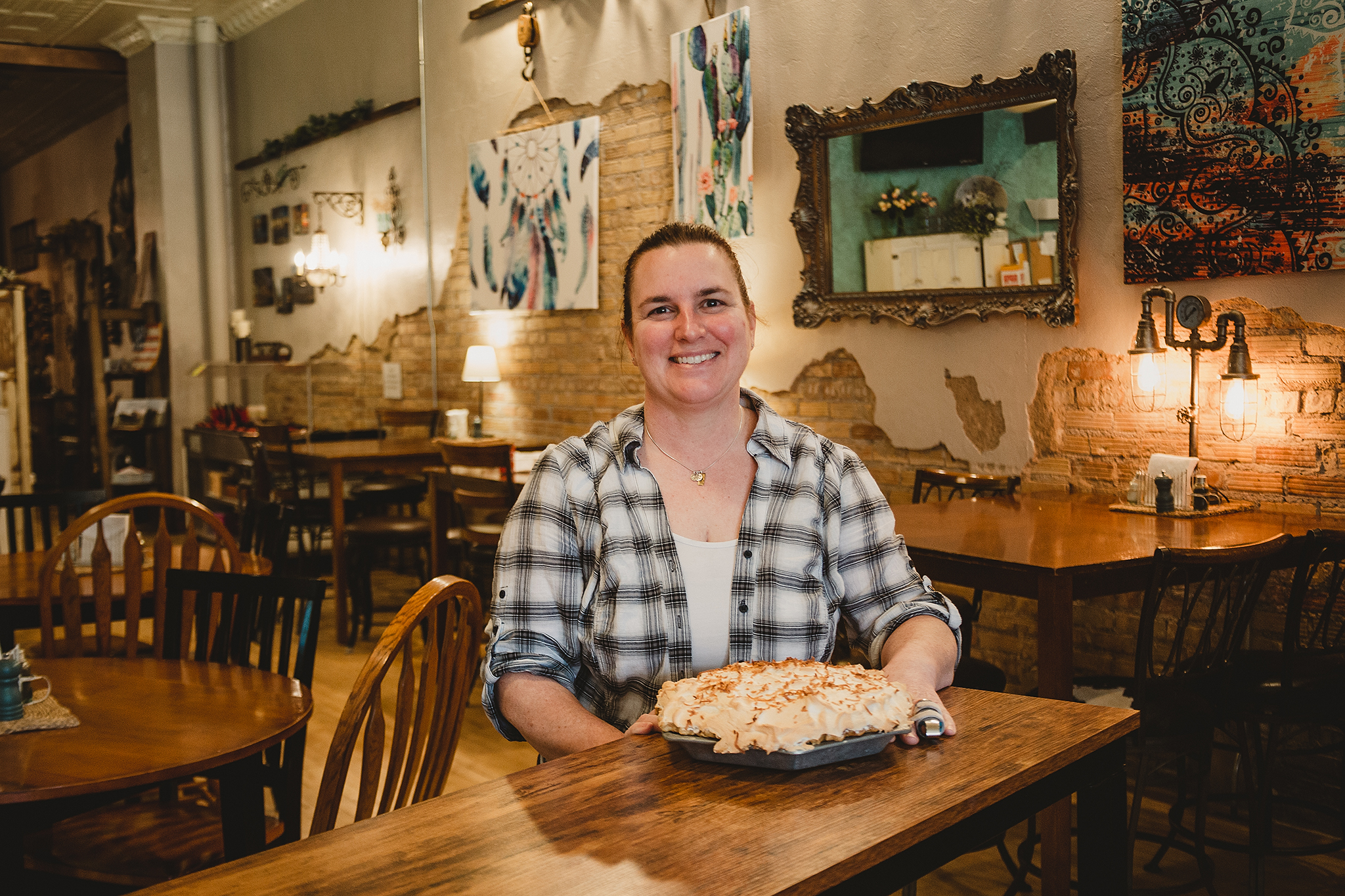 For her part, Larson is pleased to have an impact on the community.
She lends her creativity as a volunteer for the Wessington Springs community development board. Sweet Grass hosts events and fundraisers and donates catering services for various causes.
When another eatery looked to open earlier this year, Larson offered guidance. The L&C Cone Zone recently reopened under new owners, Leon and Candi Sails.
Like Larson, the Sails lack a background in the restaurant industry. Rather than viewing the Sails as competition, she offered information and support.
"I've been working with them on ordering and other tasks," she said. "I want to help them avoid the early mistakes I made as a new business owner."
Creating spark
Sweet Grass exemplifies the vital role small businesses play in a community.
"Small businesses create spark, especially in rural communities" said Heartland Director of Economic Development Casey Crabtree. "They create jobs, drive innovation, boost economies and support local causes."
As the first recipient of Heartland's Community Spark Award, Sweet Grass represents the best.
"We created this award to recognize small businesses that go above and beyond to serve. They are the backbone of our customer communities and we want to celebrate their accomplishments and their generosity. Sweet Grass is more than deserving of this type of recognition," Crabtree said.
Heartland supplies wholesale electric power to Wessington Springs and other municipalities across the Midwest. Heartland offers business incentives, financing and economic development grants to assist communities with growth and development.
Sweet Grass utilized Heartland's Growth Incentive program in its early years of operation. The program awards electric rebates to new and expanding businesses. The rebates equate to one years' worth of free power over a three-year period. It allows new business owners to focus on running their business rather than worrying about electric bills.
"As a new business, that program had a huge impact," Larson said. "This old building isn't very efficient, so it was nice to offset those costs, especially when we were just starting."

Heartland created the Community Spark Award to celebrate Small Business Week, typically celebrated the first week of May. The celebration has been moved to September due to COVID, but Heartland wanted to recognize Larson for her contributions to the Wessington Springs community.
Nominations were accepted for the award across Heartland's customer base. Sweet Grass was recommended by an anonymous party, citing her many contributions to the community.
With generosity and a positive attitude, Larson has emerged as a leader in her community. She exemplifies going above and beyond to serve.