CEO's Report: Cold weather creates energy emergency
March 2, 2021
Customers asked to conserve energy to protect electric grid
Subzero temperatures may not seem that unusual in the Midwest. But, the electric grid was hit with unprecedented demand the week of February 14 as record low temperatures extended up and down the central portion of the United States.
Utilities across the region were thrust into new territory as calls came for consumers to conserve energy. Rolling blackouts were carried out in some areas to prevent damage to the electric grid.
Heartland customers stepped up to help their fellow utilities by echoing requests for residents and businesses to conserve electricity. Public power ideals shone through.
While the state of Texas made headlines during the extreme weather event, limited interruptions of service in Heartland's service territory were seen. While Heartland customers are situated in two different regional transmission organizations (RTOs), Southwest Power Pool experienced conditions unlike ever before.
Understanding how SPP works
Southwest Power Pool (SPP) operates the electric power grid in a 14-state region on behalf of member utilities. Their service area stretches from North Dakota down into parts of Texas.
SPP does not own electric generation resources or transmission lines, but rather balances the supply and demand of electricity minute-by-minute to ensure power gets to customers.
When electricity is generated, it goes into a "pool," and from that "pool," SPP manages the energy market throughout the central portion of the U.S. They ensure the amount of power sent is coordinated and matched with power received.
They are like the "air-traffic controllers" of the electric grid.
When one area is affected by extreme weather or another event, power generated in other areas can be dispatched to meet demand.
However, this event created record cold temperatures throughout SPP's service territory. Areas with typically mild weather were below freezing and northern states stayed below zero for several days. This created an unprecedented demand on the electric grid.
Why has the SPP region been so affected by the current cold-weather event? This map shows overlap between the coldest temperatures in the nation and SPP's 14-state balancing authority area. pic.twitter.com/floZvwYktZ

— Southwest Power Pool (@SPPorg) February 17, 2021
It also put a strain on the available resource pool. Demand for natural gas, both as a heating source and for electrical generation, increased substantially. This caused supply shortages, exacerbated by the impacts of unusually cold temperatures on generation facilities in southern SPP.
During this period, SPP also experienced unusually low wind levels, significantly impacting available wind generation. A combination of seasonally unprecedented demand with these supply constraints created a "perfect storm."
Energy Emergency Alerts declared
SPP declared the first Energy Emergency Alert (EEA) early on the morning of February 15 as the electric grid throughout SPP's operating area saw increased strain.
SPP fluctuated between three different levels of emergency status through February 19. At level 1, enough generation is available to meet demand, but backup resources are below necessary levels. This could be considered the warning stage.
At level 2, all generation requirements can no longer be met and outside assistance is requested to meet demand. Consumers are asked to conserve energy to prevent power shutoffs.
SPP entered a level 3 EEA twice, once on February 15 and once on February 16. At this level, there is not enough electricity being generated to meet demand and power outages may be utilized to reduce demand and protect the system.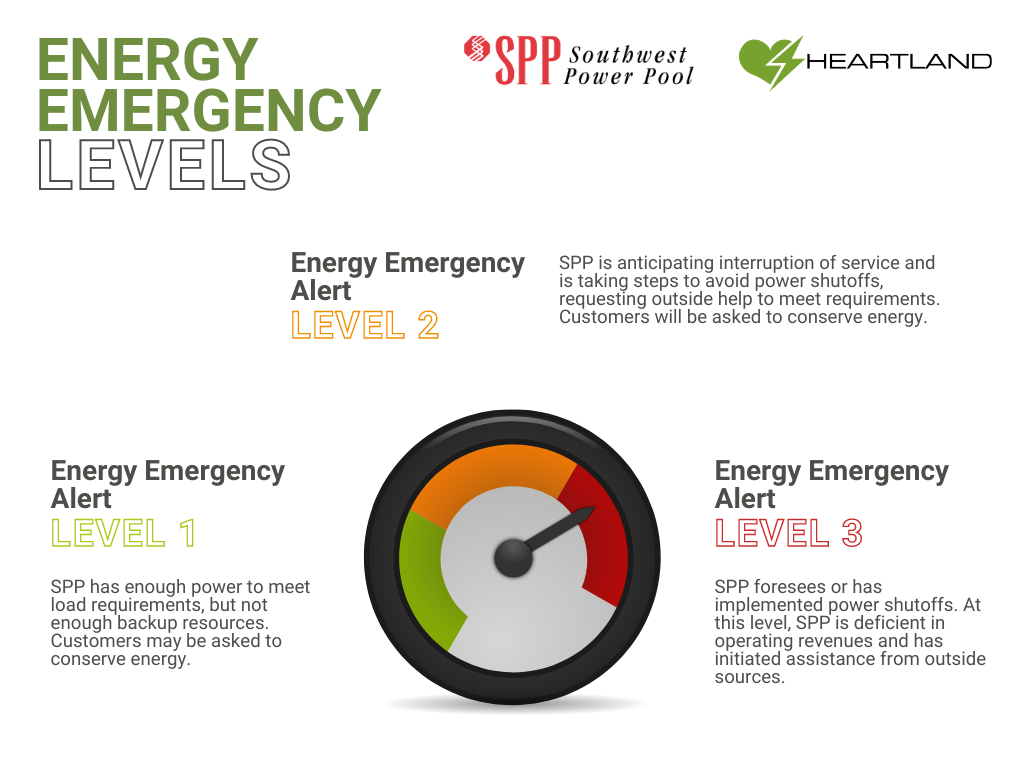 Two Heartland customers were affected by the controlled outages included Tyler, MN and Valentine, NE.
This marked the first time in SPP's 80-year history it declared Energy Emergency Alert Levels 2 or 3 for its entire region. It is also the first time the grid operator has had to direct member utilities to implement controlled, temporary service interruptions to prevent widespread blackouts.
When the demand on the system outweighs the amount of electricity available, potential for catastrophic damage exists; damage that would result in much longer outages.
Market benefits
Heartland joined SPP in 2015. The integration provided greater flexibility and increased options for buying and selling power. While this particular weather event did create some inconveniences, market participation still comes with many benefits.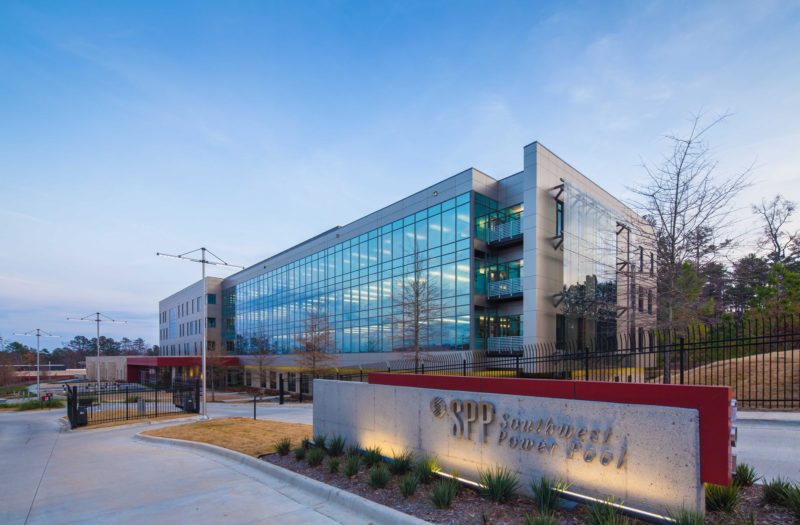 The goal of an RTO like SPP is to provide the lowest cost wholesale energy possible through the least cost generation dispatch.
With a vertically integrated utility, where the utility owns generation, pays for transmission and sells power directly to the consumer, there is more risk. During an event like we saw in mid-February, if our generation source was unable to perform, all customers would have been affected.
Participating in a market reduces that risk by having access to the entire pool of generation resources. The same is true any time of year. If for any reason, our generation is limited, we draw from the pool to serve customers.
Owning generation in the market also comes with benefits. Market prices fluctuate and during the February polar vortex, prices escalated as demand surged. Utilities that depend largely on the market for power were subject to those increased prices, such as we heard about in Texas.
Heartland, on the other hand, also sells generation into the market, which helps balance out our position. Our diverse resource mix helps protect customers against market swings.
Public appeals
Heartland issued public appeals to consumers to conserve energy throughout the energy emergency.
We continually communicated with customers, keeping them informed of which level SPP was operating at and measures they could take to control demand. We also blasted social media with energy conservation tips, and did our best to keep everyone apprised of the situation.
Utilities served by Heartland orchestrated their own appeals to consumers and took available measures to conserve electricity in their communities.
SPP has gone back to an EEA Level 2. This means @SPPorg may not be able to meet all load requirements and is anticipating service interruption. They are doing all they can to avoid power shutoffs. We are nearing the end – please continue doing your part to conserve energy. pic.twitter.com/x3iEaBiKJA

— Heartland Power (@HeartlandPower) February 18, 2021
Every simple action taken helped protect the entire system. As public power communities, our customers gave new meaning to the term "community powered."
Barbara Sugg, SPP president and chief executive officer, thanked SPP members, neighboring systems and the millions of people in the region for their response to the historic event.
"This has been a case study in everyone doing their part on behalf of the greater good. We take our responsibility to keep the lights on very seriously and appreciate the trust placed in us to do so. Thanks to voluntary conservation by people across our 14-state region, the quick actions taken by local utilities, and the dedication and expertise of our operators, we're thankful we could keep the region-wide impact of this storm to a minimum."
SPP President & CEO Barbara Sugg shared a message regarding SPP's emergency response related to last week's weather event and a look at recovery and the future. https://t.co/65WMbG6waB pic.twitter.com/7xr6fjYSJF

— Southwest Power Pool (@SPPorg) February 24, 2021
Fortunately, the energy emergency ended by February 19  and SPP returned to normal operations as warmer weather moved across the region.