Beauty Brew Coffee & Boutique brings variety to downtown Groton
April 6, 2021
By Dorene Nelson, Groton Independent; reprinted with permission
The Beauty Brew Coffee & Boutique, planning to open on Groton's Main Street around the first part of March with a Grand Opening in the middle of March, is the perfect combination for favorite coffee drinks, gifts, Groton Tiger gear, along with many great choices of ladies' tops, dresses, pants, and more!
Carla Tracy and Kassie Dunbar are the co-owners and creative minds behind this new store.
"I ran a daycare out of this building for seven years," Tracy explained, "and now I want to use it for something new and exciting! We wanted to contribute to the community and have some fun along the way."
"Kassie mentioned to me that she would like to start an on-line clothing boutique, and I had considered starting a boutique a couple years back" she said. "What better way to use this space then to combine a coffee shop, home decor, and Groton Gear along with some great selections of women's clothes!"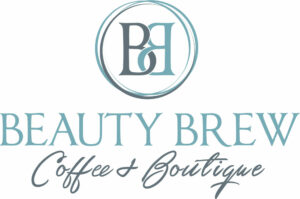 "Due to my other job, I'll be working here on evenings and weekends," Dunbar explained. She currently runs a daycare.
"We have partnered up with the local vendor, Front Porch 605, for some home decor and gift items. The clothes that we will be selling include tops, dresses, jeans, athletic wear, shoes and jewelry from many new vendors. We also will be supplying the latest styles on graphic tees and Groton apparel from another local vendor, AMA Design. We are excited to bring so many great local items into our store and work with some very talented local ladies," commented Tracy and Dunbar.
"We've been busy remodeling the building to suit our business," Tracy continued. "Our husbands have been working very hard and have done all of the work themselves."
"There is all new flooring, two dressing rooms, a kitchen, and various shelving and unique displays throughout the store," Tracey smiled. "Our hard working, clever husbands have helped make our dream into a reality!"
The boutique features unique and non-traditional displays of clothing and items. Photos courtesy Groton Independent.
"We've decided to use refurbished or repurposed material and supplies," Dunbar stated. "The counter, for example, is made from stained pallets with a custom-designed counter top. The walls have old barn wood, tin, doors, and windows. We are excited to show it all off to the community."
"The coffee shop is located in the rear of the building where the existing kitchen for my daycare had been," Tracy explained. "The coffee nook has a table with four chairs and two additional smaller tables, made from wooden wire spools, that can seat two on each table for a total of 8-10 customers at once, along with a full couch."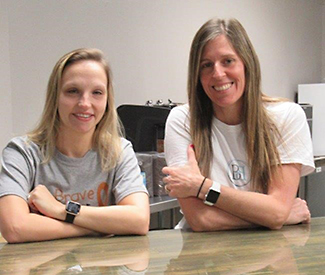 "The kitchen has been remodeled with large stainless-steel sinks and counters to meet the health inspector's requirements," Dunbar said. "We eventually plan to offer some homemade snacks in addition to the coffee."
"In order for us to open the coffee shop and serve any food and drinks, we both had to take and pass the ServSafe Certification course," she added.
"We are very eagerly looking forward to our grand opening and welcoming our customers," Dunbar added. Their grand opening is slated for March 19-20. "Be sure to check us out; there will be plenty of giveaways and fun!"
Featured image: Interior of the new Beauty Brew Coffee & Boutique; courtesy Facebook.