Utility partnership helps drive upgrades at Tony Downs Foods
March 2, 2021
Sustainability is key at Tony Downs Foods of Madelia, Minnesota. Investments are made regularly to reduce waste and drive positive change.
That includes investing in efficient equipment to conserve energy and create a healthy workplace.
Tony Downs produces several quality products you see regularly on your grocery store shelves. The company started over 70 years ago and today is a leader in fully cooked protein processing and co-packaging of frozen entrees.
The Madelia plant makes canned, pouched, and frozen chicken, and some beef, pork and turkey.
Expanding Operations
Tony Downs recently purchased another building in Madelia to expand operations.
Several measures were taken to conserve energy and increase efficiencies before production started at the new building.
All lighting was upgraded to LED from inefficient metal halide and fluorescent fixtures. LEDs use about half the energy of metal halides to deliver the same amount of light, and last about seven times longer. LEDs use about 20% less power than fluorescents.
They also installed an efficient process pump with variable speed control to replace 3 inefficient pumps. Pumping systems account for a large portion of energy use in industrial processes. A more efficient system decreases unnecessary power consumption.
A step-down transformer was also installed which lowers the voltage of electricity before it enters the facility. This provides reduced energy losses.
All told, Tony Downs expects to save around $58,000 on their electric bills annually by making the improvements.
Rebates help offset costs
To help offset some of the upfront costs of making the improvements, Tony Downs received rebates from both Madelia Municipal Light & Power (MMLP) and wholesale power supplier Heartland Consumers Power District.
MMLP provided the company a $25,000 rebate through their Conservation Improvement Program. The utility works with Frontier Energy to provide free consultations to commercial businesses on how to improve efficiencies, ultimately providing costs savings.
"Competitive businesses in Madelia like Tony Downs Foods are the livelihood of the area," said Chris Trembley, manager of Madelia Municipal Light & Power. "We are proud to offer Frontier Energy's expertise at no cost to the customer. Lowering energy use and demand is an excellent way for local businesses to strengthen their bottom lines."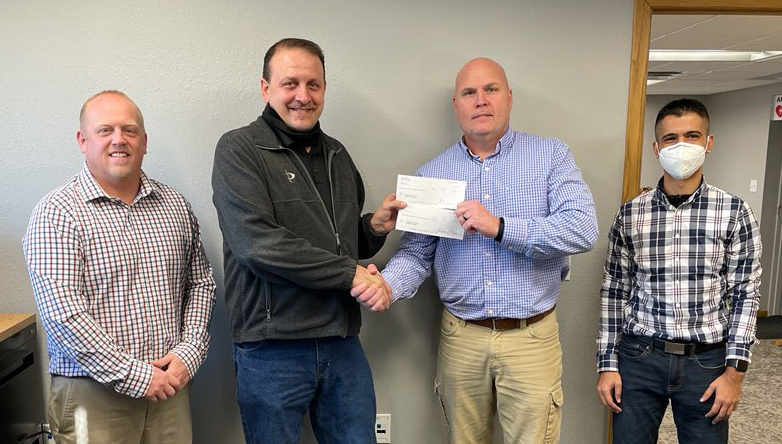 Heartland issued a rebate to Tony Downs for $7,500 as part of their energy efficiency program, Power Forward. Heartland offers incentives to commercial customers of municipal utilities who are Heartland customers.
Rebates are offered for improving lighting, refrigeration, heating and cooling systems, and water heaters.
"Increasing efficiencies is essential to productive operations and Heartland is proud to play a small role in helping companies like Tony Downs achieve their goals," said Heartland Chief Communications Officer Ann Hyland.
Tony Downs is a family-owned company with 450 employees in Madelia and 1,000 in southern Minnesota.