CEO's Report: Celebrate the public power advantage
October 5, 2020
Entering October means we're on the downhill slide of 2020 and while I typically don't like to see time fly, this year it may not be so bad.
But, with three months left in the year, we may as well take time to celebrate.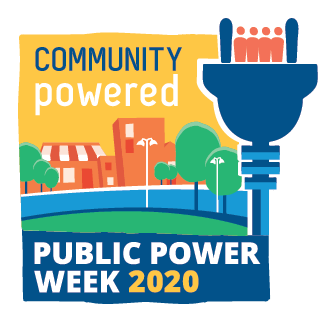 Public Power Week gives us the chance to not only share all the benefits public power offers, but also to educate people on what it is.
Public power is still a term that doesn't resonate with many people. We use municipal electric utility far more often. While it is an accurate term – municipal does imply that is a city owned entity – it doesn't accurately reflect our purpose.
The term public power reminds us who we serve. We don't answer to shareholders; we answer to the people of the community. The people we serve can make their voices heard at open meetings, where locally elected or appointed officials are making decisions with the best interest of the community in mind.
Why is this important?
Do your customers really know what it means to live in a public power community? Do they even know they live in a public power community?
Most people don't give a lot of thought to where their electricity comes from. In fact, the average time a person spends thinking about their electric bill is about 6 to 8 minutes per year.
The other fact is most of us don't choose our electric provider. We choose to live in a place and take the provider who serves that area.
But even if our customers don't choose us, we still want them to appreciate the work we do and be glad they are served by us. We certainly don't want them to distrust us or be unhappy with our service.
The public power advantage
So what are the greatest advantages public power offers?
Perhaps the greatest is being community-owned. When you live in a public power community, you are a citizen owner of the local municipal utility. Other providers can't offer the same benefit.
Citizens can attend meetings, which are open to the public, be involved in the decision-making process and have their voices heard. Citizens also have a say in who is making decisions through local elections.
Public power utilities are not-for-profit, as all revenue is invested right back into the communities. So, when you pay your electric bill, not only are you paying to keep your lights on, you're helping to ensure your community has quality roads, parks, water, and more.
Public power is also reliable. Nationally, public power customers are likely to be without power for just 59 minutes a year. They also divest in diverse resources to ensure environmental stewardship.
Protecting public power
Heartland customers are proactive when it comes to community growth and development. They are investing in the future of their towns through infrastructure improvements and helping local businesses thrive.
While as residents we may not choose who our electric provider is, businesses are often the opposite.
Many businesses choose to locate within a public power community so they can take advantage of all the city's services including not only electricity, but water, wastewater, streets, garbage service and more.
It is important for us to protect the rights of cities to serve customers who want to be located within their boundaries and be served by them.
While public power utilities are often outnumbered by other types of providers, our voices can still be loud. It is important to continually visit with legislators about the impact your public power utility has on your community. Help them understand why businesses choose your community and the services you provide that other places can't.
Celebrating Public Power Week
Public Power Week is a great time to celebrate the Public Power Advantage. During these uncertain times, it is not as easy to host a social gathering at your utility, but there are other ways to show your public power pride.
Heartland will be offering a variety of tools to help showcase the benefits your public power utility provides your community. I encourage you to use these resources to tell your story.
We sent you yard signs and posters to display. We are also conducting a social media contest and have social media posts and images you can use on your community pages.
There is no better time to get our message out and I encourage you to celebrate all the advantages your community offers.
Happy Public Power Week!