Breaking ground on new ventures
September 2, 2022
Heartland Energy's robust economic development program aids in business expansions
In a time of rising costs and record inflation, affordable financing and incentives are key components of many new business ventures.
Businesses in communities served by Heartland Energy can turn to the array of programs offered by the wholesale power supplier to finance expansions or simply give them a leg up as they begin operations. Low-interest financing, growth incentives and special rates for large loads power growth in customer communities.
Two groundbreakings were recently held in Madison, SD for new facilities that will allow current businesses to expand, giving them the ability to better serve the community.
In July, officials commemorated the start of construction on a new senior living facility, Heritage Senior Living. In August, small business owners Troy and Kristin Fox followed suit with plans to expand their respective businesses, FoxPromo and Madison Physical Therapy.
Heartland Energy assisted both projects by securing affordable financing to help defray startup costs.
Work begins on senior living community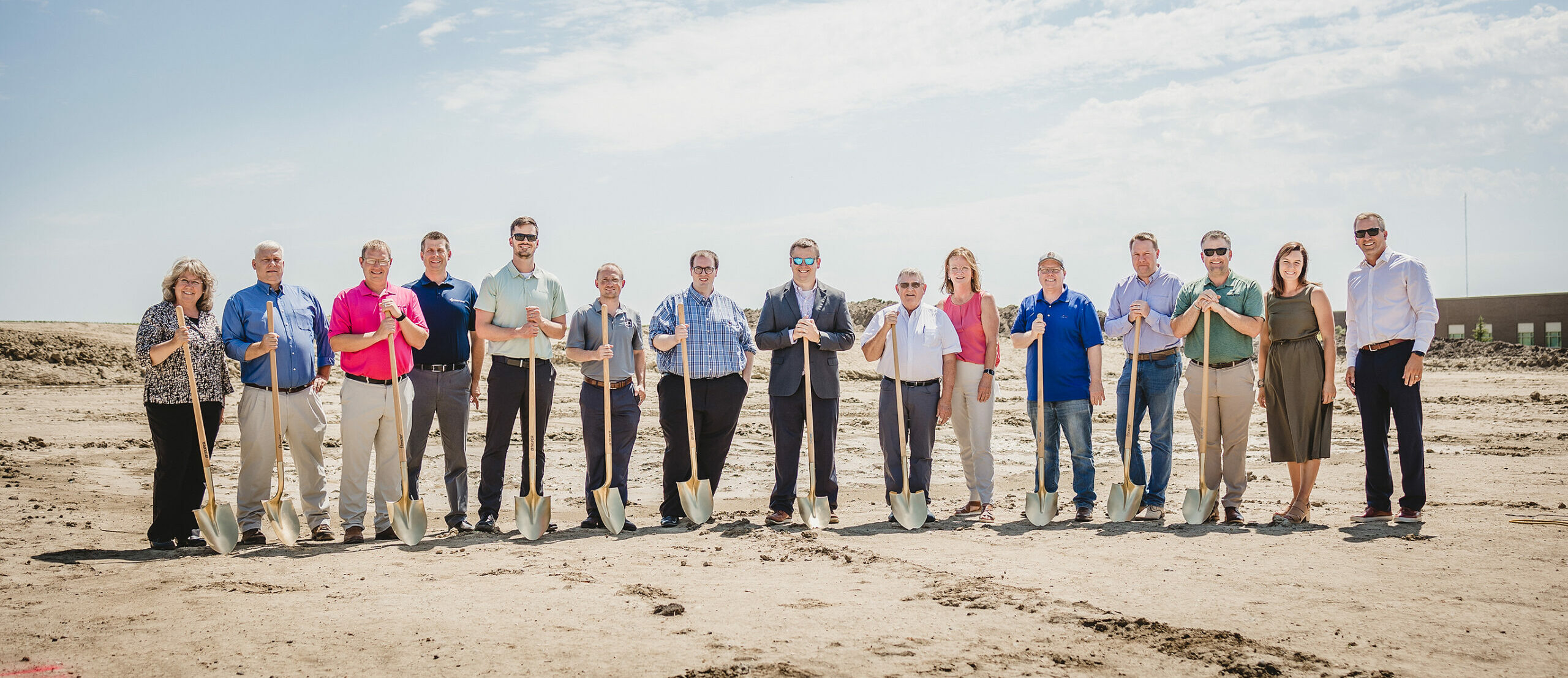 Brookings, SD-based HME Management, LLC purchased Heritage Senior Living of Madison in 2021. The assisted living facility offers 24 single or double residential apartments for independently mobile people ages 55 or older.
In July, the company broke ground on a new senior living facility on the south edge of Madison. The $15M project will retain the original facility's name but feature independent living apartments as well as assisted living options.
Phase 1 includes 74 units total. HME General Manager of Development and Marketing Bobbi Bohlen compares the independent living portion to an upscale apartment building, with optional residential services like meals and cleaning.
Assisted living apartments will range in size from 500 to 700 square-feet and feature one-bedroom, two-bedroom and studio floorplans. The new community will also include a variety of amenities, such as a center courtyard and activity center, and areas for physical therapy or hair styling.
"Our goal is to create a community were you still have the opportunity to live an active lifestyle," Bohlen told the Madison Daily Leader.
HME plans to renovate the existing Madison facility to provide a 24-unit memory care center.
A future second phase of the project includes plans for townhomes. These may be constructed as options for seniors or as rentals, depending on the needs of the community.
Fox-owned businesses to reopen under one roof

FoxPromo specializes in promotional merchandise including screen printing, embroidery, promotional items and more. The business is currently located in downtown Madison and is owned by Troy Fox. The company has prospered in its current location but needs more production space to meet client needs.
Troy's wife, Dr. Kristin Fox, owns Madison Physical Therapy with locations in Madison and Arlington, SD. After several years of continued growth, her business, which provides physical therapy services for athletic injuries, post-surgical rehab, neck and back pain and more, has also outgrown its existing facility.
Together they recently broke ground on a new 10,800 square foot facility in Madison's Lakeview Industrial Park. Parent company Fox Holdings, LLC will own the facility. They utilized Heartland Energy's HELP Fund for the construction of the building, which will house both their businesses plus a third tenant.
Heartland Energy partners with USDA to offer financing to new and expanding businesses.
Set up as a revolving loan fund, the Heartland Economic development Loan Program offers favorable interest rates and terms to qualifying businesses. It promotes growth and development by providing funds for business ownership and expansion plus job creation and retention.
To date, the HELP Fund has issued 50 loans totaling $9.7 million.
Heartland Energy has a long-standing relationship with the Foxes. Kristin first utilized the HELP Fund to open Madison Physical Therapy in 2018. Two years later, the program helped Troy purchase existing business Power Promotions and reopen as FoxPromo.
The move will allow both businesses to offer expanded services and hire more staff. They look forward to offering continued service to the community of Madison.