Valley FiberCom awarded $4K
April 3, 2023
Telecommunications utility earns growth incentive from Heartland Energy
In today's fast-paced, connected world, internet service is essential, and the gold standard is fiber. It offers greater bandwidth and reliability at lightning-fast speed.
Living in a rural area often means slower service and decreased reliability.
Valley FiberCom is working to change that.
Based in Volga, SD, Valley FiberCom offers a 100% fiber network to rural communities in east central South Dakota. Today they serve 3,700 customers across four counties with growth planned.
While Valley FiberCom is relatively new to Volga, having just marked four years in the community, they are not new to fiber. Their parent company, Valley Telecommunications Cooperative has been providing fiber to the home in north central South Dakota since 2010.
In their first few years of operation in Volga, Valley FiberCom was able to take advantage of growth incentives offered by the city's wholesale power supplier, Heartland Energy, helping ease their transition into a new community and better grow their customer base.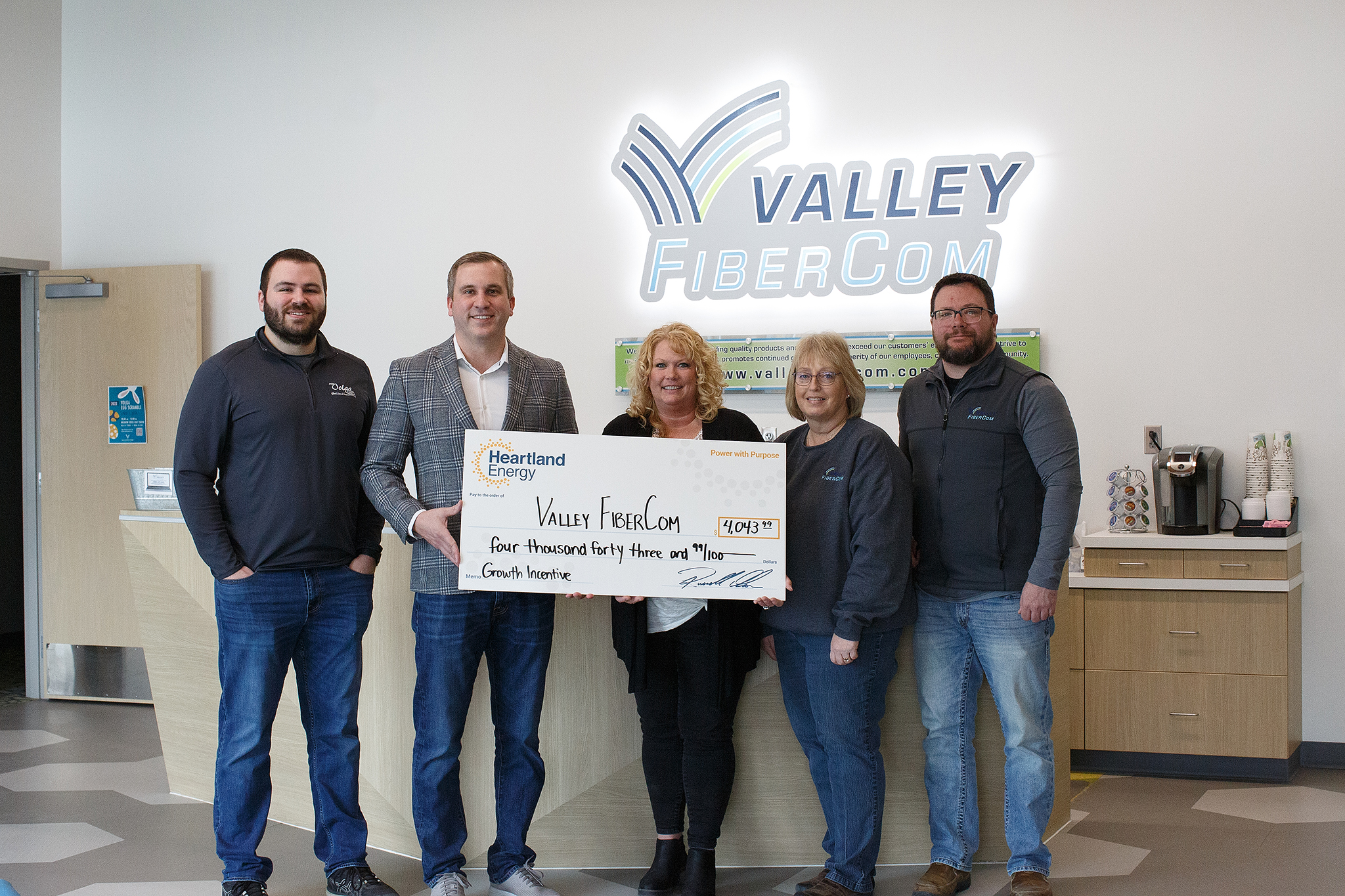 Volga City Administrator Michael Schulte, Heartland Energy Director of Economic Development Casey Crabtree, Valley FiberCom Marketing & Sales Manager Kaye VanderVorst, Customer Service & Sales Rep Kim Chase, and Sales Account Executive Derek Sprang
Reaching underserved communities
While many may take internet for granted, there is a significant population without proper access.
In fact, 31% of South Dakota's population is underserved, according to independent research company BroadbandSearch.net.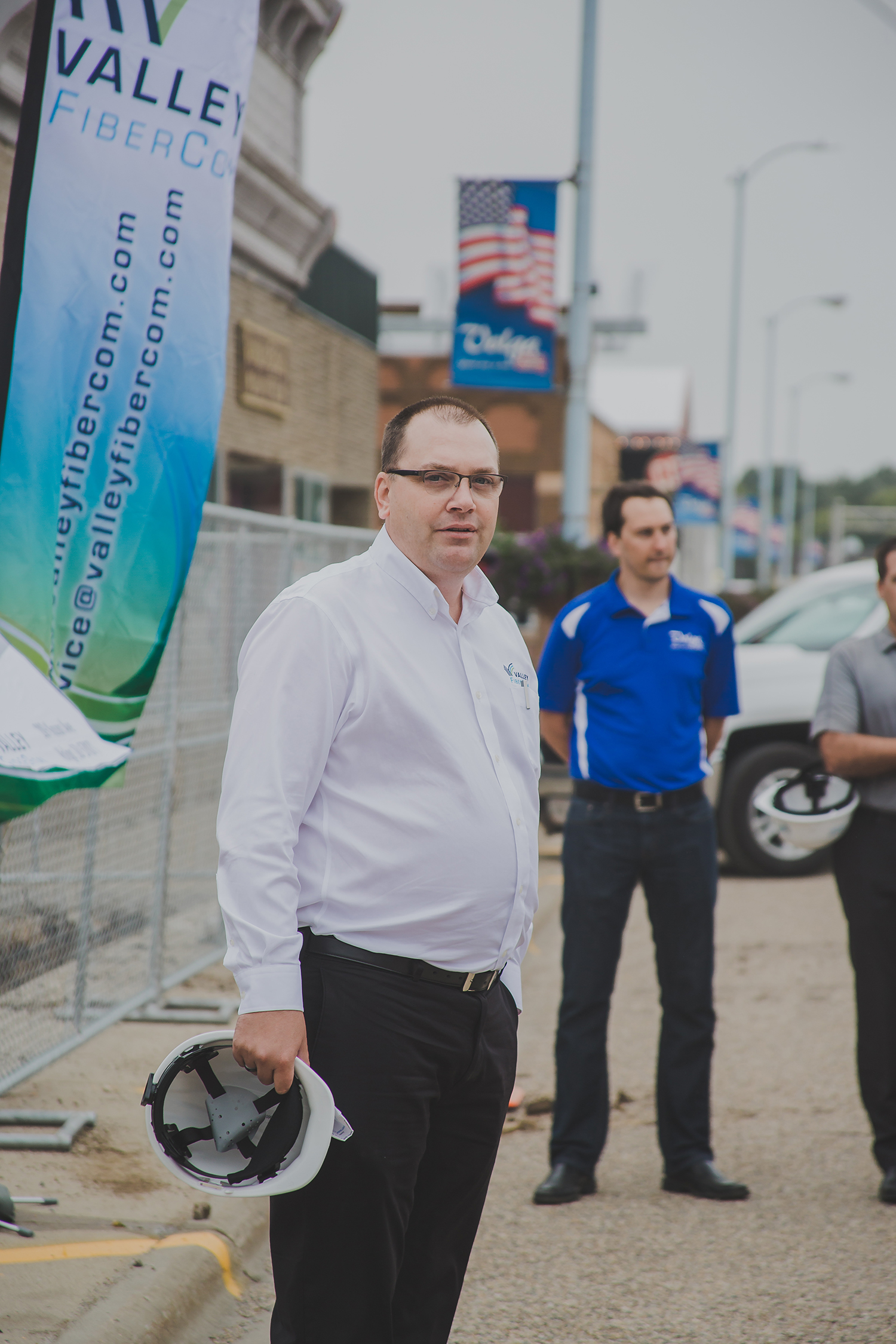 Jeff Symens serves as Valley FiberCom's general manager and CEO. He says the company aims to connect rural, overlooked areas with the best internet service possible.
In 2015, Valley Telecommunications Cooperative had upgraded all their members to a Fiber-to-the-Home (FTTH) network, giving them access to the best broadband network connectivity in the country for decades to come.
"Meanwhile, there were communities in South Dakota that were served with antiquated copper facilities and the incumbent providers showed no intent to upgrade," Symens said.
Knowing the demand for broadband and increased bandwidth would continue to increase, Valley's board opted to expand.
"We wanted to bring our members' experience into these forgotten communities," Symens said. "Focusing on these areas gives our company an opportunity for growth, while at the same time connecting fellow South Dakotans to the same robust fiber network our current customers enjoy and deserve."
Services, company add value
Valley FiberCom provides broadband internet, streaming tv, landline telephone, business phone systems, safety and security service, and more.
Utilizing state and federal grants, the company has provided FTTH to rural areas of Kingsbury, Brookings, Moody and some eastern parts of Beadle counties. It has installed roughly 1,175 miles of fiber in its service area.
"We kicked off in Volga, Arlington, Lake Preston and De Smet, and the surrounding rural areas. Now we are signing up customers in Flandreau, Colman, Bruce and Egan. This will cap off a five-year investment by Valley FiberCom of over $23 milllion," said Symens.
Fiber offers greater network capacity and speeds, which helps attract businesses. Similarly, residential customers need more bandwidth and reliable connections, whether for entertainment purposes or to work from home.
To keep up with growing demand, the company is investing $2.4 million to upgrade its transport network. This will enable multi-gig service connectivity to customers.
Beyond services, Valley FiberCom supports its customer communities through local involvement. It offers a local scholarship program and supports community organizations, school groups, benefits and fundraisers.
"Internet is vital to economic growth and everyday lives," Symens said. "We are committed to providing services that exceed our customers' expectations and promote continued growth and prosperity."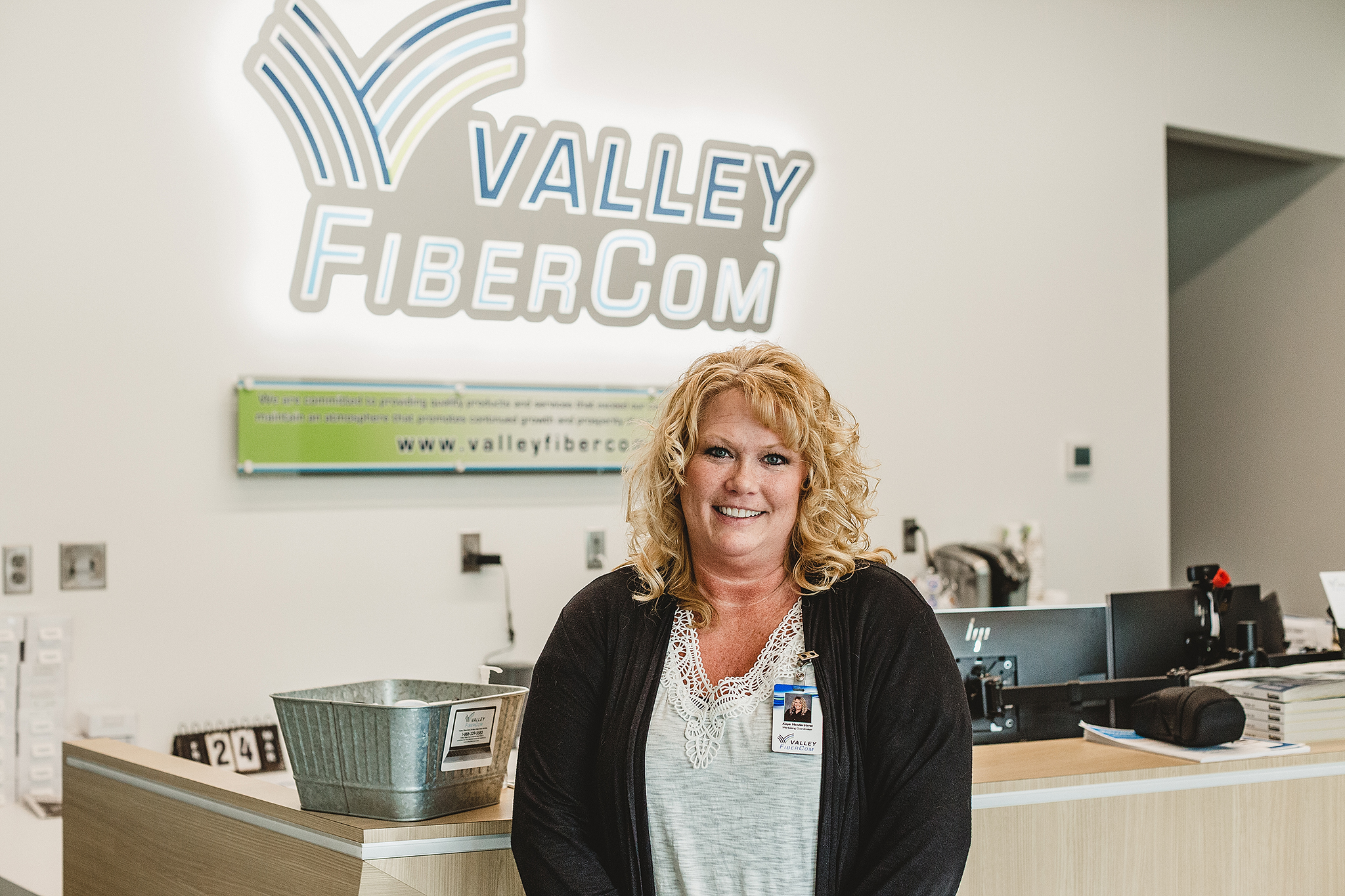 Incentive eases growing pains
According to Symens, Valley FiberCom chose Volga to locate their headquarters because "it was a fast growing, vibrant community, located in the center of the entire service area we hoped to serve over the following 5 years."
As it happened, Volga provided many benefits to the company, including growth incentives from Heartland Energy, the city's wholesale power provider.
Heartland Energy offers incentives to help customer communities, including Volga, promote growth and attract new businesses.
The growth incentive program offers rebates to new businesses on electric power bills for the first three years of operation. With a certain percentage rebated each year, it equates to one year's worth of free power.
"Starting a business comes with a number of unknows and risks," said Heartland Energy Director of Economic Development Casey Crabtree. "Our growth incentive program helps ease some of the burdens in those first few years of operation."
Valley FiberCom earned rebates totaling $4,043 over a three-year period.
Symens said the rebate helped the company focus on its mission and growing its customer base early in operations.
"The Growth Incentive meant we could minimize some of our operating expenses until we had significant growth in customers as well as cash flow. As a start-up, it was valuable to our bottom line."