Story-telling in the digital age
May 2, 2018
Ann Hyland marks ten years of Heartland communications
In the age of information overload, what makes a reader Click Here?
It's a question Heartland Communications Manager Ann Hyland confronts regularly.
Since 2008, Hyland has been crafting Heartland's message and managing how it's shared with the public. Early on this consisted mostly of one-way communications: press releases and mailed monthly newsletters.
Since then, rapidly changing technology and constant connectivity has made communications much more interactive and personalized.
As Hyland marks ten years with Heartland, she reflects on how this new information landscape has transformed her day-to-day operations and what steps she takes to make Heartland's message stand out.
Variety provides context and strengthens understanding
Like many small business employees, Hyland wears multiple "hats." She was originally hired as director of energy programs.
"When I first started, my main job was to develop and manage Power Forward, Heartland's energy efficiency program. Initially, we ran a few contests to perform energy efficiency makeovers on homes as well as utility buildings within our customer communities," she said.
Eventually, the program evolved to its current offering of grants for utilities to make energy efficiency improvements as well as businesses and residents to make energy efficient upgrades.
"My role at Heartland has evolved over the years. While energy efficiency is still an important part of my job, it is no longer the main component. I gradually became more and more involved in communications and as that field has evolved, it was a natural transition for me to become the communications manager," she said.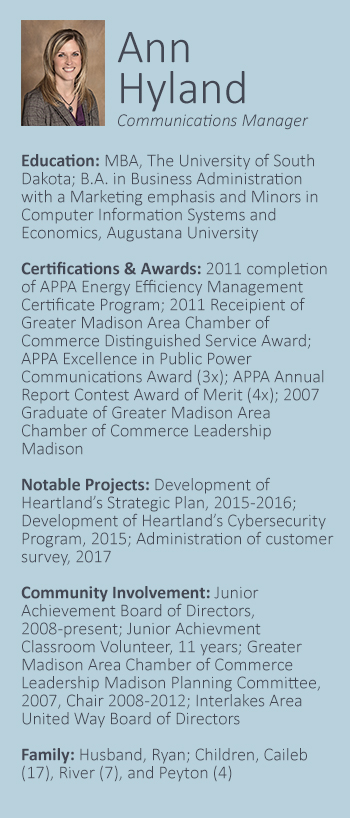 She still spends a great deal of time each quarter reviewing Power Forward applications, entering information into databases and communicating it with customers.
This variety is what Hyland likes most about her position.
"Being in communications, I'm involved in many aspects of Heartland operations. I work with Casey on economic development projects, visit customers with Steve, and advocate for our customers at the Legislative Rally with the board and other staff. I also help the engineering and finance departments get their message to customers, and plan customer events."
This broader role gives her a greater understanding of Heartland and the industry, which she appreciates and enjoys. It also helps her communicate more effectively with customers and helps when planning events.
"I have a better idea of the industry hot topics," she said.
New methods, platforms and language
Gone are the days of waiting for tomorrow's newspaper to see the latest headlines. In today's world of 24/7 news, the challenge is getting your message to stand out from the crowd.
"When I started at Heartland, we were sending out a monthly newsletter via regular mail," Hyland said. "Eventually we transitioned to email distribution, but the newsletter was still a PDF and resembled a printed newsletter."
As technology and smart-phones advanced, people grew accustomed to picking and choosing information to digest at the click of a button and in real-time. To keep up, Heartland had to change its methods and platforms.
"Today, almost all of our communications are done via email, including news stories and invites to customer events," said Hyland. "This allows us to provide a more user-friendly newsletter which links directly to our newsroom where our stories are available all the time."
Heartland also had to step up its social media game.
"We didn't have any social media presence when I started, but it has risen greatly in popularity since then, and we needed to follow suit," she said.
Now Hyland helps manage Heartland accounts on several platforms, including Twitter and Facebook.
"This allows us to interact more with customers as well as industry organizations, such as American Public Power Association and Western Area Power Administration. We can broaden our reach, as others share our messages and vice versa. It also allows us to interact with people we never would have been able to with more traditional communication methods."
The digital platform has also shifted the focus to more visual communications such as infographics and videos.
"Video has become a very popular tool we've seen rise in just the past few years," Hyland said. "We've seen that posting a video to our social media sites drastically increases our page views, so we will definitely be using more video in the future. In fact, we've already started using it more to promote our economic development incentives, which has helped with internal customer growth."
Making messages memorable and relevant
These days, people watch, read, listen, stream and post media more than ever.  As readers consume vast amounts of data, the challenge for communicators is figuring out how to grab and keep their attention.
"In order for our stories to get noticed, we have to be more creative in the way we tell them," Hyland said. "We can't just state the facts. We have to write pieces in a way that is relevant and interesting."
This means making stories more emotional and engaging. It also means writing stories people want to read.
In that case, technology lends itself for the better.
"Electronic publications give us the ability to track which stories are being read," she said. "This helps shape our content because we can focus on information people will find most valuable."
She also utilizes daily feeds and electronic listservs from other industry experts to stay on top of what's relevant, particularly when it comes to regulatory concerns.
"I am on an APPA listserv for government relations and receive multiple emails a day with information on actions being taken, or the lack of action, in Congress on issues related to our industry. Sifting through that information takes time, but it's important to determine what affects us and our customers."
Looking to the future
In today's digital age, it's not always easy to reach an audience. Although media platforms are abundant, attention-span is scarce, and communicators have to write for readers on-the-go.
"The information age presents a new dynamic. Not only do we want to tell a great story, but we need it to be one people will click, like, read and share," Hyland said.
The internet will continue to play an increasing role in communications. Overall, technology helps Heartland communicate more effectively.
"I look forward to whatever is next in store," she said. "We are always refining our skills and looking for new ways to craft our message."
Heartland CEO Russell Olson is confident that no matter the challenge, Hyland will rise to the occasion.
"The way in which the world communicates is changing," he said. "Having someone flexible and knowledgeable like Ann–who can adapt strategies and integrate new technologies–behind Heartland's communications is to our advantage. She is also an engaged listener and pays attention to what's important to our customers. I'm always confident in our message with her spearheading it."