Prairie AquaTech to expand; building new plant in Volga
May 2, 2018
'Village' mindset key to moving on $60 million project
By John Kubal / Brookings Register / Originally published April 25, 2018 / Reprinted with permission
Prairie AquaTech, a successful start-up business founded in Brookings in 2012 will be building in Volga about 5 miles west of Brookings and next to one of its several vital "village" partners: South Dakota Soybean Processors.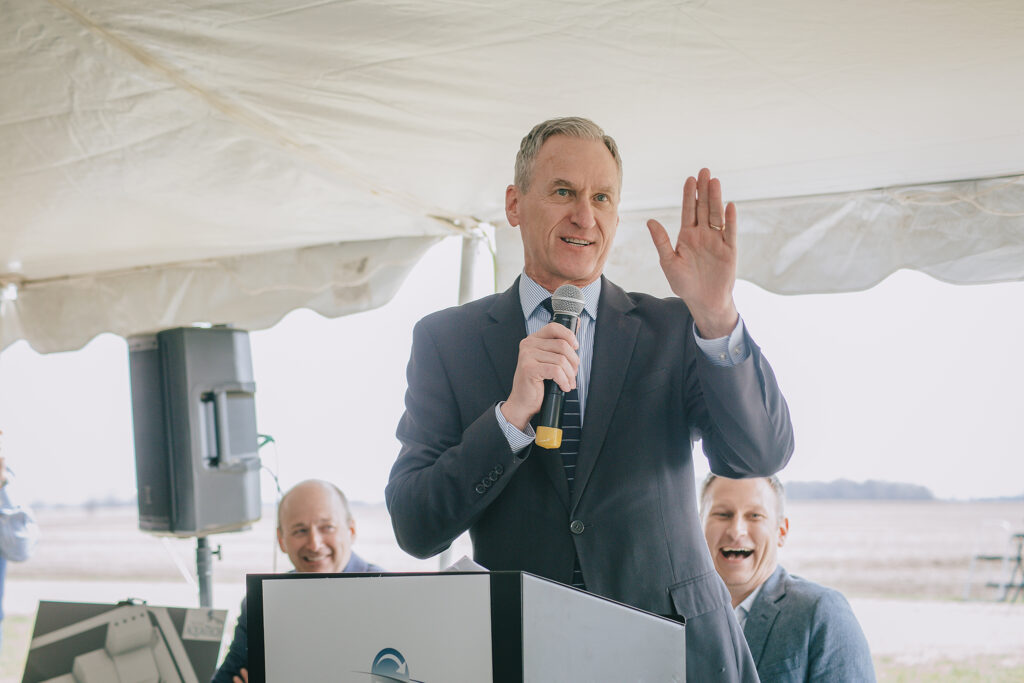 Other partners vital to the $60 million project and its continued success include South Dakota State University and the Brookings Economic Development Corporation.
"For projects of this magnitude, it really takes a village to make it happen," said Mark Luecke, managing director and CEO of Prairie AquaTech, which makes a protein-rich ingredient used in fish feed.
He noted that the company's products came about out of research at South Dakota State University College of Agriculture and Biological Sciences.
Luecke calls Prairie AquaTech "a very unique facility" that uses "large fermentation tanks where we've taken the work that SDSU did in small, little flasks and we've now scaled it up to these big fermentation tanks."
"Essentially what we're doing," he explained, "is fermenting soybean meal. We buy soybean meal from South Dakota Soybean Processors in Volga. They have a plant down in Miller that produces non-genetically modified meal.
"We ferment that. And on site, we also have a small feed mill. That allows us to take our ingredients and mix them with other ingredients and pelletize that into a fish feed." That feed, while not the finished product it produces, can then be used to test AquaTech's protein-rich ingredient to ensure its compatability as a vital component of a final fish-feed product.
Luecke called the BEDC "an incredible partner for us. They're part of our village. There's no better place than Brookings, South Dakota, to start a business." He worked closely with BEDC Executive Director Al Heuton on the start-up project that became Prairie AquaTech.
The BEDC wrote a grant to the U.S. Economic Development Administration. That grant provided funding support for the ag tech center as a pilot facility on the east side of town south of Daktronics.
"The grant from the EDA was $1 million," Luecke explained.  BEDC with other community EDCs came up with a match of $1 million. That $2 million provided for building a pilot facility, which is owned by the BEDC. "It remains an asset for the community and we lease the building from them."
Time to expand
Luecke noted that the need for a larger plant had been on the radar for some time. The new 300,000 square-foot, $60 million ($45 million for construction; $10 million for operating capital; and $5 million for continued development of new products) facility at Volga will add 35 employees to the current staff of 30 people. The factory will be able to produce annually about 30,000 tons of a major protein component that will go into pellets that also contain vitamins, minerals and oils. The pellets then go to fish farms.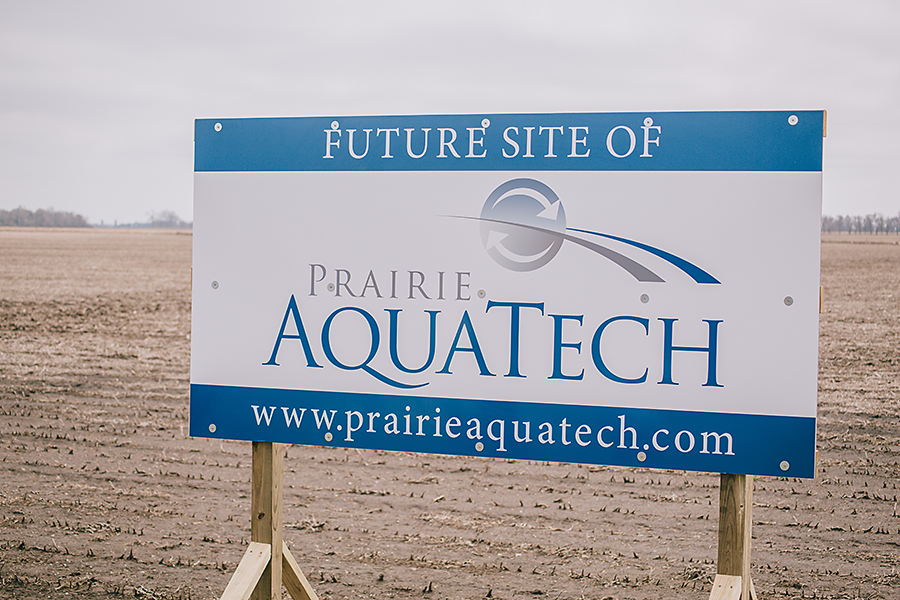 The fermentation process at the present AquaTech plant is done in several 2,000-gallon tanks. The tanks at the new plant will be done in 40,000-gallon tanks. That will drive a big demand for soybean meal from SDSP, which Luecke said produced about 700,000 tons on an annual basis.
"We'll buy about 50,000 tons to get started," he said. "We'll be a good customer of theirs."
Groundbreaking for the new facility took place Tuesday, May 1. Luecke said the plant is expected to be operational in 12 months.
"This groundbreaking represents a significant milestone for our company and for the development of new value-added agriculture businesses in South Dakota," Luecke said in a news release. "We're helping farmers by adding value to soybeans produced in the region. The new plant is also evidence of the successful commercialization of research coming out of SDSU."
Global impact
While Prairie Aquatech's presence will be visible in South Dakota, Luecke sees its products impacting a global demand at a time when the world's oceans have been over-fished.
"We're trying to satisfy the world's demand for animal protein," he said. "Aqua culture, or fish farming has been done for centuries. What's happened is its sophistication as a business has improved dramatically over the past 20 years."
He explained that the most efficient way to convert plant protein to animal protein is in fish: 1.5 pounds of plant feed can produce 1 pound of fish protein. For a cow that ratio is about 8 pounds of plant food to produce 1 pound of beef protein.
"We are an ag state, so we know how to raise livestock," Luecke said. "And fish is just another form of livestock." And AquaTech will help feed those finned livestock.
He noted primary markets for fish feed are "where higher-quality fish are currently being raised," such as in the Snake River Valley in Idaho, which accounts for "50 percent of U.S. trout production. And trout is an important species to us, so that will be an important market."
He also cited Canada, which "has four times the amount of salmon and trout production that the U.S. does."
Looking ahead to the expansion of Prairie AquaTech, Luecke again stressed the role of the company's village-partners.
"We're grateful to be in a community like Brookings where you have SDSU as a willing partner in commercializing research," he said, adding, "and a community development organization – BEDC – which is willing to take some risks to make sure that we have a good entrepreneurial community in Brookings. They helped us build the pilot project that we presently use."
Concluding, he cited "a willing partner in SDSP in Volga, where we can actually take university research, scale it up and spin out an operating business into one of our surrounding communities in Brookings County and have that community flourish."
Luecke also expressed his appreciation to South Dakota's congressional delegation in Washington, Sen. John Thune, Sen. Mike Rounds, and Rep. Kristi Noem, for their support.
Contact John Kubal at jkubal@brookingsregister.com
Featured image: Mark Luecke, managing director and CEO, shows off a couple of the 2,000-gallon fermentation tanks at the present Prairie AquaTech plant in Brookings. The fermentation tanks in the new plant in Volga will each have a 40,000-gallon capacity. Photo courtesy The Brookings Register