SPP sets wind record
January 2, 2018
Wind power continues to proliferate the market
Southwest Power Pool set three wind- and renewable-related records on the morning of December 4, 2017.
The regional transmission organization (RTO) set new records for both wind and renewable penetration: the amount of load served by wind generation and by all renewable fuel sources, respectively.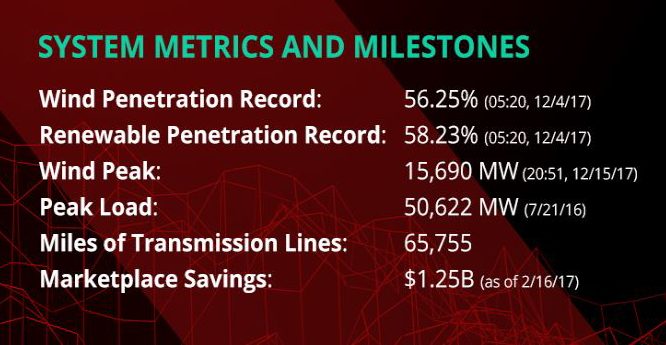 Wind generation at the time was at 13,271 MW and served 56.25 percent of SPP's load (23,591 MW), beating SPP's previous wind penetration record of 54.47 percent set on April 24, 2017.
An additional 467 MW of hydropower pushed total renewable penetration up to a record of 58.23 percent, breaking the RTO's previous record of 57.71 percent set on March 19, 2017.
SPP also set a record for peak wind generation, beating the previous record of 13,342 MW set on February 9, 2017. A new wind peak of 15,690 MW was reached just eleven days later on December 15.
Earlier this year on February 12, SPP became the first RTO in North America to serve more than 50 percent of its load at a given time with wind energy, setting a then record of 52.1 percent wind penetration.
The proliferation of wind power in the SPP region has grown significantly over the last decade. As recently as the early 2000s, SPP's generating fleet included less than 400 MW of wind, and for years, wind was reported in the "Other" category in SPP's fuel mix data.
Wind is now the third most-prevalent fuel source in the SPP region. It made up approximately 15 percent of the organization's generating capacity in 2016, behind only natural gas and coal.
Installed wind-generation capacity increased in 2016 alone by more than 30 percent — up 4,000 MW from 12 GW to more than 16 GW. SPP's maximum simultaneous wind generation peak rose from 9,948 MW in 2015 to 12,336 MW in early 2016.
Many were recently unsure of wind's future with the Tax Cuts and Jobs Act, which in its original form would have eliminated the Production Tax Credit (PTC) for new projects. However, the final bill which was passed and signed in late December preserves the phase-out of the PTC through 2019.