Situational awareness training highlights Winter Conference
December 3, 2019
Guest instructor shares tips to identify, avoid, reduce or mitigate hostile situations
Safety is paramount for utility workers. From investing in protective equipment to training and standards, utilities go the extra mile to ensure their workers go home at the end of the day.
Now, a growing problem in the United States is driving utilities to prepare employees for a new threat: hostile events.
Active shooter events and dangerous encounters are unpredictable and evolve quickly. In these situations, training and preparation are critical.
Heartland's recent Winter Conference focused on this training with the help of professional speaker Stefan V. Salmonson, president of PROtective Services, Inc.,
Training crucial for workplace safety
Salmonson is a licensed deputy sheriff/tactical trainer, licensed private detective, international security consultant, experienced tactical specialist, contract government investigator, airline transport pilot and more. He and his team have provided executive and personal protection services, security related training and assessments, and consulting and risk management recommendations for hundreds of clients nationwide.
During his presentation, Salmonson defined and provided examples of hostile events, such as workplace violence, active shooters or angry customer encounters. He detailed how to spot potentially dangerous situations and modify your behavior for best response.
He also shared tips and best practices for utilities to implement at their workplace to help reduce risk.
"There was a lot of good information to absorb," said Donna Klinkhammer, deputy finance officer for the city of Howard, SD. "Hopefully the city [of Howard] can implement some of his suggestions."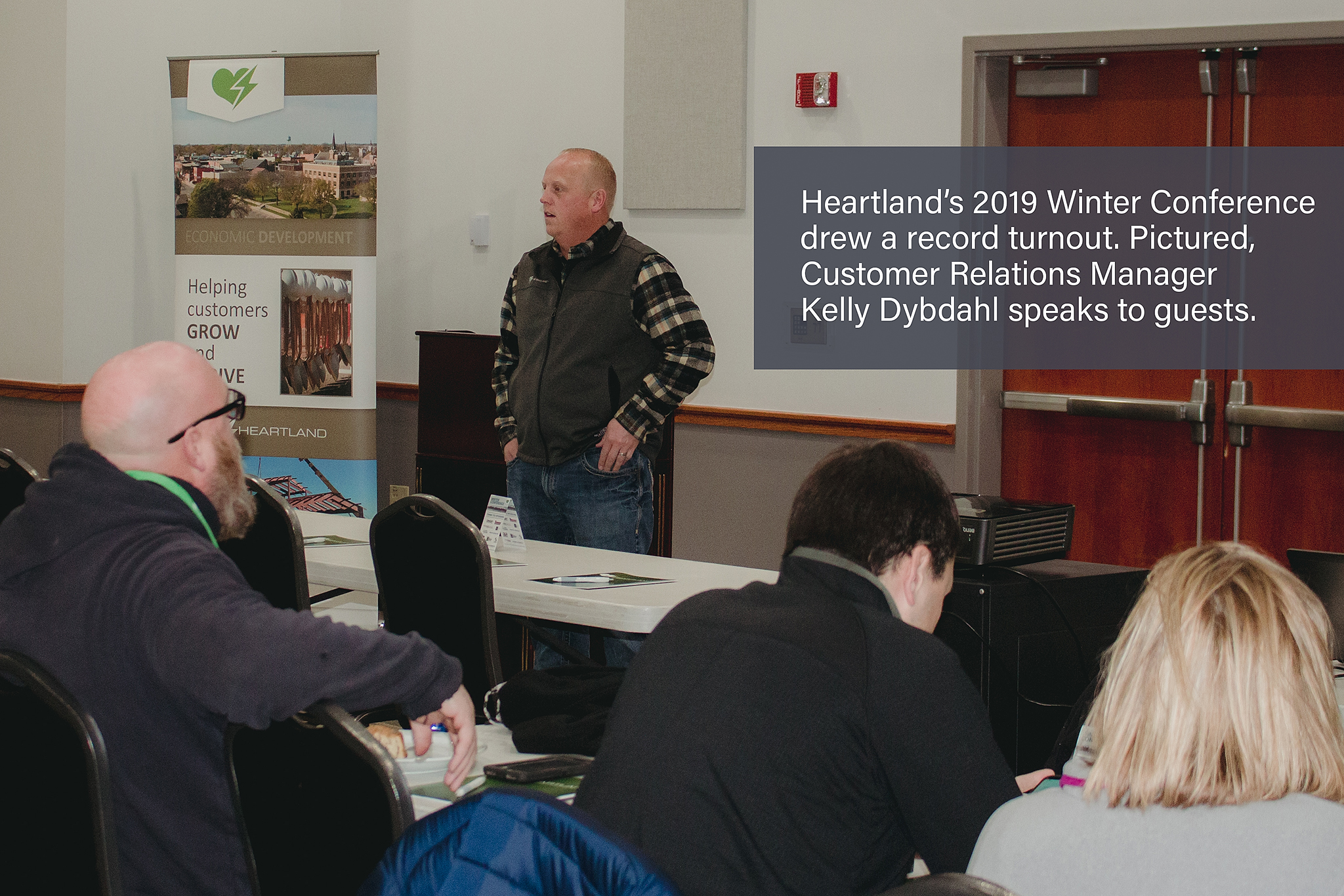 Sponsors, attendance lead to successful event
Following the morning presentation, attendees enjoyed lunch and headed outdoors for the annual pheasant hunt. The group was also treated to dinner for additional networking with Heartland and industry professionals.
Now in its seventh year, Heartland's Winter Conference offers insight on topics related to utility operations, such as safety, key accounts or load management. This year's program targeted all utility employees and drew a record turnout.
"Our customer utilities have a long-standing commitment to workplace safety," said Heartland CEO Russell Olson. "Our Winter Conference aims to bolster this commitment by offering resources and training in a fun, relaxed environment."
The event was made possible by a number of sponsors, including Duncan Weinberg Genzer & Pembroke, Tenaska, Bockorny Group, ISG Inc., NextEra Energy, Omni-Pro Software, Inc., DGR Engineering, Duncan Law Firm, GDS Associates, Fredrikson & Byron, and Dougherty & Company, LLC.