Popken receives Distinguished Service Award
October 14, 2022
With a laid-back, unassuming personality, Robert Popken is a man of few words.
"He is pretty humble," said Dan Rolfes. "Bob doesn't seek out attention, even when he deserves it."
Rolfes, Akron's city administrator, has worked with Popken for fifteen years in various roles with the city. Popken has managed the city's electric department for over 40 years.
Rolfes said Popken doesn't need to be boastful–his work ethic and attitude speak volumes.
"We can always rely on him. He's steadfast, knowledgeable and a great asset to our team and community," he said.
Popken has been named this year's recipient of the Distinguished Service Award from Heartland Energy. He is recognized for his selfless attitude, hard work and commitment to Akron and the surrounding area.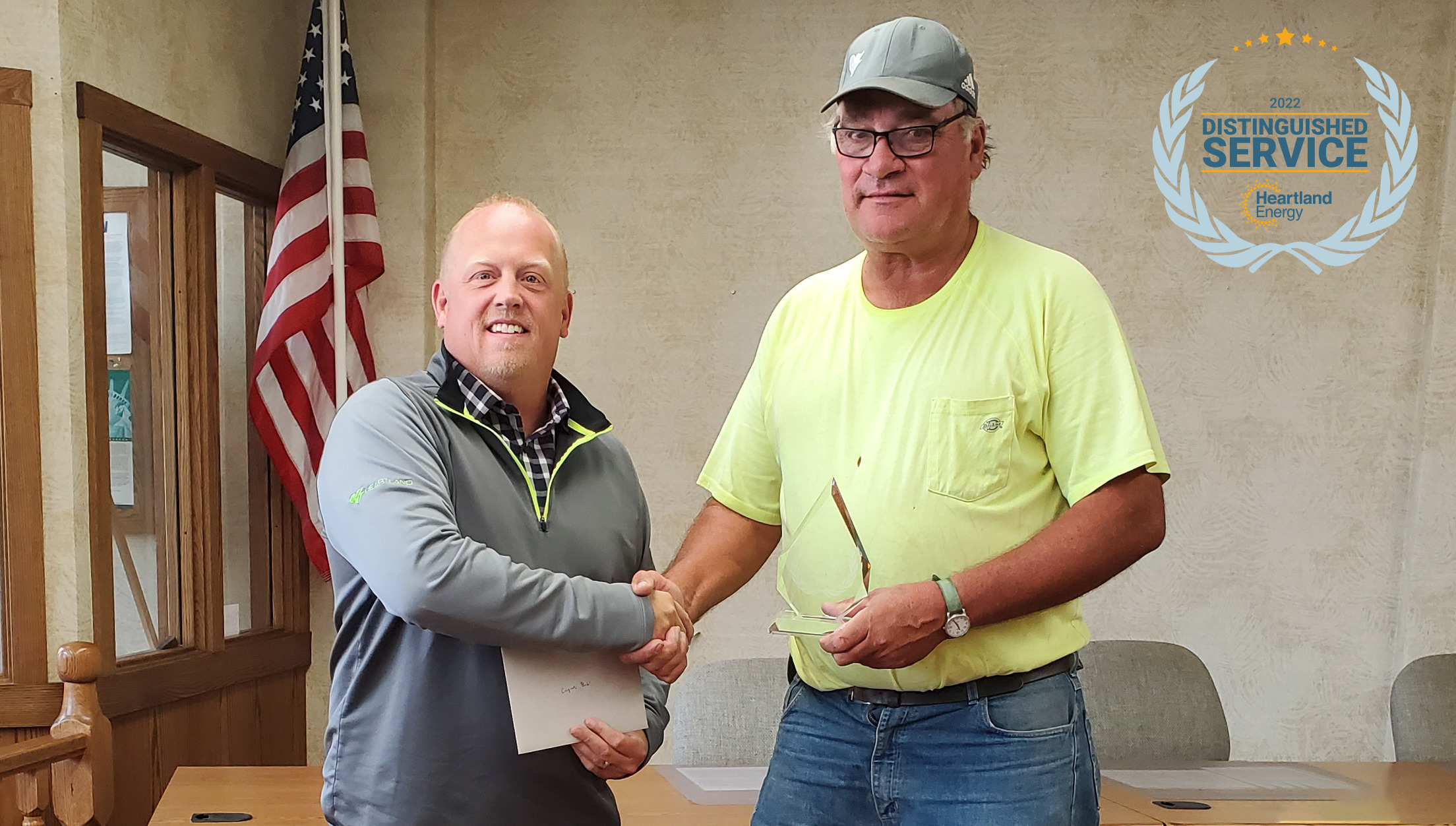 Experience includes changing operations
Popken is a lifelong resident of the Akron area, graduating from Akron High School. He entered the workforce not long after, first for a local electrician followed by a rural cooperative.
About the age of 21 he began working for the city of Akron. After a short time, he assumed the role of electric superintendent–the position he still holds today.
Popken said the industry has changed dramatically in his 43-year tenure, as has power supply in Akron.
"Electric operations are 100% different from when I started," he said. "The voltage has increased, our substation is new, and our lines are now primarily underground, versus overhead."
All these changes have contributed to increased reliability for Akron residents and expanded capacity for growth.
Popken also recalls when the city used to own and operate stand-by generators. While the generators are no longer there, he remembers running them a few times.
"In 1993 our [transmission] poles washed out in flooding, and we spent a few weeks on temporary power. I remember working 36 hours straight at one point to get things up and running again."
Despite holding the same job for decades, Popken insists the work is hardly tedious.
"It's always changing–there's never a dull moment. And I get to be around a lot of good people," he said.
While he's already enjoyed a long career, he doesn't intend to slow down anytime soon. Retirement is still far from his mind.
"I enjoy what I do. At a point in time it will come, but not now."
Service to the community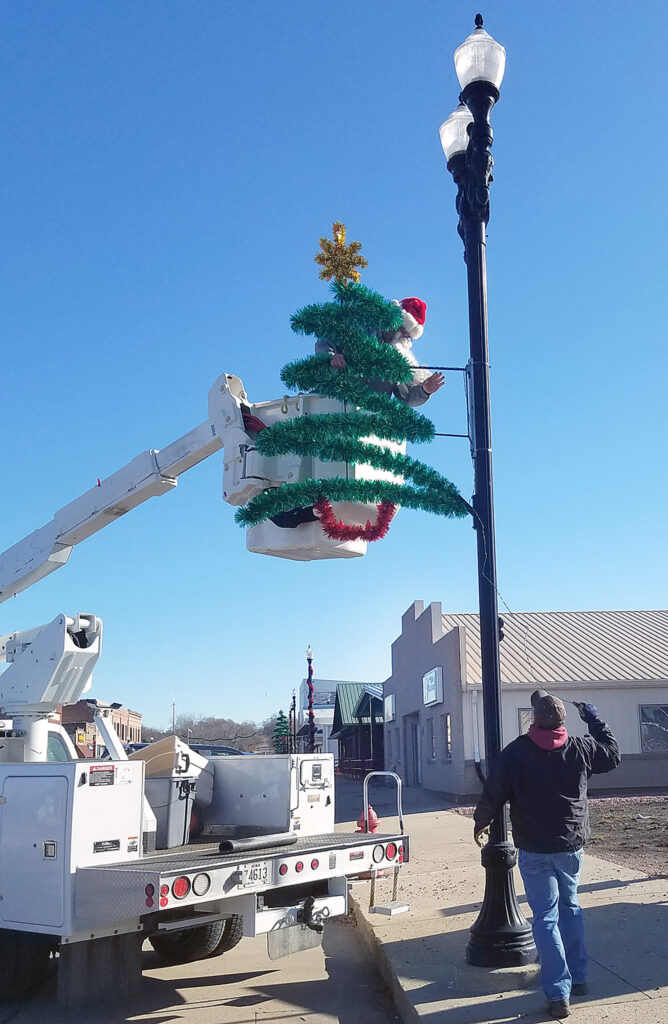 In his career and in life, Popken finds ways to go the extra mile.
Each December, Akron residents enjoy the sight of Santa Claus installing holiday decorations on light poles.
"I've got a Santa Claus hat and a beard. When we put decorations up, I put the Santa suit on. I've been doing that pretty much since I started."
Popken and his girlfriend also dress up as Mr. and Mrs. Claus to visit children's homes around town. It's a telling example of Popken's big-hearted nature.
"Bob serves the community in many ways. He's a member of the volunteer fire department for 39 years and is a long-time supporter of the local Boy Scouts," said Rolfes.
He's also a familiar face at the local blood bank. He began donating shortly after joining the city.
"I worked with a guy who gave blood. It was either sit and wait in the truck in the heat or go in and give at the same time. So, I went in and started giving."
Popken has donated 73 gallons thus far, with no intentions of stopping anytime soon.
Distinguished service
Heartland Energy provides wholesale power to municipal electric utilities throughout the region, including Akron. Each year, one employee from a customer community is chosen for the Distinguished Service Award.
Popken was nominated by Rolfes, who commended his expertise.
"Bob's forward-thinking mentality has helped ensure Akron's electric system is safe, efficient and up-to-date," he said.
Popken received his award in conjunction with Public Power Week. The annual event celebrates the distinct advantages public power utilities offer, including local control, community-focus, public input and dedicated employees.
"Bob depicts the essence of public power," said Heartland Chief Communications Officer Ann Hyland. "He is dedicated to and focused on his community, working each day for their benefit. We are grateful for his service to the city of Akron and proud to name him the winner of our Distinguished Service Award."