Plankinton fulfills housing need with new development
February 1, 2016
Plankinton Development Corporation President Ron Kristensen believes his community is in a unique position – poised for growth but limited by one necessity.
"We have jobs, but we need sites ready for housing," said Kristensen.
Strategically located at the intersection of two national highways, Interstate 90 and US 281, Plankinton, South Dakota has seen dramatic growth in recent years. The city has added nearly 50 residences since 2000 and its population grew 17% from 2000 to 2010. Increased job opportunities, a new school and a revitalized business district have drawn a growing number of young people and families to the community, leading to a strong need for additional housing.
The development board previously found success offering free housing lots to anyone planning to build. Now, as one housing development sits full, with all seventeen lots either purchased or occupied, work is underway on an adjacent second development.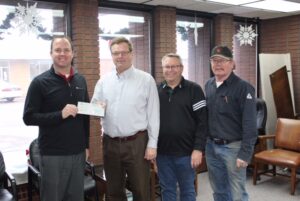 "Not only will we be able to offer more options to future homeowners, but the new development will increase the city's sales tax revenue, thereby increasing the city's value and potentially lowering the property tax level," said Kristensen.
Kristensen believes the location of the new development will be a big draw for residents.
"The new sites are close to the school which is important for many young families in town. Residents will also be able to live closer to their jobs."
The new development will be built in two stages and will feature 14 lots. Infrastructure installation has already begun, with water supply available. Two lots are currently construction ready, but the installation of underground utilities later this fall will bring that total up to nine.
Heartland awarded the Plankinton Development Corporation a $5,000 economic development grant to assist with costs of preparing the development.
"Housing is an issue for many communities but it means the city is doing something right," said Heartland CFO Mike Malone. "If people want to live there, there must be good jobs available and an excellent quality of life. Heartland is always excited to see our customers in growth mode."
Heartland provides wholesale power to the city of Plankinton and awards economic development grants to help fund projects that spark growth and development in customer communities. Projects that promote economic prosperity, support new business opportunities or improve the social and economic well-being of local residents may qualify for the program.