New convenience store in Akron to fill need, draw traffic
February 1, 2016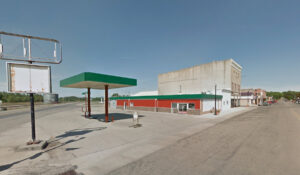 City officials in Akron are making preparations for a new convenience store to help draw visitors to its business district. The city purchased two adjacent lots near the downtown entrance in the spring of 2015 and demolished two outdated buildings to make way for the new 4,000 square-foot building.
"There is a great demand for a second convenience store in our community," said Akron City Administrator Gary Horton. "The construction of the new building will generate tax revenue to help our town prosper as well as entice more consumers to shop at our other downtown stores."
Heartland recently awarded the city a $5,000 economic development grant to assist with preparations for the building, including demolition of the old buildings, cleanup of debris, and removal of old fuel tanks. The city also performed substantial dirt work, including filling the fuel tank holes and performing soil tests.
Construction is expected to begin this spring on Chubs Country Store, which will be owned by long-time Akron residents David and Karen Allen as well as their daughter and son-in-law Mitchell and Jenell Lanning. Both families personally secured financing for construction, including a $100,000 low-interest loan from the Akron Development Corporation. They are planning for the store to be open for business by fall.
The new building replaces the former Pronto convenience store and Akron Register-Tribune building. It is the latest in a string of new structures and improvements that have taken place in Akron in recent years.
"Akron is a progressive community, and its leaders have recognized the value of a strong Main Street business district," said Heartland Customer Relations Manager Steve Moses.
Heartland awards economic development grants to help with projects that foster growth and development or increase the quality of life in the community. Heartland customers and their local economic development corporations are eligible to apply.
*Featured image courtesy Google Maps Street View.