#NoPMASale earns APPA award
December 1, 2017
Heartland Twitter campaign earns national recognition
Thirty-three public power utilities recently earned Excellence in Public Power Communications awards from the American Public Power Association. Heartland was among the recipients, earning the Award of Excellence in Web/Social Media for Class D: Utilities with gross revenues less than $75 million.
The annual awards are given to utilities that show ingenuity and creativity in telling their stories through outstanding copy, design, financial data presentation, graphics, social media engagement, video editing, and web layout and interactivity.
Heartland qualified for the award of excellence for this year's #NoPMASale Twitter campaign, created in response to President Trump's budget proposal to divest the transmission assets of the federal power marketing administrations, including Western Area Power Administration (WAPA).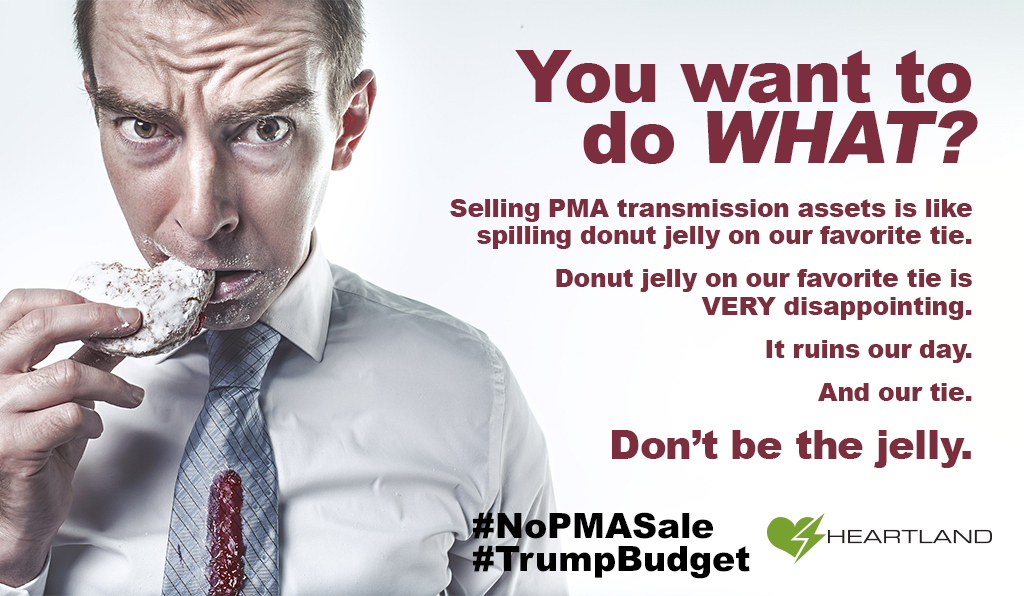 "Millions of Americans served by public power utilities depend on the PMAs and they are crucially important to rural communities," said Heartland Communications Manager Ann Hyland. "Many of our customers receive reliable, cost-based power generated at federal hydropower dams through WAPA. We felt it necessary to advocate on their behalf to ensure the PMAs remained intact."
Utilizing social media platform Twitter and hashtags #NoPMASale and #TrumpBudget, Heartland created a series of educational and sometimes humorous tweets, and released them over the course of a few weeks. The grassroots campaign aimed to increase awareness among policymakers of the seriousness of the budget proposal, and the impact it would have on our electric utility customers and others across the nation.
"We hoped to raise the alarm among our customers and electric consumers, who would then communicate the message to their Congressional delegation," Hyland said. "Twitter is an extremely effective way to reach a direct audience immediately. We believe it was just the right tool for our efforts."
In addition to the Twitter campaign, Heartland also worked with Mid-West Electric Consumers Association to spread the message and submitted letters to the editor to newspapers in our customer communities.
"Overall, we were very pleased with the response, with nearly every tweet we issued either retweeted, liked or both," said Hyland. "Most importantly, industry groups and officials took notice, and members of both South Dakota's and Minnesota's delegation in Washington, D.C. went on to voice opposition to the proposed PMA sale."
APPA presented the awards at the Customer Connections Conference in Sacramento, California on November 8. Judges were Ratika Garg, founder of KAIROS Strategic Consulting; Brenda Foster, senior vice president at Vanguard Communications; and Mike Kruger, director of communications at Smart Electric Power Alliance.
Pictured, Heartland Projects & Marketing Coordinator Danielle Rosheim, left, and Communications Manager Ann Hyland with the APPA award.