Mustang Seeds experiences rapid growth
December 1, 2017
Madison business expands facility, staff and services to better serve customers
Mustang Seeds has been in the business of growing for over half a century.
The family-owned company in Madison, SD first began selling a handful of seed products in 1963, led by patriarch Ray Schultz. Since then, Mustang has established itself as a leader in row crop, cover crop and bulk seed, with over a million acres of Mustang brand seeds planted in the U.S. annually.
Today, the seed supplier encompasses over 200 dealers in South Dakota, Iowa, Nebraska, Minnesota and North Dakota, and operates seed treatment facilities in Madison, Mitchell and Northville, SD, Beardsley, MN and Casselton, ND. Their seed product line includes corn, soybean, alfalfa, oats, native grasses, cover crops and more.
While Mustang has certainly made a name for itself in the seed business, the company has been focusing on a different type of growth lately.
Construction of a new 20,000 square-foot warehouse wrapped up earlier this year, just before the announcement of a 7,000 square-foot expansion of their corporate office. Terry Schultz, the company's president since 2002 and Ray's youngest son, also recently established Mustang's own crop insurance division, Red Horse Crop Insurance.
"We had to expand our warehouse space as well as our office space to keep up with demand," said Schultz. "The building additions as well as the insurance addition will allow us to better serve our customers, which is our number one priority."
A burgeoning business
The new seed warehouse, located next to the Madison processing plant, is completely climate controlled. Completed earlier this spring, the facility helps maintain product quality.
"Controlling the climate in storage reduces inventory losses on seed germination and increases overall profitability," Schultz said.
Weeks later, Schultz announced the addition of Red Horse Crop Insurance, which will further Mustang's commitment to customer service.
"Mustang Seeds representatives specialize in crop production and are accustomed to working with our customers throughout the year," Schultz said. "We're confident the policies we write will better serve our growers. It's a natural extension of the services we already provide."
Around the same time, Schultz unveiled plans for an expansion of their corporate headquarters, currently being built just north of their new warehouse in Madison. The company had outgrown its current building and was leasing office space for some employees off-site.
With construction expected to wrap up in January, Schultz looks forward to consolidating staff in order to operate more efficiently.
"We are anxiously awaiting the facility," Schultz added. "It will bring all of our businesses together under one roof."
Partnership with power provider
Mustang is investing more than $1.4 million in the two new facilities and utilized economic development financing from Heartland, Madison's wholesale public power provider, to help finance the initial expansion.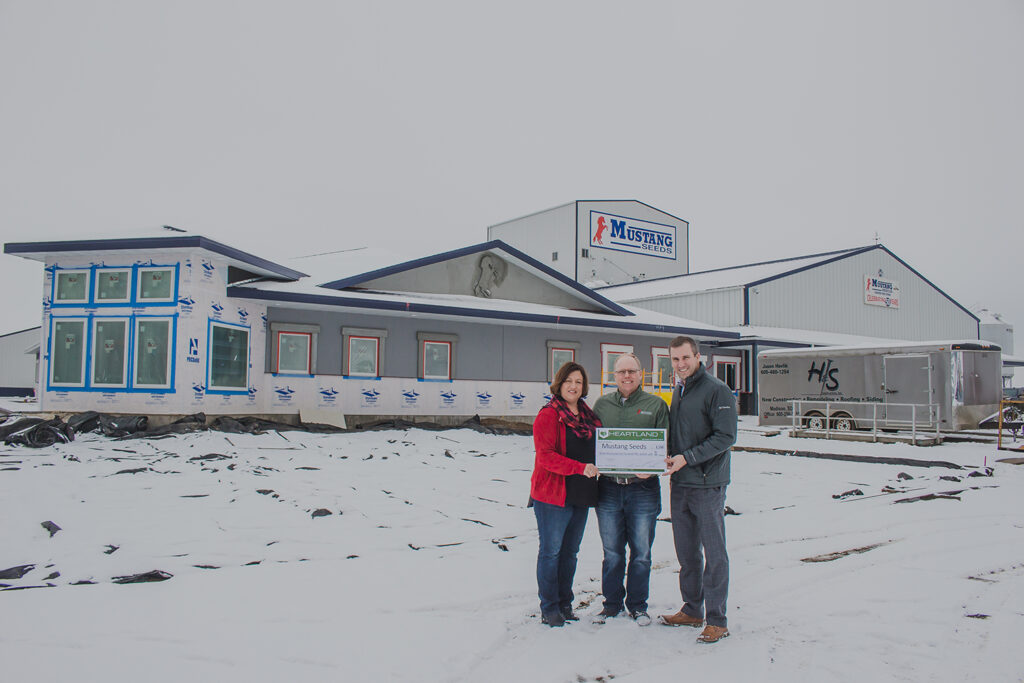 In late 2016, Heartland awarded Mustang Seeds and its real estate holding company Ramar, Inc. a $250,000 Heartland Economic development Loan Program (HELP) Fund loan for the construction of the climate controlled warehouse. Heartland Director of Economic Development Casey Crabtree believes the low-interest financing was vital in helping Mustang move forward with other projects.
"Our HELP Fund is a great low-interest financing option for businesses looking to expand, like Mustang," Crabtree said. "Because we were able to help with the warehouse, Mustang was able to seek more traditional financing methods for the corporate expansion. We're happy to have played a role in their advancement."
The HELP Fund supports business ownership and expansion, job creation and retention and entrepreneurial endeavors. Businesses in Heartland customer communities can receive up to ten years financing for buildings, land and permanent fixtures, or up to ten years or the useful life for machinery and equipment.
The partnership between Mustang and Heartland continues, as the completed warehouse also qualified the company for Heartland's Growth Incentive Program. New and expanding businesses in Heartland customer communities can earn cash incentives for jobs created as well as rebates on their retail electric bills.
"In its first quarter of operation, the new warehouse earned Mustang $3,100 in electric rebates," said Crabtree. "Coupled with savings from reduced inventory loss with the climate control technology, their new warehouse is providing multiple benefits to their company."
Poised for further growth

Once the headquarters in Madison is complete, Schultz plans to press pause on construction projects for a while. However, he expects his company to continue to grow in the future, just like his product.
"The demand for cover crops and the market for row crops are both on the rise," he said. "Last year, 10 million acres of cover crops were seeded in the U.S. That number should nearly double this year, and reach over 100 million by 2027."
As Schultz and his organization find ways to meet customer demand, he maintains his business will continue to operate with the purpose first established by his father, who passed away in April.
"Ray had the deepest desire to provide the best seed possible," he said. "He started the company with a mission to create long lasting relationships with his customers–a mission that holds strong today."