D&D Ventures thrives amidst booming Minnesota turkey industry
December 1, 2017
Public Power is Good for Business is a quarterly section highlighting successful businesses and projects located in our customer communities. Public power communities help foster prosperity and growth by offering reliable electric service at cost-based rates.
Public Power is Good for Business: Grove City business makes bedding for popular poultry
Let's talk turkey.
To most, that's just an expression. But in Minnesota, people talk turkey–literally–all year long.
Minnesota is a national leader in turkey production, home to 450 farmers raising roughly 40-45 million birds annually.
The industry's $800 million economic impact on the state is far-reaching, with thousands of jobs linked to turkeys through related industries. From breeding to processing to retail, turkey production offers countless opportunities for entrepreneurs to cash in on the booming bird business.
D&D Ventures of Grove City, Minnesota, is one such example. In operation since 2005, this small business has cornered the regional market for turkey bedding.
From broker to producer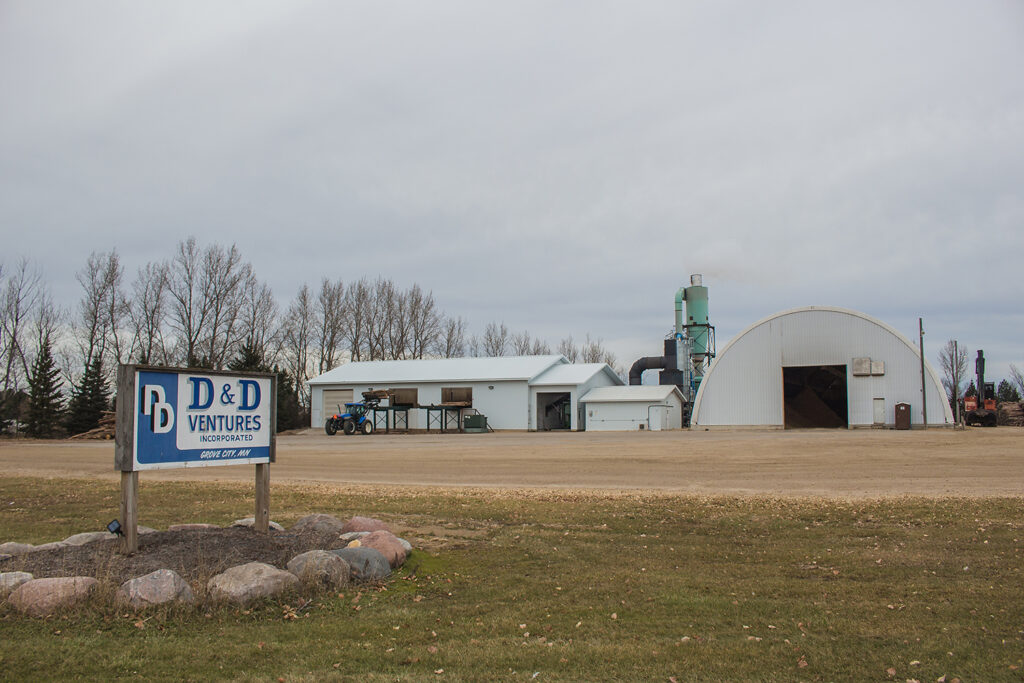 D&D President Dale Hoerchler has been working with poultry bedding for 20 years. Before starting his own business, he worked on a turkey farm spreading litter.
During that time, he picked up a few ideas. Before long, he was buying wood waste and by-products from cabinet makers and other companies to re-purpose it into his own blend of shavings.
He incorporated D&D Ventures in 2005. Eight years later, Hoerchler transformed his enterprise from brokerage to full production and distribution.
"The company I bought shavings from downsized, which drastically reduced the number of shipments I was receiving," Hoerchler said. "In order to keep up with business, I had to start producing my own shavings."
Hoerchler installed a $2 million shavings plant that included a new building, shaving equipment, control room, fire suppression system and more.
"I'm glad to no longer be stuck in a contract or dependent on someone else's by-product," said Hoerchler. "Now I can control what we produce and it's much more cost-effective."
The daily grind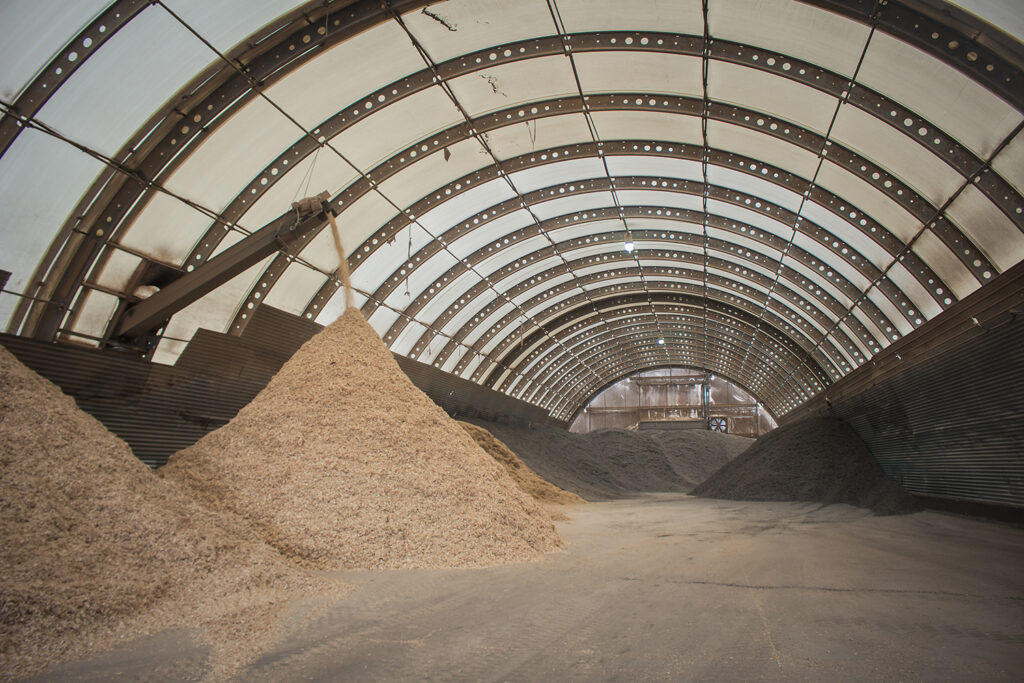 Today, D&D employs more than a dozen people and ships product to nearly a dozen clients in Minnesota, South Dakota and North Dakota.
According to Todd Oldenburg, shavings plant manager, D&D uses roughly 26 cords of wood to produce three-and-a-half semi loads of shavings a day. A cord measures four feet high by four feet wide by eight feet long.
"We sell five to seven semi loads a day, depending on the season, so we keep plenty busy," Oldenburg said.
D&D's bedding is produced primarily from pine and aspen trees, purchased in northern Minnesota and sometimes Wisconsin. They also create a unique blend that includes sunflower hulls shipped from North and South Dakota.
Hoerchler said poultry farms make up at least 75% of his clientele, but he also sells to a few dairy farms and other livestock and poultry producers.
New equipment boosts production
Last year, Hoerchler made updates of nearly $125,000 to his shavings plant, including installing a new screener system that removes debris and larger pieces of wood from the shavings.
"The screener is saving us a lot of time and money," Hoerchler said. "It removes debris that could have potentially clogged the system and reduces risk of fire in the dryer. Because it allows us to run full-time, we've gained nearly a half a load of shavings a day. Over the course of a year, that's a lot of product."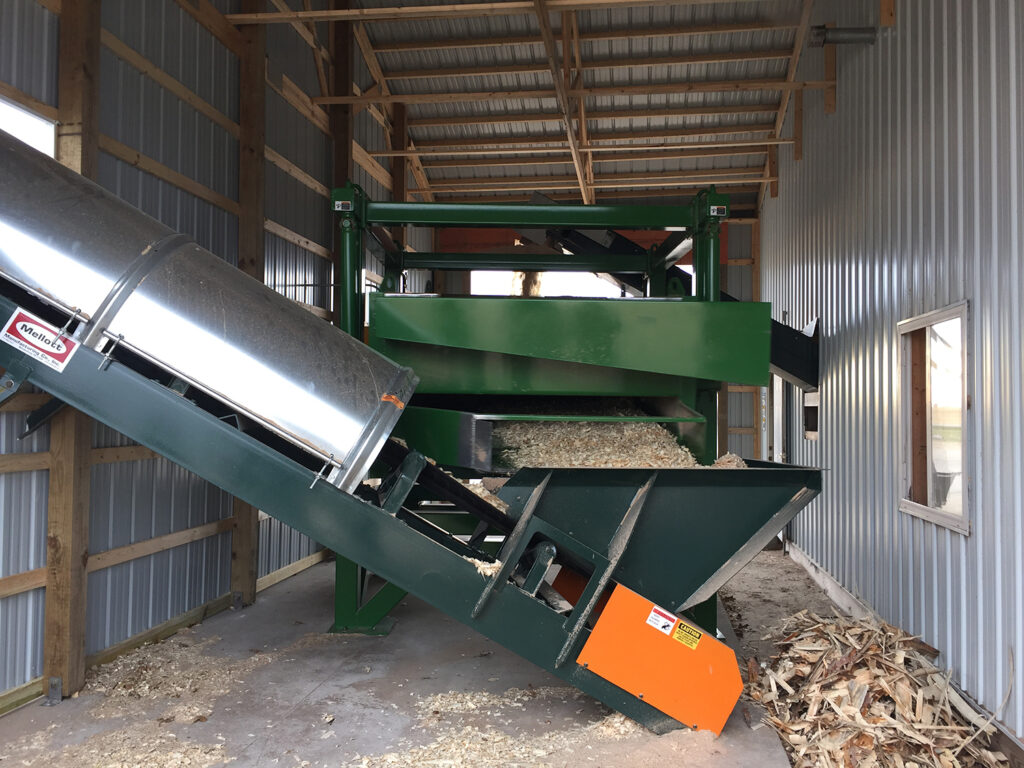 Hoerchler purchased the screener with help from rebates earned through Grove City's public power provider, Heartland Consumers Power District.
D&D earned cash rebates on its retail electric bills through Heartland's Growth Incentive Program, which promotes business recruitment, retention and expansion as well as job creation within its customer communities.
"Our program is designed to make it easier for businesses to either start up or expand," said Heartland Director of Economic Development Casey Crabtree. "Over three years, D&D will end up earning the equivalent of one year's worth of free power. That definitely helps with start-up expenses."
Electric bill rebates are determined by increases in energy consumption. With the expansion and new equipment, D&D's kilowatt consumption increased by more than five times.
"D&D has earned nearly $30,000 in electric rebates thus far," Crabtree said. "We look forward to working with them any way we can to ensure they have a successful future."
Demand growing for the other 'Other White Meat'
As long as Minnesota's turkey industry continues to prosper, so will D&D Ventures.
The state is ranked #1 in both turkey production and processing and supplies nearly one-fifth of all turkeys produced in the United States. Minnesota is home to 600 turkey farms, the world's largest turkey hatchery company, Willmar Poultry Company, and the nation's second largest turkey processing company, Jennie-O Turkey Store.
Minnesota also ranks first in turkey related jobs, with 12,520 farmers, processors and employees of other related industries earning over $765 million in wages.
Looking forward, the industry shows no sign of slowing. In fact, according to the USDA, the percentage of poultry meat consumption of the last ten years has grown more rapidly than red meats, and the U.S. is second in turkey consumption only to Israel.
Hoerchler estimates his business currently grinds anywhere from 6,500-7,500 cords, or roughly 500-575 semi-loads of logs, a year to meet demand. He hopes to install an additional shaver in the future in order to increase production by a third.
"The poultry industry isn't going away," he said. "We need to do what we can to keep up."
Featured picture: D&D Ventures earned nearly $30,000 in electric rebates in their first year of Heartland's Growth Incentive Program. Pictured, Heartland Customer Relations Manager Steve Moses, left, and Director of Economic Development Casey Crabtree, right, recently presented the check to D&D's Shavings Plant Manager Todd Oldenburg.