Long-time Madison electric superintendent retires
May 2, 2015
After 40 years of service to the city of Madison, SD, Dennis Poppen retired as electric superintendent May 1. Colleagues, friends and family celebrated his retirement in late April with an open house.
"Dennis has been a dedicated employee with a lot of knowledge and passion for the job," said Madison Load Management Operator Tess Nelson. "He will be missed."
Originially from Howard, SD, Poppen was hired by the city of Madison in November 1974 as an apprentice lineman. During his tenure, he also served as a foreman before taking over as electric superintendent in 2001.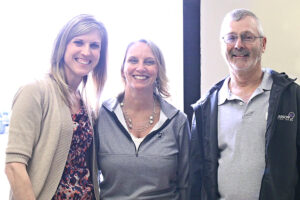 Looking back on his career, Poppen notes the integration of technology and switching from overhead to underground power lines as some of the biggest changes he's witnessed. He recalls the flood of 1993 as the biggest obstacle he helped overcome, when a large portion of the city was under water and many residents were without power for an extended period of time. He also remembers helping to build a new generation plant and substation in 1994 and 1995 as one of the more significant projects from his tenure. 
Throughout his career, Poppen served on a variety of boards and committees, including the South Dakota Municipal Electric Association Board of Trustees and Heartland's Customer Connections Committee. He also served on safety committees for the Health Pool of SD and the South Dakota Municipal League (SDML), and helped plan SDML's annual superintendent conference.
Poppen and his wife Rosie live in Madison. They have two children and one grandchild. His plans for retirement include spending more time with his family as well as hunting and fishing.
Congratulations Dennis!