Lake Crystal kicks off load management program
May 2, 2015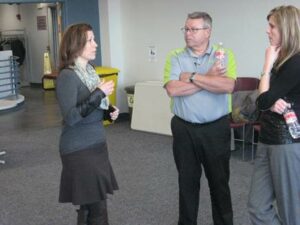 Lake Crystal Municipal Utilities (LCMU) hosted an open house April 22 to promote their recently announced residential load management program. The Minnesota utility is partnering with Omni-Pro Software of Madison, SD to provide a load management system to help control peak demand.
The open house was held at the Lake Crystal Area Recreation Center. The first attendees received free LED light bulbs compliments of LCMU. Drawings were also held for an Energy Star rated dehumidifier, courtesy of Heartland, and four Minnesota Twins tickets, courtesy of Bolton & Menk, Inc.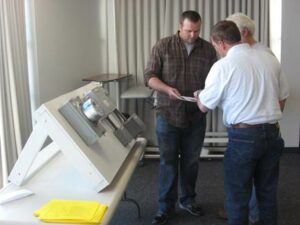 Jim Enga, president of Omni-Pro, was on hand to answer questions about the load management system. Heartland Customer Relations Manager Steve Moses and Communications Manager Ann Hyland also attended to offer residents information about Heartland's energy efficiency programs.
LCMU hosted the open house in an effort to make residents aware of the load management system and encourage them to sign up. Residents taking part in the program will receive a monthly credit for each device controlled by the system.
"We are encouraging everyone to sign up for the load management program," said LCMU Electric Superintendent Mathias Phelps. "Anything that helps control our peak demand is good for all of our customers. I look forward to having the program in place."
The LCMU goal is to sign up a minimum of 200 residential customers by May 1. Installation of equipment will be scheduled in the summer.