Lake Crystal launches Beat the Peak competition to reduce energy costs for customers
May 2, 2016
In an effort to reduce energy costs for its customers, Lake Crystal Municipal Utilities (LCMU) has unveiled a "Beat the Peak" competition. Offered as an extension of LCMU's load management program, the competition seeks to provide customers with an educational and fun way to reduce the cost of power purchased by the community.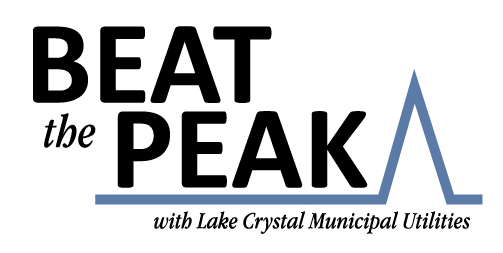 The competition will be held from May 30 – September 5, 2016, during which time participants will be asked to reduce energy usage when alerted by LCMU for Beat the Peak events. Participants earn points for reducing their consumption and promoting the program, and those who score the most points win cash prizes or can opt to receive their winnings in the form of credit on their monthly utility bill.
Generally, there will be around five to seven Beat the Peak event days per month from June to September lasting about four to five hours between 4:30 p.m. and 9:30 p.m. LCMU will notify all participants the day prior to and during the day of a Beat the Peak event through the City of Lake Crystal's CodeRED notification system.
Participation in the competition is free and voluntary, and electric customers can sign-up as an individual or team-up with a local non-profit organization. Participants will also be enrolled in LCMU's load management program, which offers consumers credits on monthly utility bills for allowing LCMU to remotely cycle common household appliances on and off for a few minutes during times of peak energy demand.
For more information, contact Lake Crystal City Administrator Taylor Gronau at (507) 726-2538 or lccity@hickorytech.net.