January student of the month excels in athletics and academics
January 26, 2015
For the fourth year, Heartland is teaming up with KJAM Radio in Madison to offer an exceptional student in one of five area school districts the chance to be named "Student of the Month." Heartland named Brody Gilbertson, a senior at Arlington High School, as the January student of the month.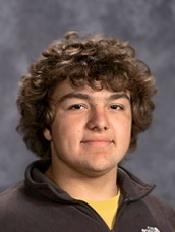 Heartland provides wholesale power to the cities of Colman, Arlington, Volga, Madison and Howard, all of which are in the KJAM listening area. Each month of the school year, Heartland will recognize an outstanding student from one of these schools. The student will be presented a recognition certificate and a small token from Heartland. Advertisements announcing the winning student will air on KJAM the last week of each month. Officials from each participating school nominate students for the award.
"Brody represents the best of what Arlington High School offers," said Arlington Principal Rhonda Gross. "He is heavily involved in extra-curricular activities and takes many challenging courses, but can still always be counted on to assist staff and students with whatever is necessary. He has a strong personal dedication to his teammates and always pushes himself to do his best."
Brody is the son of Steve and Alison Gilbertson. He is active in football, FFA, band, chorus, National Honor Society, FCA, track, wrestling and student council. He was named to the Elite 45 for football as well as named to All State Football. He was awarded the presidential Academic Excellence Award and a Peer Mentoring Award. He plans to attend South Dakota State University after graduation to pursue a degree in Agricultural Systems Technology.