Winter Conference features electrical safety discussion
January 3, 2015

Despite an icy winter storm that nearly hampered our efforts, Heartland held its inaugural Winter Conference in December. The event featured Mike Willetts, director of training and safety for the Minnesota Municipal Utilities Association, who discussed 2014 power standard updates from the Occupational Safety and Health Administration, specifically those dealing with electric power generation, transmission and distribution.
"Heartland decided to host the Winter Conference as a result of discussions held with our Customer Connections Committee," said Heartland CEO Russell Olson. "We realized the importance of tailoring content to the utility employees who are in the field every day. Safety is always a relevant topic and committee members were looking for a new medium to present the information."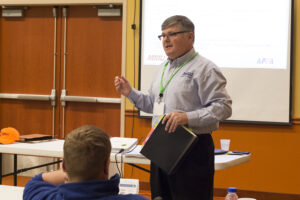 Willetts detailed the history and significant rule changes of OSHA General Industry 1910.269 and Construction Standard 1926 Subpart V. Both rules have undergone several revisions over the years, most recently in April of 2014. According to Willetts, the revisions have primarily dealt with training, information transfer, personal protective equipment, and working on or near exposed energized parts.
Willetts has over 30 years of experience within the electric utility industry. For the past 18 years he has been managing and developing the MMUA safety program which has become a comprehensive, highly respected program, viewed as a national leader among utility organizations.
"We heard a lot of positive feedback from customers about our first Winter Conference, despite the weather," added Olson. "We hope to bring Willetts back for future events as he has a lot of industry knowledge and presents the information in a way that is both interesting and informative."