Heartland selects new counsel
February 2, 2015
The Heartland board of directors recently appointed a new law firm to serve as general counsel as a successor to the law firm of Lynn, Jackson, Schultz and LeBrun. The law firm of Lynn, Jackson, Schultz and LeBrun chose not to continue as Heartland counsel at the end of 2014. The firm of Zimmer, Duncan and Cole, LLP was selected in early January after the board posted requests for proposals for the position and interviewed several firms.
Law firm partners Dennis Duncan and Drew Duncan will primarily be responsible for legal representation to Heartland. Both attorneys have acted as governmental affairs specialists and special projects counsel to Heartland since 2005.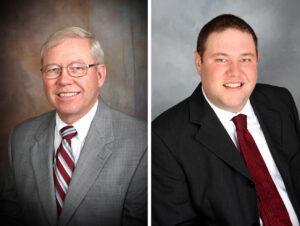 Dennis Duncan has been a practicing attorney in South Dakota since 1974 and has served as general counsel for a number of state incorporated organizations during that time. He has also served as South Dakota counsel on a variety of legislative and regulatory matters for state and national clients.
Following law school, Drew Duncan clerked for the Fifth Circuit Judge of the South Dakota Unified Judicial System in Aberdeen, S.D. Following his clerkship, he began practicing law at Zimmer, Duncan & Cole in 2003 and has focused primarily on governmental affairs, trial practice and general business organization and operation.
General counsel for Heartland is responsible for attending monthly board meetings as well as providing general legal services as requested by Heartland. Zimmer, Duncan and Cole began providing legal services to Heartland effective January 1, 2015.