Heartland welcomes energy scheduler
February 2, 2015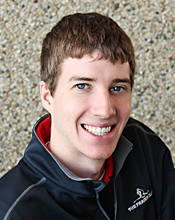 Heartland is pleased to announce McCord Stowater has joined our team as energy scheduler. A 2014 graduate of South Dakota State University (SDSU), Stowater began his duties February 2. He will primarily be responsible for performing market operations tasks on behalf of Heartland and our customers.
"McCord's education and prior experience, along with his understanding of the utility industry, made him an outstanding candidate for this position," said Heartland Chief Operations Officer Nate Jones. "He will be an asset to the company and we are excited to have him on board."
Stowater's tasks at Heartland will include daily forecasting and energy scheduling, dispatch of resources, and energy accounting. He will also be responsible for maintaining all relevant data in a computerized system as well as other tasks related to Heartland's operations.
Stowater graduated with a degree in electrical engineering with an emphasis in power systems and a minor in mathematics. He completed an internship at Xcel Energy in Sioux Falls, SD, working side-by-side with the area engineer in the Eastern South Dakota and Southwestern Minnesota territories. He managed three separate internal databases that tracked outages in the area, performed phase balance analyses, created plans to correct phase imbalances and other reliability issues, and worked on future substation projects.
Stowater previously worked as a quality assurance analyst intern for Workiva in Bozeman, MT, testing segments of computer code to assure intended functionality and prevention against breaking existing functionality.
Stowater is originally from Brandon, SD. He currently resides in Brookings, SD with plans to move to the Madison area. In his free time, he enjoys hunting, fishing and other outdoor activities, and volunteers at Delta Waterfowl.