January student of the month enjoys volunteering, helping others
January 30, 2017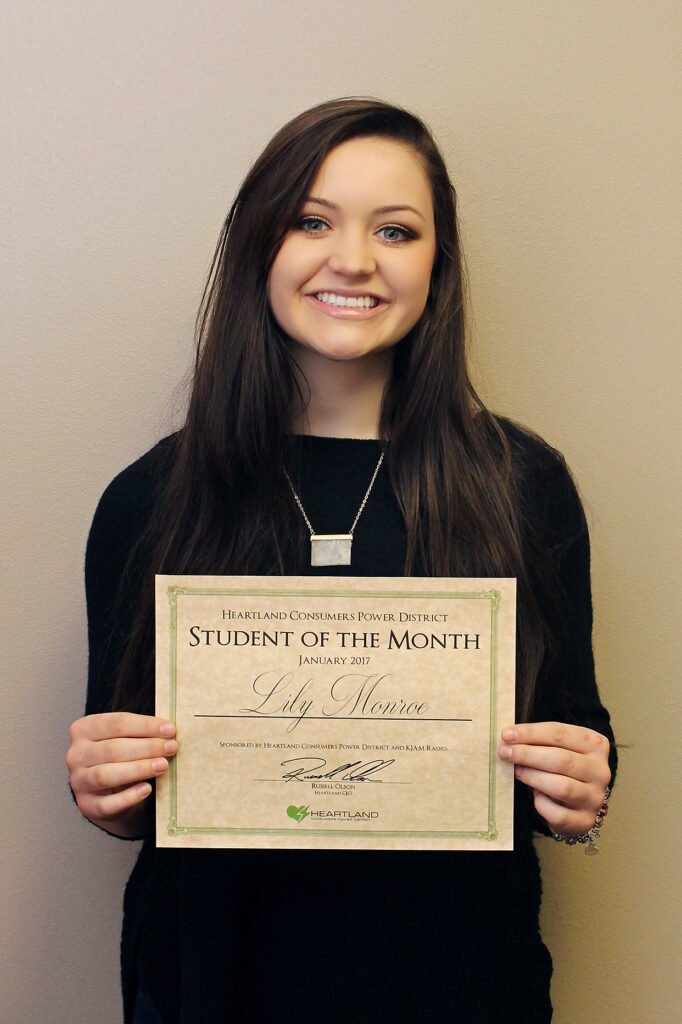 We are pleased to announce Lily Monroe as our January Student of the Month. A senior at Madison High School, Lily is recognized for her penchant to give back to her community, school and peers.
"Lily is a wonderful role model," said Madison High School Principal Adam Shaw. "She is very studious and will always go above and beyond to help others on a daily basis. She is currently a student ambassador, and regularly spends time working with our freshman students."
Lily is also a member of student council and National Honor Society, and helps with the school newspaper. Outside the classroom, she participates in volleyball and keeps stats for the wrestling team.
"Lily comes to school with a smile on her face every day, and is always willing to pick everyone's spirits up. We are very fortunate to have her in our school," said Shaw.
In her free time, Lily enjoys playing the piano and singing for worship team at her church as well as helping with children's church. She is also a certified lifeguard and water safety instructor and enjoys community volunteer work.
Lily is the daughter of Carleigh and Adam Foland. After high school, she plans to study pre-medicine at Augustana University with hopes to eventually go to medical school to become a surgeon.
The "Student of the Month" is awarded through a partnership of Heartland and KJAM Radio in Madison, SD and recognizes exceptional students in one of five area school districts. Heartland provides wholesale power to the cities of Arlington, Colman, Howard, Madison and Volga, all of which are in the KJAM listening area.
Each month of the school year, Heartland presents an outstanding student from one of these schools with a recognition certificate and small token, and advertisements announcing the winning student air on KJAM Radio.  Officials from each participating school nominate students for the award.
This is the sixth year Heartland and KJAM have teamed up to offer this program.