Intern tackles economic development research project
March 3, 2015
A local college student has joined Heartland's team to help tackle an economic development research project that will benefit our customers in business retention and recruitment ventures. Riley Bullington, a junior at Dakota State University in Madison, SD, began an internship in February researching demographics and key economic development data for each of Heartland's customer communities. According to Director of Economic Development Ryan Brown, the information will help Heartland determine where and how to invest resources in order to make the greatest impact as well as be used when meeting with existing and prospective businesses.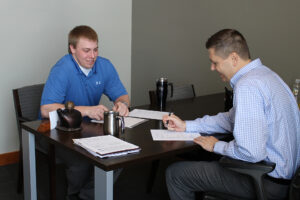 "In total, there are a few dozen factors he will be researching for each customer community," said Brown. "This data is frequently sought after by site selectors and community developers, and his research will allow us to provide it in a timely and in-depth manner."
Among the data Bullington will be collecting is local cost of living index, unemployment rates, average wages, available workforce, transportation data, applicable taxes and more. Brown expects the project to be wrapped up by the end of April.
"After meeting with our customers over the past year, it became evident each community could benefit from a defined marketing package," said Brown. "This research project is a first step in that direction. It aligns and supports our existing economic development programs, and we can use it as a springboard for future economic development services."
Bullington is originally from Brookings, SD. In his free time, he enjoys hunting, fishing and sports, and previously played baseball his freshman and sophomore years for DSU. He is on track to graduate this fall with bachelor's degrees in business management and business marketing and a minor in agriculture business. Bullington's future after college is currently unknown and he is exploring all options, including joining his father in retail sales.