Infotech breaks ground on new facility in Lakeview Industrial Park
December 11, 2020
Technology company looks to expand in 2021
In today's modern world, information technology is essential for day-to-day business operations.
A long-time Madison company provides a proactive approach to ensure a stable, secure and reliable network.
Infotech Solutions, LLC looks to celebrate 15 years of providing complete managed technology services in 2021. To continue providing the highest service possible, they broke ground this week on a new facility in Madison's Lakeview Industrial Park.
Technology niche
Infotech's success reflects the trend of a growing tech industry in the Midwest.
Madison has become known as a technology leader, with Dakota State University making their mark nationally in the realm of cybersecurity education and research. Its cyber programs have seen steady growth in recent years and consistently reports high job placement rates.
Infotech has tapped into the local talent pool as all eleven of their employees are graduates of DSU.
"DSU's leadership is directly responsible for the success of Infotech," said Infotech CEO Darin Namken. "They continue drawing students in, who then become contributing members of the community. We have an incredibly talented group of applicants to choose from right here in Madison."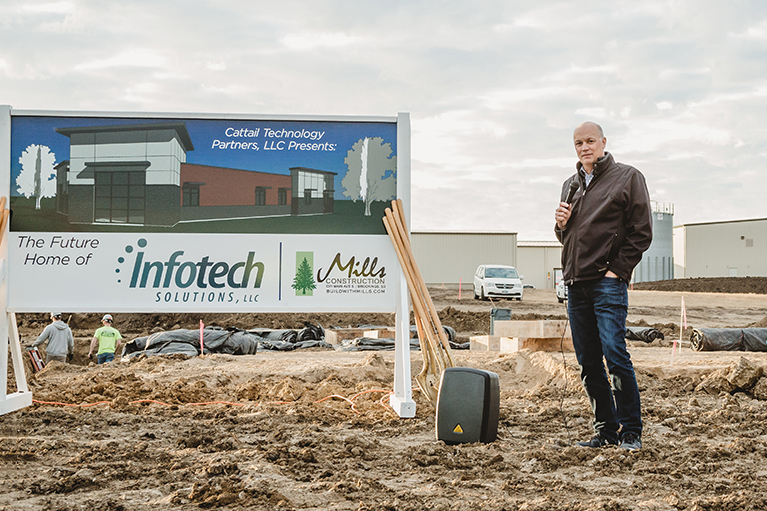 Namken believes the new facility will create an impression for guests entering Madison.
"We hope this project helps showcase everything the community and DSU has to offer," he said.
Collaboration with LAIC
Infotech is the latest tenant to take up residence in the industrial park, owned by the Lake Area Improvement Corporation (LAIC).
Retail company Runnings broke ground on a 69,000 square foot building in October. The following month LAIC announced the sale of eight acres to Midwest House Movers.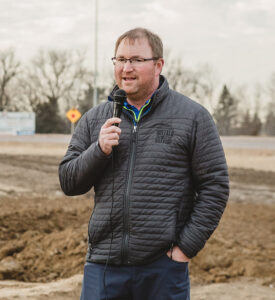 LAIC Executive Director Eric Fosheim is pleased by the recent surge in growth.
"We are excited to see continued growth in the industrial park along Highway 34," he said. "What better way to promote our community than to showcase our growing businesses on the gateway to our city."
Todd Knodel, chairman of the Infotech board, said the LAIC is an important asset to the region.
"Eric Fosheim along with the entire LAIC board have been excellent to work with, on this project specifically as well as when Infotech launched in 2006," he said. "They are invested in the economic prosperity of this region and deserve a lot of credit for recent success."
Preparing for growth
Changes to Infotech's corporate structure were announced in August, in preparation for expansion.
Josh VanDyke was promoted to president and Kyle Stoebner named vice president/director of engineering.
VanDyke joined Namken and Knodel to form Cattail Technology Partners to build the new facility and develop 3.6 acres in the industrial park. The new headquarters will accommodate existing employees with room to grow.
"The demand for businesses-integrating technology for efficiencies is ever growing. Similarly, cybersecurity is more important than ever," VanDyke said. "Infotech needs to continually innovate to meet our clients' needs. The new facility will allow us to do so while also expanding our IT team."
Supportive business community
Infotech aims to be the leading information technology service provider in South Dakota. Namken says backing from local business leaders will help them achieve their goal.
"Businesses in Madison always support each other and help each other out," Namken said. "They influenced our decision to expand and we are grateful to have so many partners here."
Madison's wholesale power supplier, Heartland Consumers Power District, will provide growth incentives to Infotech once their expansion is complete.
"Infotech and Heartland have a long-standing relationship," said Heartland Director of Economic Development Casey Crabtree. "Our growth incentive program is designed to help businesses expand and create jobs, and we look forward to doing our part to help increase their presence in Madison."
Infotech plans to move into their new facility in the summer of 2021. Innovative Design & Management Services is the architect on the project and Mills Construction is handling the land and building development.
Featured image: Project officials broke ground December 9. From left to right: Infotech Director of Client Services Doug Iverson, VP/Director of Engineering Kyle Stoebner, President Josh VanDyke, LAIC Executive Director Eric Fosheim, First PREMIER Bank VP/Market Leader Floyd Rummel, Infotech CEO Darin Namken, Mills Construction President Randy Hanson, Innovative Design President/Architect Lanny Auringer, Infotech Director of Business Development Tyler Ruhd, Madison City Commissioner Mike Waldner and GMACC Executive Director Eric Hortness.