Colman-Egan standout named Student of the Month
January 4, 2021
Senior Olivia Baumberger earns award from Heartland and KJAM Radio
Colman-Egan High School (CEHS) senior Olivia Baumberger has an impressive list of accomplishments throughout her high school career.
For her academic and athletic achievements, she has been named December Student of the Month by Heartland and KJAM Radio. Baumberger is recognized for her character, integrity and dedication.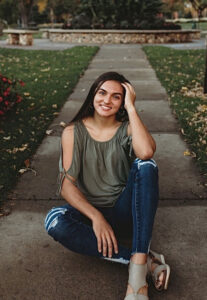 "Olivia is an outstanding student athlete," said CEHS Student Advisor Ashley Milbrandt. "Her drive and perseverance make her a great role model for underclassmen."
This fall she played a vital role in helping the C-E Hawks make their inaugural trip to the state volleyball tournament and ultimately earn fourth place.
During the tournament, she collected 244 kills, 200 digs, 60 ½ blocks and 23 service aces. Her performance landed her on the South Dakota Volleyball Coaches Association All-State second team as well as the all-tournament team.
Baumberger also earned CEHS MVP, Dakota Valley Conference All-Conference and Co-MVP, and Brookings Register Volleyball Player of the Year titles.
Although she fielded offers to play collegiate volleyball, she ultimately chose to level up in a different activity.
This spring Baumberger will wrap up an impressive high school career in track and field. Specializing in sprints and long jump, she holds the school record for most career field points.
At the 2019 state tournament she placed first in the long jump and ran on the winning 4×100-meter relay. She also ran on the second place 4×200-meter relay and helped the girls team earn third place overall.
Earlier this month she signed with the University of Sioux Falls (USF) as a member of the 2021 track and field recruiting class.
Baumberger's skill and expertise carry over into the classroom. She's a member of National Honor Society and has earned Academic All-State honors in volleyball, track, and basketball.
She's also a 2020-21 Champion of Character, selected by CEHS administration for exhibiting outstanding leadership and character.
In her free time, she enjoys hiking, walking, riding bike, weightlifting, and spending time at the lake.
Baumberger plans to major in nursing at USF. She is the daughter of Mike and Kelli Baumberger.
The "Student of the Month" is awarded through a partnership of Heartland and KJAM Radio in Madison and recognizes exceptional students in one of five area school districts. Heartland provides wholesale power to the cities of Arlington, Colman, Howard, Madison and Volga, all of which are in the KJAM listening area.
Each month of the school year, Heartland presents an outstanding student from one of these schools with a recognition certificate and small token, and advertisements announcing the winning student air on KJAM Radio. Officials from each participating school nominate students for the award. This is the tenth year Heartland and KJAM have teamed up to offer this program.