Heartland nabs two national communications awards
December 1, 2020
Video production and social media campaign recognized by American Public Power Association
Heartland was among forty-two public power electric utilities and utility organizations to earn Excellence in Public Power Communications Awards from the American Public Power Association.
The annual awards were handed out at the recent virtual Customer Connections Conference.
Entries are judged in three categories: print/digital, web/social media, and video. Awards recognized ingenuity and creativity in telling public power stories through outstanding copy, design, financial data presentation, graphics, social media engagement, video editing, and web layout and interactivity.
Heartland won an Award of Excellence in the Video category and an Award of Merit in the Web/Social Media category.
Video emphasizes commitment to reliable, hometown power
Heartland has been headquartered in Madison, SD since our company's inception. We also provide power to the city and support the community through various means including volunteer work, sponsorships and donations.
Heartland is a premier sponsor of the Madison High School athletic program. This partnership includes video advertising during MHS athletic events.
Heartland commissioned Wollmann Productions of Madison to produce the thirty second video. It's Morning Again in Madison reminds people of the importance of electricity in their daily lives.
The video offers a brief glimpse at the morning of a Madison educator. It emphasizes our commitment to providing reliable power and showcases our dedication to the community.
Social media campaign honors public power employees
Public Service Recognition Week (PSRW) honors people who serve as federal, state, county and local government employees. It's celebrated annually during the first week of May.
As with many things of 2020, the week held new meaning due to the COVID-19 pandemic.
Heartland felt it was more important than ever to call attention to and honor local government employees, especially those in public power. As essential workers, they kept the lights on during a critical time in our nation.
We kicked off our campaign with a heartwarming video from APPA, #WePowerOn. The video was a salute to public power and COVID-19 responders.
The rest of the campaign featured images of our employees sharing reasons they appreciate public servants.
The goal was to draw attention to the unsung heroes of the pandemic and give thanks. Ultimately, the campaign was successful and garnered a lot of engagement on both Twitter and Facebook.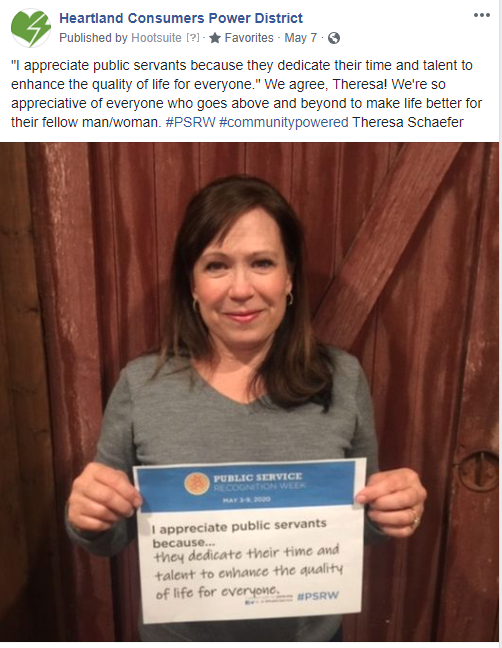 Awards presented at APPA conference
The awards were presented during APPA's virtual Customer Connections Conference October 27-28.
Judges included Leigh McGuire, Director of Marketing and Communications at The Monitoring Association; Kesha Willis, Director of PR and Communications at the Society of Breast Imaging; and Gary Hunt, Communication Director at The Ohio Society of CPAs.
Featured image: Mathew Wollmann of Wollmann Productions and Heartland Chief Communications Officer Ann Hyland with Heartland's two awards.