Heartland Energy honored with Growth & Achievement Award
July 5, 2023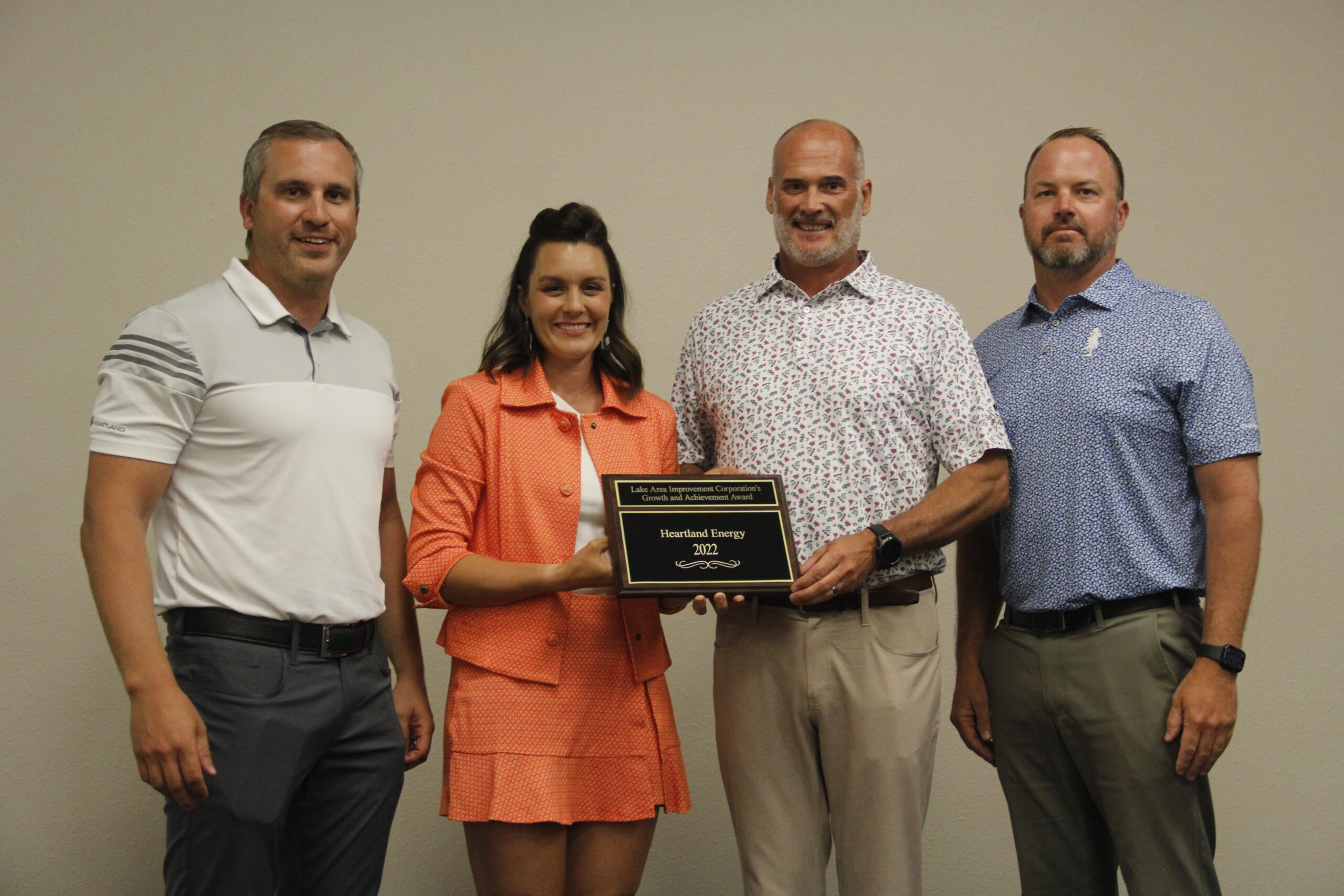 LAIC Executive Director Brooke Rollag presents the Growth and Achievement Award to Casey Crabtree, Russell Olson and Mike Malone of Heartland Energy.
Company honored for commitment to growth and development of Madison community
Heartland Energy has long been a proponent of economic development. That commitment was honored in June at the Lake Area Improvement Corporation's (LAIC) Annual Meeting.
According to LAIC Executive Director Brooke Rollag, "There are not many days, let alone weeks, that go by when the Heartland Energy team isn't connecting with the LAIC on ways to benefit the community."
The LAIC serves as the non-profit economic development organization dedicated to the growth and prosperity of Madison and the communities that reside within Lake County, South Dakota.
Commitment to community
The Growth & Achievement Award was created to recognize commitment to and excellence in the community. Heartland Energy CEO Russell Olson implemented the award twenty years ago when he was serving as executive director of the LAIC.
Olson has brought that same commitment to community to his work at Heartland Energy.
"The Heartland team has always taken great pride in their community, providing leadership both personally and professionally," said Rollag.
To name only a few, staff volunteer for the LAIC, Chamber of Commerce, Interlakes Area United Way, Junior Achievement, Trinity Lutheran Preschool, Madison Regional Health Foundation, DSU Foundation, Trojan Athletic Club, Madison Education Foundation, Valiant Living, youth baseball, Madison Fire Department, City Commission and State Senate.
After assisting in making the Lakeview Industrial Park certified site ready, they purchased a lot from the LAIC to build a new, state of the art headquarters – moving in 2010.
Supporting business growth
Through a revolving loan fund, Heartland Energy provide low-interest financing to support business growth. They partner with local banks and provide funds for business ownership and expansion as well as job creation. They have facilitated over 30 loans in Madison alone.
"They are always at the forefront providing incentives or rebates on electric bills," Rollag added. "This matched with workforce incentives always catches the attention of new and expanding businesses."
In addition, Heartland CFO Mike Malone serves on the LAIC board of directors.
"They believe in making investments in the communities they serve to support growth and development as well as increase quality of life," Rollag concluded.