Forward-looking development at Hillcrest Industrial Park announced
October 4, 2018
Certified Ready Site in Colman, SD holds ribbon cutting with ISG and GOED
A ceremonial ribbon was cut at the Hillcrest Industrial Park site in Colman, South Dakota this past Monday, October 1st, to celebrate the Park's new designation as a Certified Ready Site. With a master plan, led by industry leading architecture and engineering firm ISG, unveiled at the event, the ribbon cutting signifies a major step towards the development and evolution within the State and city of Colman.
Project partners, Heartland Consumers Power District (Heartland), South Dakota Governor's Office of Economic Development (GOED), the City of Colman, and Colman Economic Development Corporation (CEDC), were present alongside ISG at the event, which was open to community members, business owners, and media representatives.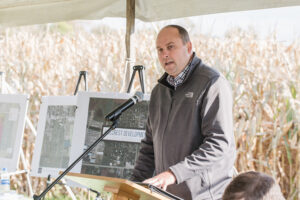 GOED offers the Certified Ready Site program to promote commercial and industrial sites that are development ready, guaranteeing the most detailed and accurate information about the site and mitigating risk for developers.
"Nothing starts without first, communicating a vision. This week, Colman community leaders did just that," exclaims Steve Watson, ISG Development Strategist.
The newly certified and uniquely positioned Park, which consists of just over 100 acres and is just 2 ½ miles from Interstate 29 along Highway 34, can accommodate a number of uses.
"Its (the Park) proximity to Brookings, Sioux Falls and Madison, South Dakota make it a strong option for businesses looking to serve such markets or draw from the regional labor shed," notes Watson.
Heartland, a non-profit, public power utility located in Madison, South Dakota, provides wholesale power as well as energy services and community development programs to the City of Colman as well as other municipal electric utilities throughout the Midwest. The wholesale power Colman receives from Heartland allows them to function as a public power community, and invest the money from owning and operating their own utility back into the City.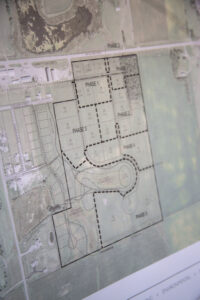 Heartland worked closely with City leaders throughout the certification process and provided an economic development grant to the CEDC to help with certification costs and marketing, helping to make it one of only five Certified Sites in the state, two of which are also Heartland customers.
"Being a small community doesn't mean growth and development aren't possible," states Casey Crabtree, Heartland Director of Economic Development. "Colman's City leaders had a vision and the drive to make this possible, and are proof of the power of positive partnerships. We are proud to have worked with them every step of the way and look forward to a bright future for the community."
ISG, with a local office in Sioux Falls, South Dakota, provided master planning deliverables for the site, which included an animation and development package focused on a conceptual plot for a mixed-use site featuring commercial and industrial spaces alongside a single-family residential neighborhood and an attractive open greenspace featuring wetland and stormwater basins. The project site is also phased into five parts, allowing for a streamlined and effective development schedule.
"In addition to the site's prime location, the project has a team of partners willing to think outside the box and make a real impact on rural communities in South Dakota," explains David Doxtad, PE, ISG Principal and Sioux Falls office leader. "Interest has already been generated with viable business partners engaged, and we are very excited to see the site and opportunity evolve."
[Best_Wordpress_Gallery id="13″ gal_title="Hillcrest Industrial Park Ribbon Cutting"]
About ISG
ISG, a 100 percent ESOP firm, has a rich history, which extends over 45 years, of building trusting relationships with clients, stakeholders, and the community. As a full service architecture, engineering, environmental, and planning firm with 280+ professionals in offices throughout Iowa, Minnesota, Wisconsin, and South Dakota, ISG provides exceptional services, strategies, and guidance to a wide range of markets nationwide. ISG fosters strong collaboration between all firm disciplines providing clients a diverse knowledge base, high level of creativity, and broad perspective. ISG was named among the 100 fastest growing firms and best places to work for in the United States by Zweig Group, recognized as a Top 500 Design Firm by Engineering News-Record (ENR) magazine, named to the coveted PSMJ Circle of Excellence, and earned spots on numerous Top Workplace lists as well as the 2018 Inc. 5000 Fastest Growing Firms list. Recent expansions include the organic start-up of a Sioux Falls, South Dakota location in 2017, acquisition of StruXture Architects and VGI Design in Iowa, and future office relocation in downtown Green Bay, Wisconsin. The firm is also celebrating its 45th anniversary throughout 2018.  To learn more about ISG, visit www.is-grp.com.
About Heartland
Heartland Consumers Power District is a non-profit, public power utility located in Madison, S.D. Heartland provides reliable power as well as energy services and community development programs to municipal electric utilities throughout the Midwest. Heartland's comprehensive economic development program includes incentives and low-interest financing options to help customer communities thrive by encouraging business growth and expansion.