Former educator appointed to Heartland board
January 4, 2017
New director for Subdivision 2 adept in planning, public needs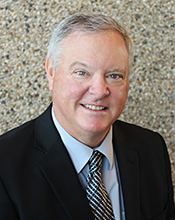 A former school administrator has been appointed to the Heartland Board of Directors. At their December meeting, the board appointed Patrick Anderson, a Yankton, SD native, to represent Subdivision 2, which consists of Clay, Union and Yankton Counties in South Dakota.
Anderson recently retired from serving as principal of the Vermillion Middle School. He was employed with the Vermillion School District since 1981 serving as a teacher, coach and assistant principal before becoming principal of the middle school in 1993.
"We are excited to have Pat as the newest member of our board," said Heartland CEO Russell Olson. "His experience as a school administrator gives him knowledge in the areas of planning, budgeting, and public meetings. He has been very involved in the Vermillion community and at the University of South Dakota, a Heartland customer, which gives him a strong base to understand the needs of our customers."
Anderson has served as a guest lecturer at USD, a G.E.D. instructor at Vermillion High School, served on the Vermillion School District Instructional Council and Strategic Planning Committee and was the Making Middle Grades Work coordinator for the Vermillion Middle School.
He has numerous volunteer experiences to his credit including with Boy Scouts, Booster Club, Baseball Association, Junior Achievement, City of Vermillion Community Review, among others.
Anderson resides outside Vermillion, SD with his wife Valerie. They share five children and two grandchildren. He enjoys reading, carpentry, hunting, fishing, golfing and other outdoor activities.
Anderson replaces Jerad Higman, who served on the board since 2014 and resigned from the position in October.