Evelyn Graham named Student of the Month
March 7, 2023
Madison senior earns award from Heartland Energy and KJAM Radio
Madison High School senior Evelyn Graham has a high bar for personal achievement. MHS staff say she's passionate about her education and works hard to challenge herself.
They also credit Graham for helping other students in scholarly pursuit.
"Every Friday morning this past semester, Evelyn came into school early to work with freshmen on academic skill building," said MHS Principal Adam Shaw. "She's also always open to tutoring students who may be struggling. She's extremely personable and a great role model."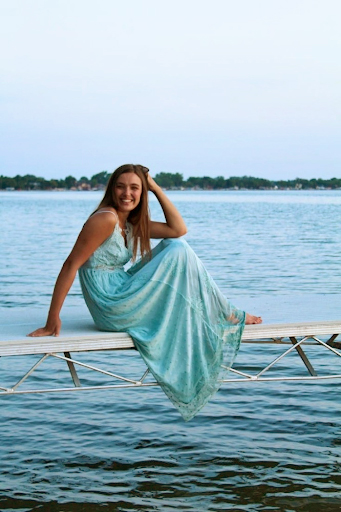 Graham has been named Student of the Month by Heartland Energy and KJAM Radio. She is recognized for her intellect, drive and outstanding achievements.
Graham's leadership skills are reflected in her various extracurricular activities. She serves as president of student council, secretary of National Honor Society, and treasurer of the Health Occupation Students of America club. She was nominated for and attended the Hugh O'Brian Youth Leadership Seminar and is a 2022-23 Champion of Character for the Characters on Track program.
Graham is a talented pianist and vocalist. She is a member of the Piano Guild, mixed choir and MadVoices Jazz Choir, and has earned All-State Chorus honors. She's also active in marching band and winter drumline.
Graham is a member of the varsity girl's tennis team and coaches for the Madison Summer Tennis Program. She's also involved in the school's Maroon Newspaper.
Graham is the daughter of Robb and Christine Graham. After graduation she plans to study biology at an undergraduate college towards a career in medicine. She's narrowed her choice of school down to Montana State University or Gustavus Adolphus College.
The "Student of the Month" is awarded through a partnership of Heartland Energy and KJAM Radio in Madison and recognizes exceptional students in one of five area school districts. Heartland Energy provides wholesale power to the cities of Arlington, Colman, Howard, Madison and Volga, all of which are in the KJAM listening area.
Each month of the school year, Heartland Energy presents an outstanding student from one of these schools with a recognition certificate and small token, and advertisements announcing the winning student air on KJAM Radio. Officials from each participating school nominate students for the award.
This is the twelfth year Heartland Energy and KJAM have teamed up to offer this program.