Colman senior named October student of the month
November 3, 2015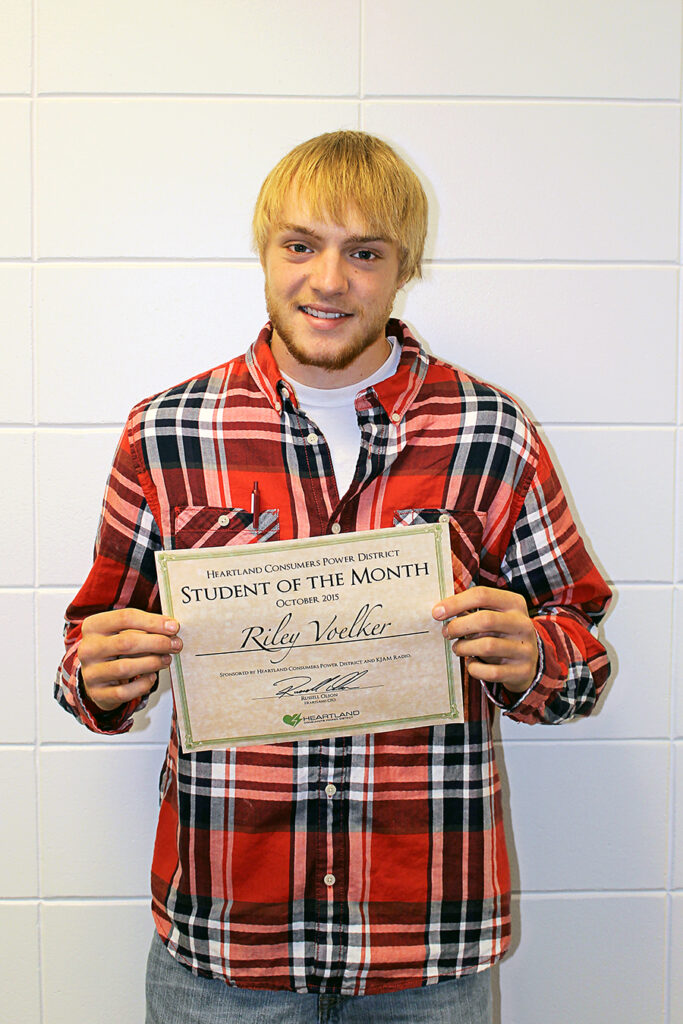 Heartland is pleased to announce Riley Voelker, a senior at Colman-Egan High School in Colman, SD, as our October student of the month. The son of Chad and Marcie Voelker, Riley is well-liked and respected by his teachers and peers, and is known as a hard worker who is not easily discouraged.
"Hard work, respect, commitment and going beyond the 'status quo' are superb attributes in a young person. Riley is defined by these qualities," said Colman-Egan High School Guidance Counselor Vickie Leibel. "He has the courage to take the lead and pushes himself to be the best he can be."
Riley is the oldest of four children with three sisters. In his free time, he enjoys helping out on the family farm. His extracurricular activities include football, basketball and track.
After high school Riley plans to attend Southeast Technicial Institute in Sioux Falls, SD. Leibel says his desire and abilities will help him be successful in his chosen field of diesel mechanics.
The "Student of the Month" is awarded through a partnership of Heartland and KJAM Radio in Madison, and recognizes exceptional students in one of five area school districts. Heartland provides wholesale power to the cities of Colman, Arlington, Howard, Madison and Volga, all of which are in the KJAM listening area. Each month of the school year, Heartland will present an outstanding student from one of these schools with a recognition certificate and a small token, and advertisements announcing the winning student will air on KJAM Radio for one week. Officials from each participating school nominate students for the award. This is the fifth year Heartland and KJAM have teamed up to offer this program.