Estelline care center offers unique advantages, among best in state
November 3, 2015
This month we are kicking off a new quarterly feature: Public Power is Good for Business. Every few months, we will highlight a successful business located in one of our customer communities. Public power communities help foster prosperity and growth by offering reliable electric service at low rates.
---
Estelline Nursing & Care Center
Tucked away in the small northeastern South Dakota community of Estelline is one of the nation's few nursing homes owned and operated by a municipality. The Estelline Nursing & Care Center (ENCC) was established in 1978 and has been thriving under the supervision of the Estelline City Council for nearly 40 years, with only a few years span operating under corporate management. Funded completely by resident fees, including Medicare, Medicaid and private pay, ENCC stands out among the nursing homes in South Dakota and the United States.
"In this day when so many care facilities are struggling, they have managed to keep on the plus side of things," said Estelline Finance Officer Mary Saathoff. "Their success is largely due to the great staff, but I think being incorporated with the city and being able to offer the benefits we have makes a big difference."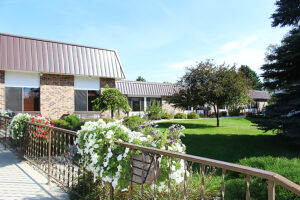 ENCC is a 60-bed facility that operates at capacity on a regular basis. As a non-profit entity, the care center's administration tries to keep residence fees as economical as possible while meeting all reasonable needs.
"If our residents need something, we get it," said Licensed Social Worker Sherry Bjorklund. "Our facility is a place to live. Everything we do is in order to enrich their lives and every decision we make is in their best interests. We strive to provide loving, tender care that meets the highest quality of standards while maintaining safety, compassion and professionalism in a warm, caring community."
Exceptional Accommodations
ENCC residents have access to 24-hour nursing care as well as regular visits from a team of five physicians from the region. The center offers speech, physical and occupational therapy as well as outpatient therapy, weekly Bible study and church services, hospice care, a beauty shop on-site with visits from a beautician, cable TV and wireless internet, and specialized dietary services that offer alternate menus by request. The building is all one level with semi-private and private rooms, a dining hall and recreation room, therapy room and private lounge. Two wheelchair vans provide transportation to off-site activities.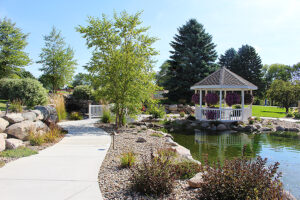 Outdoors, residents can enjoy beautiful flower arrangements, two gazebos, a small waterfall and pond, and a petting zoo. Staff have allowed residents to share in the responsibility of maintaining the grounds.
"We have one resident who cares for the animals and another who waters all the flowers," said Bjorkland. "Our backyard is beautiful and peaceful–even our staff likes to sit out here, relax and enjoy the view."
Next door is a newly established Veteran's Memorial Park, which also provides a serene setting for residents to enjoy with their families and visitors.
Activities and Programs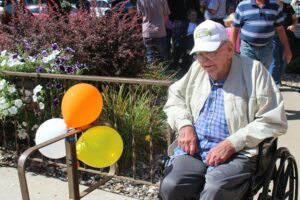 The care center also boasts a robust, full-time activities department that includes Bingo, weekly gazebo parties, exercises and walks, musical entertainment and more. The department is also funded by an annual Grandparents Day fundraiser. This year's event had a carnival theme and drew about 300 people, including residents, families, staff and community members. It featured a lunch, inflatable castle, sand box, dunk tank, fishing pond, ring toss, popcorn and cotton candy, balloon animals and a visit from a clown. ENCC vendors and local businesses also donated items for a raffle, with proceeds going toward the Residents Activities Fund. Admission to the event is a free will donation.
"Every year our Grandparents Day gets bigger and better," Bjorklund said. "It is more than a fundraiser for us – it is a family day that is fun for all ages."
Bjorklund credits great relationships with the city and the Estelline school for much of the center's success, especially in terms of activities–one of ENCC's top priorities. Several programs offered by ENCC rely on volunteers from the community, and students of all ages have several opportunities throughout the year to interact with residents.
"Every year the school's concert band and choir perform for us, and we also host a prom supper and grand march each spring," she said. "Our residents love seeing the kids dressed up and the students seem to really enjoy it as well."
Another successful program is the 6th Grade Program, which involves visits from Estelline sixth graders every Friday of the school year.
"The students come for about an hour each week during the school year and join the residents, usually on a one-to-one basis. They can play games, watch movies or help the residents with small tasks. Sometimes we have activities planned, such as minnow races, Bingo or making ice cream, but the main idea is to have fun together," said Bjorklund.
She believes the program benefits the children as well.
"It is a great way for us to introduce them to the older generation and the nursing home environment," she said. "They are timid at first but eventually warm up to everyone and look forward to visiting each week. The exposure could lead some children to become employees some day."
The 6th Grade Program was previously named Volunteer of the Year in the Group Category by the South Dakota Health Care Association, which recognizes honorees for their participation in a program that significantly improves the daily lives of the residents or members of the communities they serve.
Non-Profit Advantage
According to the Department of Health & Human Services' most recent study, less than 6% of the nation's nursing homes are government-owned. Non-profit entities such as the ENCC often fare better than private, corporate-funded care centers in terms of quality of care and staffing. In fact, several national senior and healthcare advocacy groups have determined through extensive research that non-profit nursing homes offer several distinct advantages, including, but not limited to, fewer deficiencies, lower prevalence of restraints, lower hospitalization rates, higher staffing numbers with registered nurses, higher staffing ratios overall, and higher ranking on the Centers for Medicare & Medicaid Services (CMS) Five-Star rating system.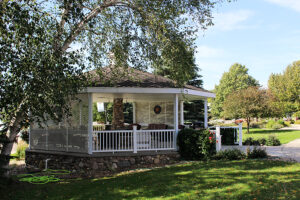 ENCC falls in line with those statistics. In 2015 it was awarded an overall five-star rating from CMS based on ratings from health inspections, nurse staffing and measures of medical quality of care, and was included in the top 15 Best Nursing Homes in South Dakota by U.S. News & World Report.
It employs 70 people full time and part time, and several core staff and administrators have longevity. For example, Bjorklund recently celebrated her 30th anniversary of employment with ENCC while Administrator Michael Ward has worked there for 20 years.
"As an employer, the city has good benefits and really appreciates its employees," Bjorklund said. "Not only is this a great care facility, but it is also a great place to work."
Visit Estelline Nursing & Care Center on Facebook, or view the gallery of images below.