Colman senior is academic and team leader
April 2, 2015
Heartland is pleased to announce Jared Schwebach, a senior at Colman-Egan High School in Colman, SD, as our March student of the month. The son of Tom and Marilyn Schwebach, Jerad is recognized for his positive attitude as well as academic and athletic achievements.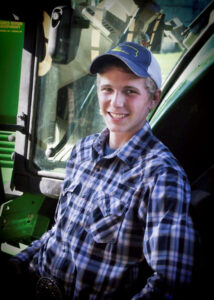 "Jared is an extremely bright and determined young man," said Colman-Egan Science Teacher and Cross Country Coach Bethany Ellefson. "He is punctual and responsible, taking the initiative to complete work in a timely manner. Balancing school, work and activities can be difficult, but Jared excels at it."
In his free time, Schwebach enjoys farming, hunting and running. At school he is active in band, oral interp, one act play, FFA, FCCLA and track. He also participates in cross country and qualified for the state meet in 2014.
"He went above and beyond and pushed himself to the limits in order to achieve his goal," said Ellefson. "His efforts had a huge positive impact on his teammates, and it was clear he was a great role model to each and every one of them."
After graduation, Schwebach plans to attend Lake Area Technical Institute in Watertown, SD to study diesel technology. His future plans include working as a mechanic and eventually returning to the family farm.
The "Student of the Month" is awarded through a partnership of Heartland and KJAM Radio in Madison, SD and recognizes exceptional students in one of five area school districts. Heartland provides wholesale power to the cities of Arlington, Colman, Howard, Madison and Volga, all of which are in the KJAM listening area. Each month of the school year, Heartland will present an outstanding student from one of these schools with a recognition certificate and a small token, and advertisements announcing the winning student will air on KJAM radio for one week. Officials from each participating school nominate students for the award. This is the fourth year Heartland and KJAM have teamed up to offer this program.