CEO's Report: July 2016
June 30, 2016
As Heartland staff prepares for our annual Summer Conference, taking place July 12, we look forward to the opportunity to visit with customers and provide useful information and ideas you can take back to your communities, share with other community stakeholders and implement for the betterment of your citizens.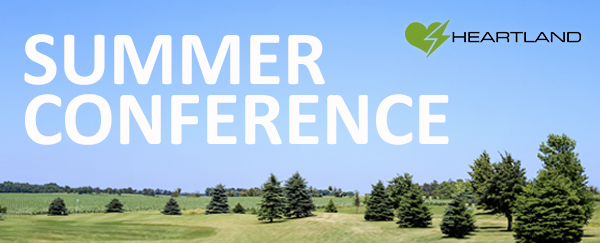 Heartland hosts a variety of events for customers throughout the year. Our Summer Conference has come to be known as our flagship event. Not only do we bring in speakers who provide knowledgeable advice on growing, sustaining and advancing your community, we provide a little afternoon entertainment that allows for networking with other customers, staff, board members, legislators and other key delegates.
It is often said the most valuable part of any meeting or conference is the activity after the formal conference adjourns. This is a time for meeting new people, re-connecting with others and sharing ideas.
Most of the customers we serve are small, rural communities. The same person typically wears many hats and is expected to be an expert on as many topics. Having a network of individuals with expertise in different areas allows you to be that expert because you always have someone to reach out to with questions or for advice.
While every community is different, they are also similar. Every community must tackle projects from electrical upgrades to street projects to wastewater and the list goes on. If you are thinking of tackling a project, chances are, another Heartland community has already done it. Events like our Summer Conference give you the chance to visit with those folks and put a name with a face next time you want to reach out.
We have great speakers lined up this year. Don Macke will talk about how you can support entrepreneurs in rural towns and smaller cities. Don works for the Center for Rural Entrepreneurship and their goal is to help communities build a prosperous future through the development of entrepreneurship. It's no secret that growth in small, rural towns is a problem. Our hope is for Don's presentation to spark some ideas you can implement in your community to help cultivate a culture of growth. Don's presentation is a great lead in to the speakers we have lined up to talk about how one small town took a dream of creating a community gathering place and made it a reality. This "real world" example should inspire all of our customers.
Finally we will be presenting our strategic plan. We have been working on this plan for over a year – gathering feedback from customers, staff and board members. We took all that feedback and created a plan that will be our guiding force for years to come. We look forward to sharing it with you.
I look forward to seeing you at our event on July 12 and hope you take the opportunity introduce yourself to someone you don't know. This is the one Heartland event open to people other than customers which makes it the perfect time to reach out and make connections. We all need people in our corner and this is a chance to increase the number of experts in your corner, while both learning something along the way and having a little fun in the process.