Aurora, SD flourishes as bedroom community
March 3, 2017
Public Power is Good for Business is a quarterly section highlighting successful businesses and projects located in our customer communities. Public power communities help foster prosperity and growth by offering reliable electric service at cost-based rates.
City is affordable alternative for young families and first-time homebuyers
Josh Spilde knows what it's like to be a first-time homebuyer.
"Let's say you spend around $150,000 on a home that is 40-50 years old," he said. "That's a big investment and it probably included a large down payment. But the house is old, so you might need to replace windows or fix the roof within a few years or even months."
Spilde, an electrical contractor, knows many first-time homeowners can't pay for these early repairs because their money is tied up in buying the house.
"I think housing should be affordable," he said. "And it should be maintenance-free living for a while."
This belief led Spilde to purchase and develop fourteen acres in Aurora, SD. What was once raw farm land is now a 24-lot housing development complete with water, sewer, electrical and roads.
"My goal is to provide affordable housing, targeting low- or middle-income families and first-time homebuyers," Spilde said.
As for his choice in location?
"Aurora was a natural fit," he said.
Location, location, location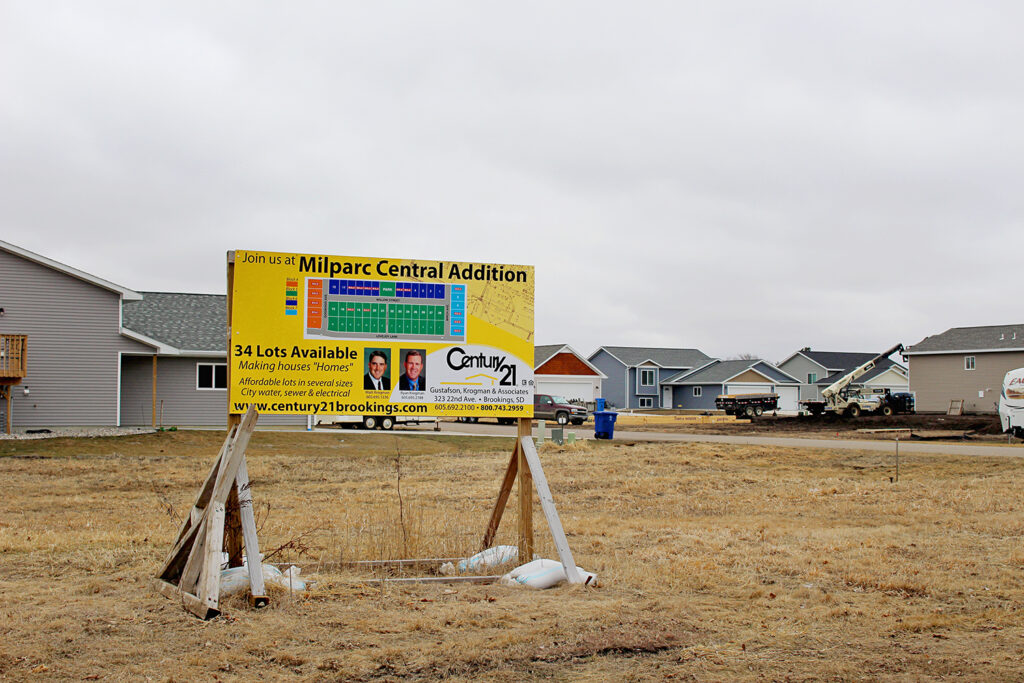 Home to roughly 532 people, Aurora has seen a housing boom in the last few years. A number of factors have played into this recent growth, but its proximity to another rapidly-expanding community has had the most impact.
Only a few miles away is South Dakota's fourth-largest city, Brookings, which has seen a 25% population growth since 2000. In the last ten years, it has added over 1,700 housing units, but struggles to keep up.
"Their job market is exploding, but they are running out of affordable places to live," said Aurora Utility Manager John Muller. "Also, they are developing away from the business district, in the opposite direction from Aurora. That has worked to our advantage."
Much of the growth in Brookings has been in the southwest corner of the city. Aurora sits about three miles east of Brookings, just south of US Highway 14.
"The commute to Brookings is around five minutes and it's mostly highway," said Muller. "You might travel more miles [than you would if living in the city], but you'll get where you need to be in half the time. Less traffic, fewer stoplights."
Also in Aurora, the price is right.
"There is a big demand for housing in Brookings, but it's hard to find good homes under $200,000," said Spilde. "That's not a realistic price range for a large portion of people."
Strike while the iron is hot
Spilde is the owner and operator of Spilde Electric in Arlington, SD, a business he's run since 2003. In 2015, he was looking for land to build and sell a spec house when he discovered the property in Aurora.
"I realized it wouldn't cost much more to buy the fourteen acres than to develop one or two lots in Brookings," he said.
Utilizing low-interest financing from the Heartland Economic development Loan Program (HELP) Fund and First Bank & Trust, he purchased the land and installed the infrastructure.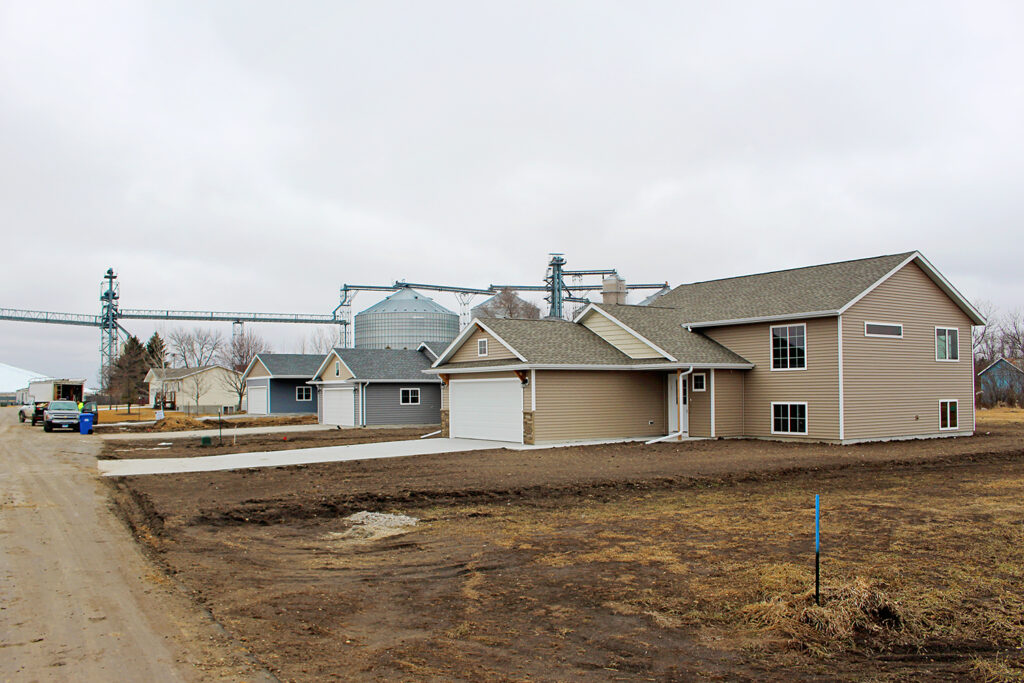 "I sent out bids for water, sewer and road but did all the electrical work myself," he said.
At $27,900 each, lots are going fast.
"We sold two lots by the end of 2016, and both of those already have houses on them," he said.
Ten more lots sold within the first two months of 2017, plus two foundations have been poured.
"Half of phase one has sold, and we've already started working on phase two, which will be another 18 lots. Phase three is in the works for the next year or two," he said.
Spilde's development also offers 1,900 square-foot spec homes that come with a price tag of around $177,000. They can be purchased as-is or custom built with varied floor plans and features.
"I have alternate floor plans for small, medium or large split-foyer or ranch style homes," he said.
Acting as the general contractor, he plans to keep building spec homes until the development is full.
Ready, set, grow
Spilde's development is the latest of three to sprout up in Aurora.
"Since 2008, we've added 130 new homes. That's almost double the number of structures in less than ten years," said Muller.
Although it's been mostly young families moving in, the city hasn't doubled in population.
"We're doing a wastewater study right now, and they are projecting us to reach about 760 people at the next Census," Muller said. "With the growth we're seeing from the housing developments right now, our lagoon will be at capacity. If they continue to expand, our lagoon will need to as well."
Luckily, Muller said, wastewater is the only utility service feeling the strain of growth. The city installed a new substation in 2015 with an upgraded capacity.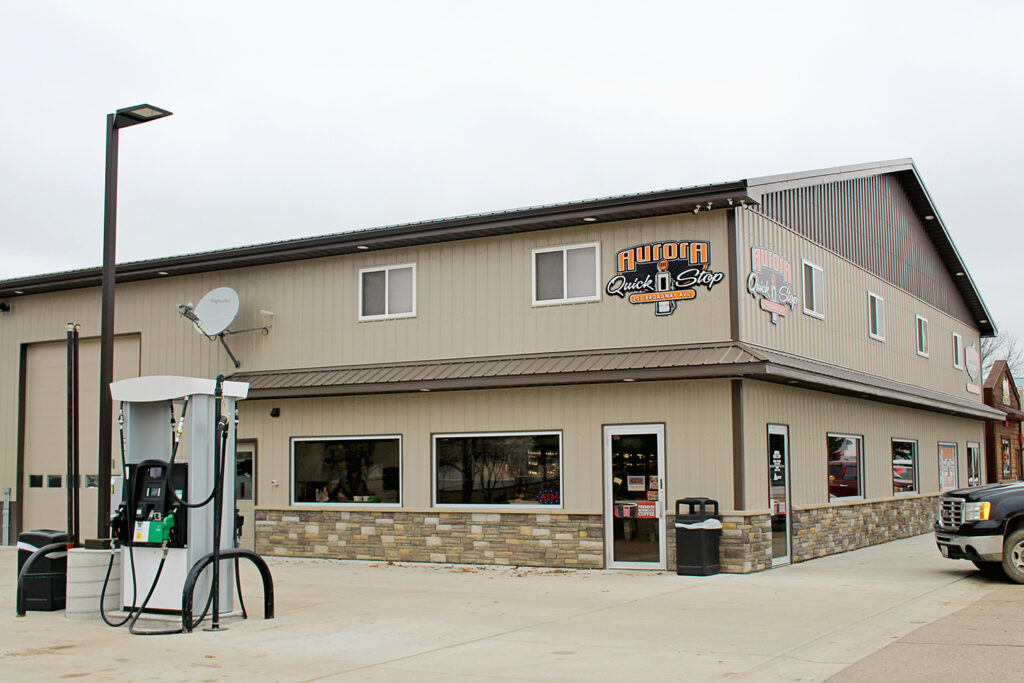 "It was sized appropriately, so electrical is not an issue and neither is water," he said.
He will continue to monitor the situation, though, as the boom in housing has trickled down to other aspects of life in Aurora.
Already home to an ethanol plant, Aurora will welcome a new oil extraction plant northwest of town in a few months.
Also in 2016, a new gas station and body shop opened on Main Street that also includes two second-floor apartments. Employing about ten people and offering fuel, light grocery and auto mechanic work, it has been a welcomed presence in a community that prides itself on convenience.
"After the old station closed in 2008, people used to blame that for the poor housing market," Muller said. "Now we've got this great Quick Stop plus affordable properties and family-friendly neighborhoods–I can't wait to see what will happen next."
The future starts today
In 2015, the city of Brookings established a task force to evaluate their local housing situation and the needs of low- and middle-income residents. Patty Bacon, chair of the Brookings Affordable Housing Tax Force, recently gave a public presentation to share some of the groups' findings and make recommendations.
According to Bacon, some experts say rent or mortgage should be 20-25% of a person's net income. In Brookings, that should come to about $823 a month on average.
But, Bacon says the average mortgage in Brookings exceeds $1,200 a month, and about half of all renters in the city spend 30% or more of their household income on rent.
While Brookings officials try to find solutions for affordable housing within their city limits, Spilde, Muller and others think living in Aurora is a viable option.
"People like small-town living," said Muller. "As long as Brookings keeps growing the way it is, I don't see us stopping."