A look back: 10 years of LEED
September 3, 2020
In 2010, Heartland commemorated the grand opening of its LEED headquarters with three days of special events.
We hosted state and federal dignitaries for tours and a reception with Heartland customers. We also welcomed the public for a ribbon cutting and grand opening.
We celebrated our achievement of earning LEED Platinum Certification, the highest honor in green building design. Ours was the first newly constructed building in South Dakota to achieve this honor–a footnote we still take pride in today.
We recently marked ten years at our headquarters. Learn more about our facility's green features and revisit favorite moments from the past decade.
Green design
LEED is administered by the U.S. Green Building Council. It is the nationally accepted benchmark for the design, construction and operation of high performance green buildings.
It recognizes performance in five key areas including sustainable site development, water savings, energy efficiency, materials selection and indoor environmental quality. Buildings earn credits within the five areas and obtain certification at Certified, Silver, Gold or Platinum levels.
Heartland's building earned 54 credits of the 52 required for Platinum certification.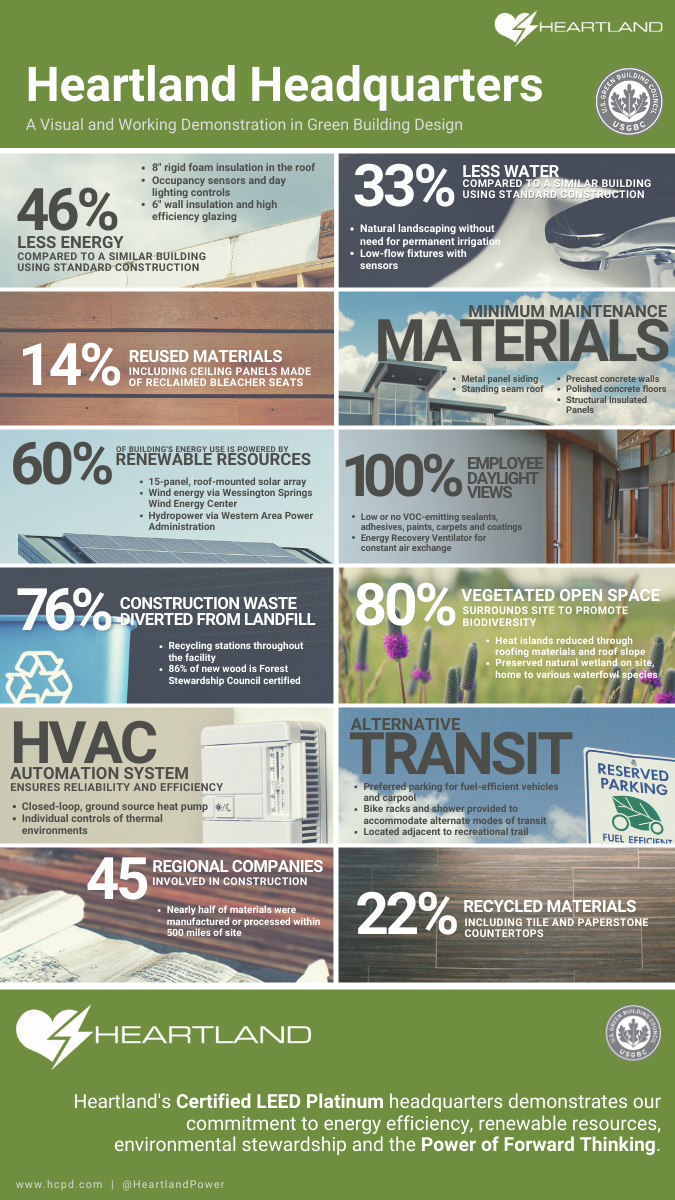 Gallery: The Grand Opening
Heartland's grand opening celebration kicked off with a tour and roundtable discussion with United States Senator Tim Johnson. The following day we hosted a private reception and dinner for customers with SD Lieutenant Governor Dennis Daugaard.
The celebration concluded with a public open house and ribbon cutting ceremony. Tours were given throughout the day and South Dakota State University President Dr. David L. Chicoine provided a keynote address.
"As an energy company, we felt it was important to build a facility that demonstrated our commitment to energy efficiency and environmental preservation," said Mike McDowell, then-Heartland General Manager. "We are proud of our investment in Madison and happy to continue to call this community home."
Facility worth showcasing
The building's unique features and bright, inviting space draws a lot of public interest. Since first opening our doors, we've welcomed many customers and community members for a variety of private and public events.
Our facility has also become an essential stop for local, state and federal leaders. We are honored to host delegates and guests of all stature.