Volunteer in your community for Public Power Day of Giving
May 2, 2015
Public power is defined by a commitment to community and the spirit of public service.  Each year, American Public Power Association (APPA) kicks off its National Conference by celebrating this commitment with the Public Power Day of Giving, where conference participants can donate a day to volunteer with local service organizations.  Friday, June 5, 2015 marks the 8th annual Public Power Day of Giving, and Heartland encourages our customer utilities to find volunteer opportunities within their own community in order to show appreciation and help people in need.
"A community service project is an excellent way to bring about change at a small, intimate level as well as demonstrate your commitment to the local quality of life," said Communications Manager Ann Hyland.  "The Public Power Day of Giving is the perfect opportunity for volunteers from your utility to clean up a local park, visit an elderly home or help spruce up a public building."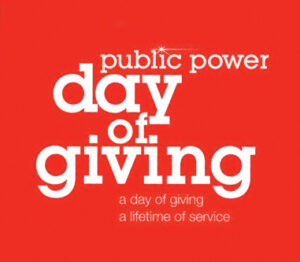 This year the APPA National Conference is being held in Minneapolis, Minnesota, and Day of Giving participants have the opportunity to help one of three local organizations.  Volunteers can opt to hand-pack meals for malnourished children for Feed My Starving Children, perform seasonal spruce-up, painting and building maintenance for women's and children's shelter Tubman, or plant gardens, mulch trees and pick up trash for the Minneapolis Parks Foundation.  In addition to engaging in a day of meaningful volunteer activities, participants get to spend the day meeting with other members of the national public power community, making lasting connections that will remain long after the conference.  For more information about APPA's Public Power Day of Giving opportunities, visit publicpower.org/events and navigate to the National Conference event page.
If your utility chooses to host a local Day of Giving, share your story with us and we'll feature it in our Customer Spotlight.  Send pictures and comments to ahyland@hcpd.com or call 605-256-6536.