Valentine creates vision for Main Street
November 1, 2018
State-led highway reconstruction evolves into Main Street redesign
A thriving business community exists in the heart of the Heart City in Nebraska.
Roughly 50 businesses make up Main Street, Valentine, offering everything from western wear to beauty products to furniture.
Already a source of community pride, downtown Valentine is slated to get a face lift thanks to an upcoming project by the Nebraska Department of Transportation (NDOT). After years of consideration, redesign and reconstruction of the city's existing stretch of road will begin in August 2020.
While NDOT will focus on the area's infrastructure, some citizens are using this project as an opportunity to improve the overall appearance, safety, cohesiveness and appeal of Main Street.
Beyond a concrete project
First poured in 1934, the city's main street is part of state Highway 83 and the second oldest concrete pavement in the state.
NDOT will replace the existing road with new concrete and curb and update or construct storm sewer, pedestrian facilities, as well as lighting and traffic signals as needed. The city promises to replace water and sewer mains during this time as well.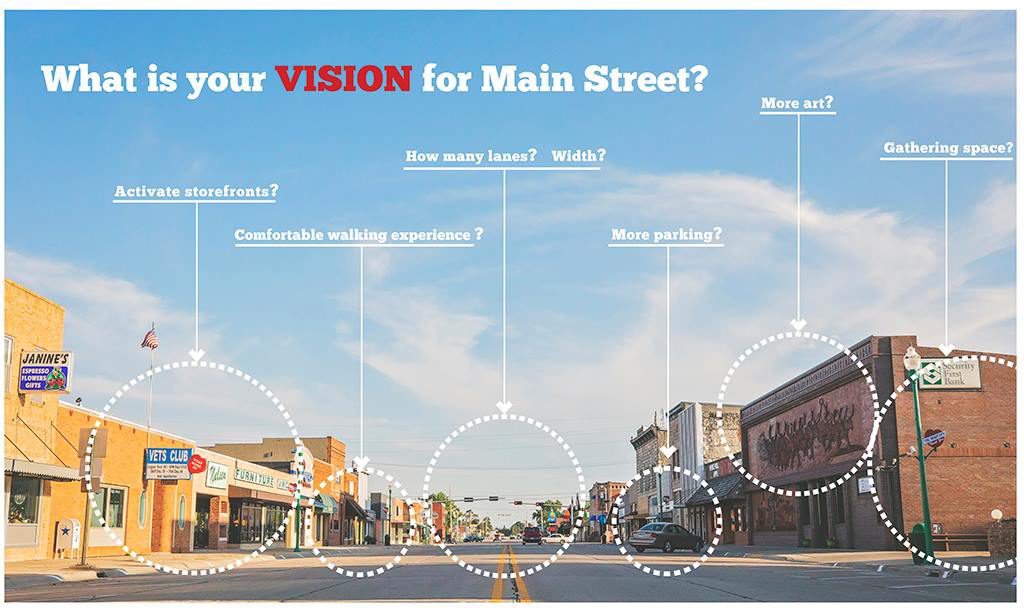 The improvement project expanded into something much larger when the University of Nebraska-Lincoln Extension Office and the Rural Futures Institute asked city leaders to participate in a rural communities initiative.
"UNL students conducted a service-learning project to develop a strategic plan in support of economic development and demographic renewal in Valentine," said City Manager Shane Siewert. "After conducting research, analysis and community engagement, the students came up with a Placemaking Framework Plan that included recommendations for Main Street."
Building on that early work and momentum, the project got another boost from the Citizens' Institute on Rural Design (CIRD), an initiative of the National Endowment for the Arts.
In April, CIRD announced Valentine as one of four communities picked to host rural design workshops for the 2018 program year.
According to CIRD, the workshops bring together local leaders, non-profits, community organizations and citizens to join rural planning and create placemaking professionals to craft solutions to their communities' design challenges.
Additionally, each awardee receives a $10,000 stipend to support the workshop and follow-up planning sessions as well as in-kind design expertise and technical assistance valued at $35,000.
Downtown fire adds unfortunate twist
Throughout the project's evolution, timing has proved important.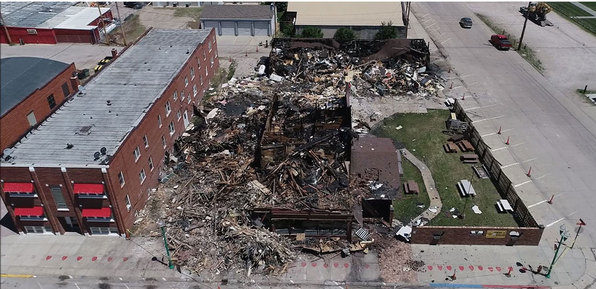 That never felt more true than a few short weeks after CIRD's announcement. A fire broke out in a downtown business in the early hours of June 2, completely destroying the building and displacing two businesses.
Assisted by departments from nearby communities, Valentine firefighters were able to contain the fire to the single building. One affected business owner hopes to re-open in a new location while the other already had plans to close but in a much different fashion.
The fire adds an unfortunate twist to the Main Street redesign project.
The L-shaped facility was quite large with storefronts on two adjoining streets. Now, its absence reverberates throughout the entire business district, leaving a giant hole in a busy intersection.
Transforming Main Street
CIRD aims to transform Main Street Valentine "from a state highway and thruway into a well-designed street that encourages passersby to linger and attracts residents to support local businesses."
Similarly, local leaders want the downtown district to enrich the entire tourist experience of Valentine and serve as a community anchor and destination for residents and visitors alike.
If successful, some believe the project may ultimately become a model for other communities to follow.
"A successful and vibrant Main Street is the crux of any community," said Heartland Director of Economic Development Casey Crabtree. "Many rural communities are looking to transform their main thoroughfares into bustling hubs of activity."
As the city's new wholesale electric power provider beginning in 2019, Heartland provided funding assistance for Valentine's Main Street project through its economic development grant program.
"Valentine is poised for growth. We believe the Main Street redesign will help stimulate long-term development and draw new residents and visitors to the area," added Crabtree.