Tyndall welcomes five businesses to Main Street
March 6, 2018
Salon, insurance broker, massage clinic, photographer and design studio open under one roof
After years of driving nearly 60 miles round trip to work, Krystal Williams of Tyndall, SD needed a change. A cosmetologist, Williams was renting a chair in a Yankton beauty salon when she made the decision to start her own business in her hometown.
"My initial intention was to construct a small building in Tyndall to house my own salon," Williams said. "But after visiting with others around town, the project evolved into something much larger."
Situated on Main Street and home to five independent businesses, the building depicts opportunity, growth, and what's possible when people forge partnerships and buy stock in themselves and their community.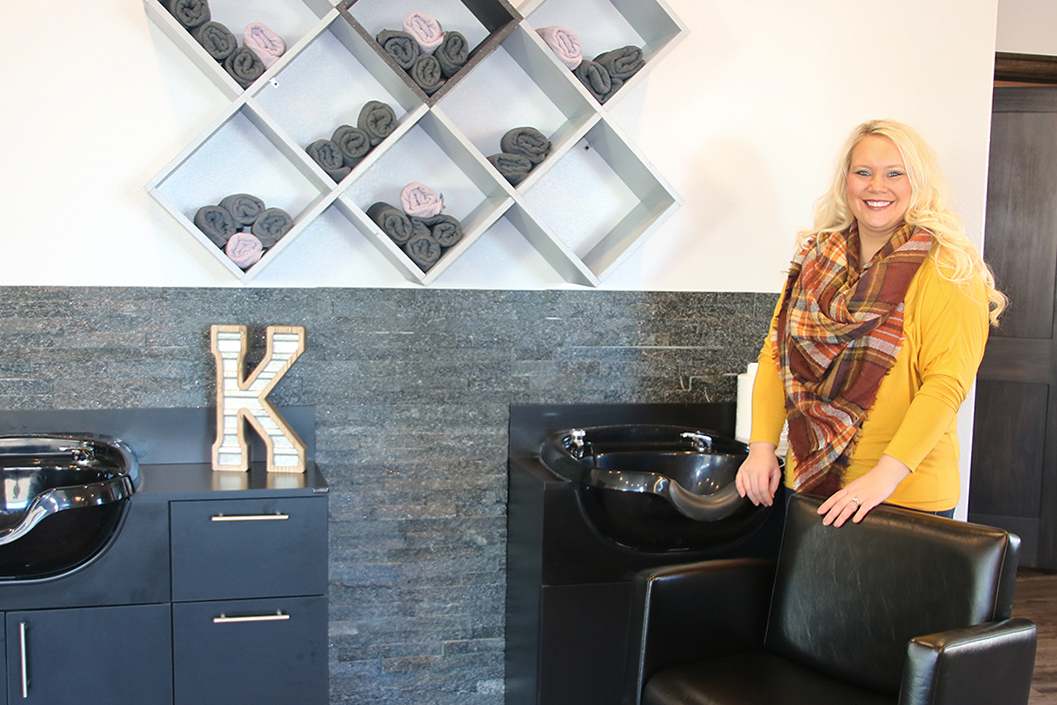 New building, new services
The new 2,500 square-foot building consists of a salon and three office spaces. Williams said three businesses had expressed interest in renting space in the new building before she even broke ground. As such, she and her contractor met with the business owners during construction to make sure their needs would be met.
Some of the occupants are simply moving to a new location in the area, while for others, it's their first presence in Tyndall.
Tyndall Massage Clinic is owned and operated by Karen Jelsma. Prior to moving into the new building, Jelsma worked out of her home as well as scheduled appointments at chiropractic clinics in Tyndall and Wagner. With the move, Jelsma can expand her services and techniques as well as sell a variety of soaps, lotions, essential oils and other products.
Freebird Photography LLC and Farmhouse Design Company share a studio and office space in the new building. It is the first retail location in Tyndall for both businesses, owned by sisters Dena Akridge and Shelby Kriz, respectively. Specializing in newborn, baby and family photography, Akridge also has a studio in Sioux Falls, SD. Graphic designer Kriz previously operated from her home for two years. The new location will allow both entrepreneurs to better accommodate their Tyndall-area clients for appointments and photography sessions.
Pickard Insurance Services has two employees and specializes in farm, auto and home insurance. Already an existing Tyndall business, the new location offers a bright, welcoming space for customers that is closer to the main business district.
Hair by Krystal is Williams' first solo venture after years of renting space from other salon owners. Currently the sole cosmetologist, the space allows her flexibility to offer a variety of services in a warm and inviting atmosphere. She also has the opportunity to rent a chair to another cosmetologist in the future.
Main Street revitalization
Williams' building is located on Main Street across from another relatively new building and local success story, Sandra Rose.
A full service bridal and retail shop, Sandra Rose first opened in Tyndall in 1996 in small two-story building. As the business grew, so did the inventory, and owners Sandra and Michael Slama upgraded to their current 5,400 square-foot facility in 2014.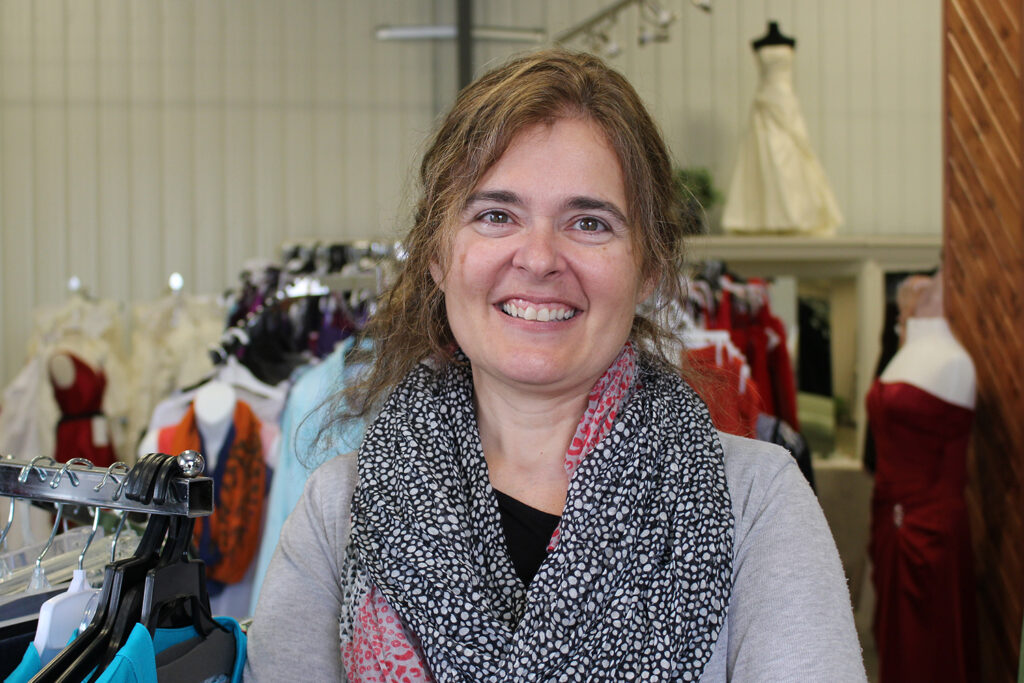 At the time, Sandra hoped her expansion "would help other local businesses," and even shared stories of being contacted by other potential business owners considering a move to Tyndall. Years later, she was one of the people encouraging Williams to open her own salon.
"We had several discussions early on," Slama said. "I remember telling her, 'we did it and we survived. You can do it too.'"
Today, Slama is happy for Williams and enthusiastic about the new shops.
"It's always great to welcome new businesses to your community," she said. "I'm also excited to see them across the street, because I think it will bring more action and foot traffic to our end of Main Street."
Even more intriguing is the prospect of working together with some of the newcomers to attract a particular type of customer: brides.
"Between our two buildings, a bride can find a dress, hair stylist and design and photography services," Slama said. "I'd love to work with them to see what we can do to make Tyndall more of a wedding planning destination."
Partner in development
A common denominator in the Sandra Rose and Williams stories is Heartland Consumers Power District, the city's wholesale power provider. Both Slama and Williams utilized low-interest financing through Heartland's revolving loan fund to construct their facilities.
The Heartland Economic development Loan Program (HELP) Fund fosters growth and development within its customer communities. Financing is awarded to projects involving business ownership and expansion, job creation and retention, and entrepreneurial endeavors.
"We want to see our customers succeed, and one way we can contribute is by helping local businesses," said Heartland Director of Economic Development Casey Crabtree. "Through the HELP Fund, we can offer favorable terms and partner with local lending institutions to spur development and create jobs. Plus, because the fund is revolving, every dollar earned in interest can be put back to work for future projects."
The HELP Fund utilizes money from USDA Rural Development. With interest rates typically one to one and a half points lower than traditional rates and loan terms designed to make businesses successful, it is a valuable and affordable option for new and expanding businesses.
"With the HELP Fund in place, I can focus on growing my business and serving customers," said Williams.
Inspired investment
Williams celebrated a grand opening for her building and salon in early February and has a bright outlook for the future.
"The response from the community has been great. I already had steady clientele, but have gained many more clients since opening," she said. "Many people are impressed with the building and also are excited to have a new business in town."
Crabtree believes that local support will continue because the project means more than a singular business venture.
"This project became a chance to create opportunity for not just one, but many," he said. "It started because one person wanted to work closer to home, but it found success because several people decided to make an investment in their community."
Crabtree said as long as entrepreneurs are willing to take that leap, Heartland will be ready to help.