Two Heartland employees earn service awards
June 1, 2016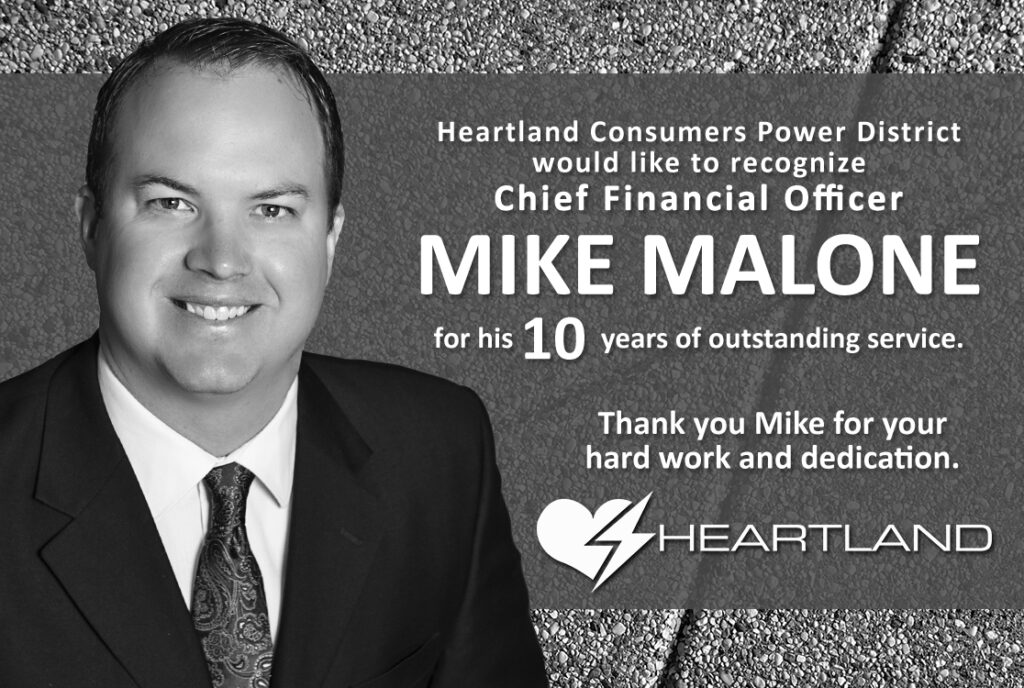 Mike Malone joined Heartland in May of 2006 as financial operations manager after previously working for the South Dakota Division of Banking. After earning his CPA license in 2010, Malone was named Chief Financial Officer.
"Mike is a great asset to Heartland and we're lucky he has chosen to stay with us for the past decade," said Heartland CEO Russell Olson. "He is diligent, prudent and fiscally responsible – all incredibly valuable qualities in his position and for which our company and our customers benefit."
In his position, Malone focuses on financial forecasting, financial analysis and budgeting.
"The past ten years have provided a series of challenges in my career," said Malone. "The industry is constantly changing which provides for a lot of variety in the work day and that's what I like about Heartland."
Heartland's recent transition into the Southwest Power Pool was one of those challenges.
"Moving into a Regional Transmission Organization was a new adventure for all of us. There was no road map to rely on so we learned as we went. Operating within SPP requires us to look at our financials a bit differently as we try to maximize our return on our transmission investments and minimize our costs within SPP. There were a lot of unknowns when we started the process but now we are more confident in our transmission rate filing, the on-going processes, and that joining SPP provided Heartland the greatest opportunity for our investments."
Over the past several years, Malone has been focusing on Heartland's financial targets in an effort to increase the company's credit rating. In 2015, Fitch awarded Heartland a rating of A- with a stable outlook and last month, Moody's increased Heartland's rating from Baa1 to A3 with a stable outlook.
"Increasing a company's credit rating isn't an easy or fast process. It takes persistence and sometimes tough decisions are made along the way. Our credit rating is important for a variety of reasons and in the end, a higher rating benefits Heartland and our customers."
Malone also serves as the finance committee chairperson of PPGA, the agency established to construct and operate Whelan Energy Center Unit 2. He serves on the board of directors for the Lake Area Improvement Corporation and GROW South Dakota.
A native of Lake Preston, SD, Malone graduated from South Dakota State University with a degree in Economics and a minor in Accounting. He earned his Master's degree in Business Administration with an option in Management Information Systems from the University of South Dakota. Malone and his wife April live near Madison with their three daughters, Ella, 7, Caitlyn and Alivia, both 4.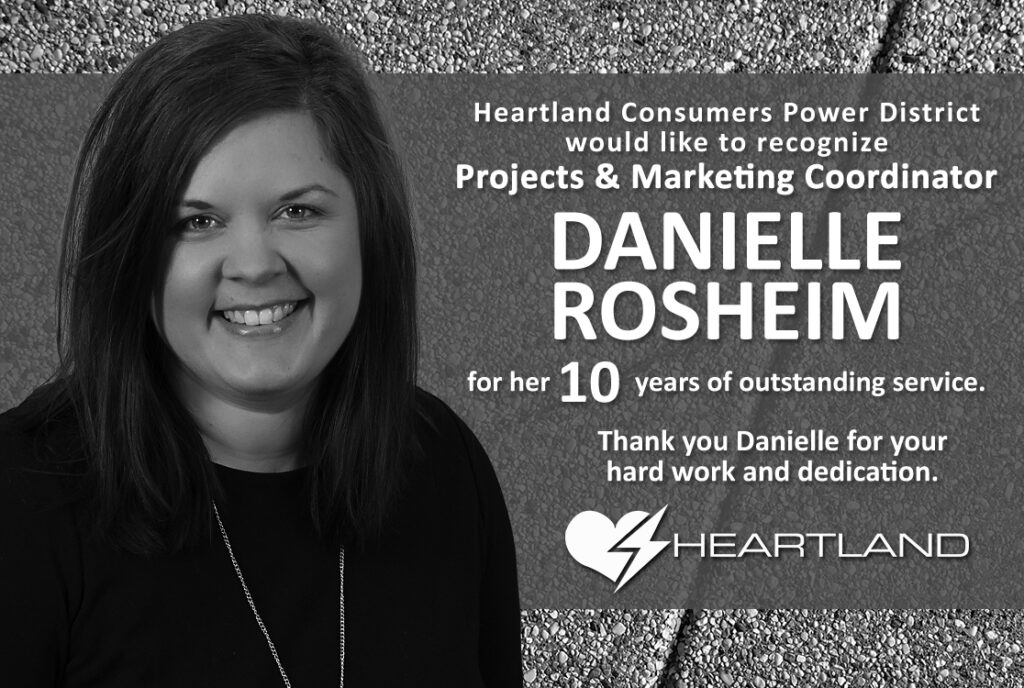 Danielle Rosheim also started working at Heartland in May of 2006, shortly after graduating from Dakota State University in Madison with Bachelor of Science degrees in English for Information Systems and Computer Graphic Design.  She began as a Special Projects Intern to create city profile books for Heartland customers and was hired full-time in August of that year.
"Danielle has been a strong asset to Heartland over the years," said Olson. "She makes our customer events look easy even though there is a lot of planning that goes into them. She also does a great job keeping Heartland's image modern and our web presence relevant."
As projects and marketing coordinator, Rosheim is responsible for managing Heartland's social media accounts, website and newsroom, creating advertisements and marketing pieces, helping plan customer events, records management, photography and other tasks.
"Ten years with Heartland has flown by, most likely because I really enjoy my job," said Rosheim. "Planning customer events can be hectic, but when they run smoothly and are both informative and fun, it is really rewarding."
Rosheim works to stay on top of the latest technology trends and updates. She is currently working to incorporate more video into Heartland's online presence.
"As we learned at our recently held Annual Meeting, social media is the latest must-use form of communication and video has increased in popularity. It's important for Heartland and our customers to learn and utilize the latest means of communication because if the rest of the industry is moving in that direction, we don't want to be left behind."
Rosheim has also been working to make Heartland, our customers and public power in general more relatable. She recently implemented a "Public Power is Good for Business" feature in the monthly newsletter which showcases successful businesses in Heartland's customer communities. She has also been compiling a collection of photographs from customer communities.
"Not only do I enjoy getting out and visiting customers and taking photographs of their utilities, staff and cities, I'd much rather use those images on our website and in our promotional materials than stock images. It's important to associate real-life faces with Heartland and our customers."
Rosheim, originally from Flandreau, SD, lives near Madison with her fiancé Josh Kearin and their son Conor who will turn 1 in June. In her free time she pursues her part-time photography business, Striped Banana, and enjoys outdoor activities as well as home improvement projects.