The Front Porch unifies Langford region as founders and patrons
June 1, 2016
After years of witnessing loss of local businesses, a small group of residents in Langford, SD joined together under one common goal: to improve their community and revive their Main Street through the creation of a new business and gathering space. Acting as local incorporators, the residents formed a property management group and The Front Porch project began. After several more years of planning, securing investors, and construction, the 5,000 square-foot facility opened downtown in 2015. It houses four new businesses, including a restaurant and bar, and can be linked to more than 40 local jobs. As the building prepares to mark its one-year anniversary, project officials reflect on their small-town success and what it took to get there.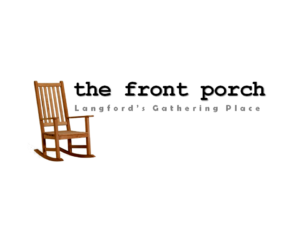 The idea for The Front Porch generated in 2011 from the belief that every rural community needs a gathering place–somewhere you can meet for morning coffee, dine with your family, relax after work or gather together after local sporting events. At the time, Langford, population 316, was lacking such place, and had also seen its share of ups and downs in previous years. Although the community had welcomed a new gas station and convenience store, and the school's enrollment was steadily increasing, the local grocery store closed, many Main Street buildings were demolished and the long-standing bar and restaurant owner passed away. Some residents felt the need to fill a void.
A vision was formed by eight volunteers to engage local investors to construct a Main Street center with the purpose of creating new business, jobs and a community gathering space. They spent the next two years drawing out plans and handling legalities, and in 2013, Langford Main Street Center, Inc. was created.
"We understood that as a community, we needed to take responsibility for our issues," said Paula Jensen, vice president of Langford Main Street Center, Inc. "We knew people weren't going to come in and invest in our Main Street for us. If somebody was going to fix it, it had to be us."
Heartland Consumers Power District supported the early vision work by providing a $1,000 economic development grant to help the project move forward. Next, a community leadership team helped pull together more funding sources to make the project a reality. Half of the funding came from an extensive financial package that included loans from Heartland and GROW South Dakota, and $250,000 in construction financing and a $50,000 working capital line of credit from First State Bank of Claremont. The remaining capital came from cash donations and stock purchases.
"What's impressive is half of our capital came from the community," said Jensen. "We have about 110 investors from within the community and surrounding area. That means we had 110 built-in customers from the start–110 people who would want their friends, family and neighbors to experience The Front Porch because they have ownership in it and want to see it succeed. If one-third of your population wants to see something succeed, my guess is the chances that it will are much higher."
As the planning phase ended and construction began, the facility took on a new name.
"We held a local contest to name the restaurant and bar, and one of the entries was The Front Porch, " said Jensen. "At home, the front porch is a place of comfort, a place to relax, and it is where friends meet, so we thought that name fit perfectly for the entire facility."
Construction lasted about 8 months, and in July of 2015 the building was officially open for business. Today, it is home to the Front Porch Bar & Grille, Hair Salon 13, Northeast Chiropractic and GROW South Dakota. It has created and retained more than 40 jobs and dramatically increased the local tax revenue. It engages the local youth by offering part-time employment and indoor recreation.
"It has revived our community and our Main Street, and continues to draw investors," said Jensen. "This building has become a social network of sorts where people are truly gathering to celebrate birthdays, anniversaries and other special occasions. It is a social gathering space that we didn't have before, and it's drawing people from all over the region, not just the city of Langford."
Jensen said far-reaching appeal is a crucial aspect of The Front Porch. As president of the board for Glacial Lakes Area Development, the regional economic development organization serving Langford and the greater Marshall County area of South Dakota, she recognizes the importance of "building the larger community."
"At GLAD we have a philosophy: what's good for Britton is good for Langford, and what's good for Langford is good for Eden, and so on. This means something successful in my community will create a ripple effect that pours out to other areas in the region," she said. "We all know it's difficult for small towns to survive on their own. To thrive, we have to support each other."
The unique building also serves as a history piece. The walls are adorned with photos, relics and original art sharing the history of Langford and the surrounding area.
"It is really impactful to have people from outside your community or former residents visit and see our story — their legacies — displayed on the walls. I find it very moving," she said.
Most of the historic pieces are replicas of items donated by residents, and the displays are regularly updated. Like the building itself, the artwork helps create a sense of community pride.
"When Langford celebrated its 125th anniversary a few years ago, our theme was 'Where Your Story Began,' and that idea carried over into The Front Porch," said Jensen. "Not only does this building showcase stories from the past, but it also serves as a place for new stories to begin."
The Front Porch will mark its one-year anniversary during Langford's Summer Fest July 30-31. This year's event has also been designated as an All-Alumni Weekend, which encourages Langford High School alumni to return home and unite in celebration every five years. Appropriately, The Front Porch has been designated as one of the event's official gathering spots.
*Public Power is Good for Business is a quarterly section highlighting successful businesses located in our customer communities. Public power communities help foster prosperity and growth by offering reliable electric service at low rates.