Summer interns help with operations, economic development projects
June 1, 2016
Heartland is excited to welcome two interns to our office this summer. With a variety of projects to tackle, they look forward to a busy few months learning about the industry.
---
Heather Ahlgrim of Brookings, SD joined Heartland May 9 as Operations Engineering Intern. An electrical engineering major at South Dakota State University, Heather has experience as a student technician and teaching assistant for her school's Electrical Engineering and Computer Science departments. During her internship, she will take on a number of operations projects, ranging from creating electric diagrams and visiting customers to analyzing market data.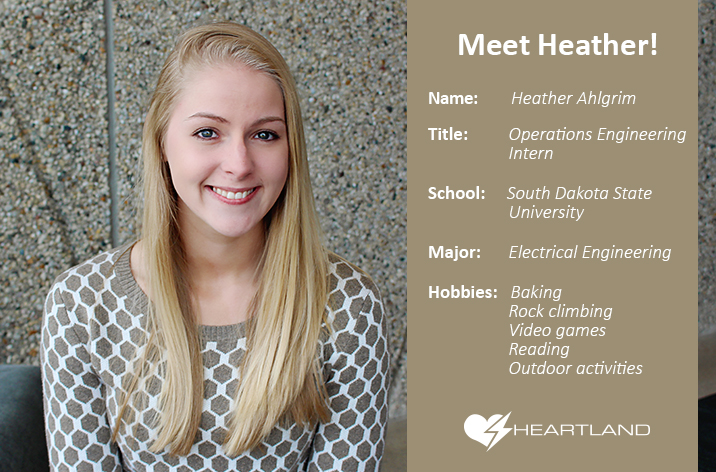 "Heather's experience makes her a terrific candidate for the projects we have planned," said Heartland Director of Power Supply Adam Graff. "In addition to the work she'll complete, we hope she gains a better understanding of the power industry and will be encouraged to remain in the field after completing her studies."
Heather's first project is updating and creating one-line diagrams of Heartland's customers' delivery points, substations and metering equipment. This includes reading and analyzing all customer contracts to determine what information is missing or out-of-date as well as making visits to customer communities.
"This project benefits us as well as our customers," said Graff. "We reference these diagrams when we work on contracts and wheeling agreements, so the information must be accurate and complete. However, these diagrams can also help those customers unfamiliar with electric systems better understand how their power is delivered."
Heather has also found the experience beneficial and can relate some of it directly to her schooling.
"It's really interesting reading the contracts and figuring out how the cities are connected," she said. "At school, you learn how SDSU gets its power, for example, but now I can apply it to real life situations so it's easier to understand."
A portion of Heather's work stems from Heartland's recent integration into the Southwest Power Pool. Because the switch to SPP changed some billing procedures and other daily operations, she will build a database for customer transmission billing as well as analyze data and create summaries to increase Heartland's market optimizations.
Heather chose to study electrical engineering because of her interest in math and science, and was influenced by her mom, who is an electrical engineering technician. Although she doesn't have any careers in mind at this time, she enjoys the design aspect of electrical engineering and has experience building circuits and designing robots.
Heather will be a junior at SDSU in the fall and expects to graduate in May of 2018. She is a member of SDSU's Society of Women Engineers, the Student Advisory Council, the Industry Advisory Board, Institute of Electrical and Electronics Engineers and BEST Robotics–Boosting Engineering, Science and Technology. In her free time, she enjoys baking, exercising, rock climbing, reading, playing video games and spending time outdoors.
---
Coley Stoller of Madison, SD will join Heartland June 6 as Customer Research Intern. An Accounting and Business Administration double-major at Augustana University in Sioux Falls, SD, Coley has experience tutoring students in accounting and assisting with document management. During her internship, she will be responsible for researching economic factors in Heartland's customer communities as well as surrounding communities.
"I am looking forward to learning more about Heartland, including who and what they provide for," said Coley. "I am excited to be challenged and help Heartland grow and improve communication with their customers."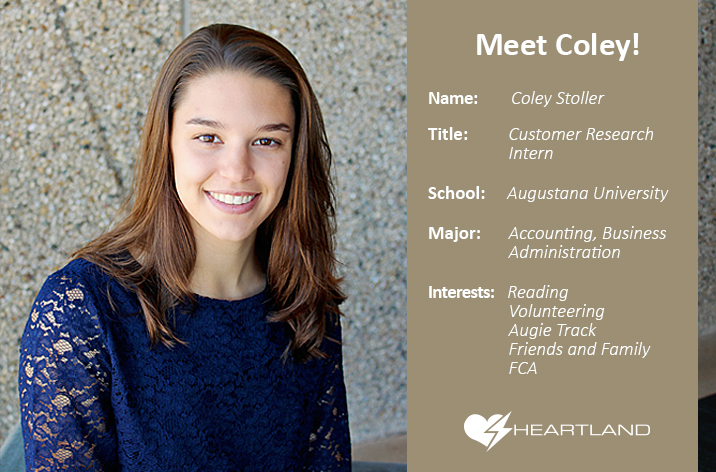 The ultimate goal of Coley's internship is to provide meaningful comparisons between Heartland's customers and other communities to determine each customer's strengths and weaknesses when it comes to growth and expansion. Based on research collected, an individualized economic development strategy will be created for each customer community.
"Coley's accounting background make her a good fit for this project," said Heartland Communications Manager Ann Hyland. "This research requires someone who is detail oriented and can look at a set of figures and make sense of them including drawing comparisons and noting correlations. This should provide some valuable information for our customers."
Coley will be a junior at Augustana this fall with plans to eventually apply to the Masters program and graduate in May of 2019. After graduation, she hopes to work for one of the major public accounting firms in the area.
"I love the organizational aspect of accounting," said Coley. "I love the business atmosphere and interacting with so many different types of people."
Heartland applied for and was awarded funding through the American Public Power Association's DEED (Demonstration of Energy & Efficiency Developments) Program for the internship. DEED awards scholarships to provide work experience to students at utilities and to support research projects that can be emulated by other utilities.
Coley is a member of the Augustana track team and participates in triple jump. She is also a member of FCA Huddle and is active in the volunteer group SALT–Serving and Learning Together. Through SALT she has been able to volunteer on campus and participate in numerous projects, such as helping out at a local homeless shelter, shopping for and providing holiday gifts for parents for their children through the Salvation Army, and creating scrapbooks for foster children. In her free time, she enjoys reading and spending time with friends, family and track teammates.