Support flood recovery
April 1, 2019
Disaster relief funds established
A bomb cyclone hit much of the central United States mid-March, bringing with it dangerous winds and dumping inches of rain and snow on residents across the Midwest.
In the aftermath, many communities are dealing with historic flooding, including some Heartland customers. As recovery and relief efforts continue, businesses and organizations across the region are finding ways to give back.
Nebraska Strong
Nebraska has 79,056 miles of river, more than any other state. Within days of the bomb cyclone, 80% of the state was declared a disaster area and thousands of residents were displaced due to flooding.
Nebraska Farm Bureau established a Disaster Relief Fund with 100% of the donations to be distributed to farmers, ranchers and rural communities affected by the disaster. Checks can be made out to Nebraska Farm Bureau Foundation and mailed to Nebraska Farm Bureau Foundation, Attn: Disaster Relief Fund, PO Box 80299, Lincoln, NE 68501-0299
Verizon customers can donate to American Red Cross flood relief. Text REDCROSS to 90999 and $10 will be added to your Verizon bill after confirmation with your zip code. The company is also making a $10,000 donation to the Red Cross, which has been operating shelters in Nebraska and southwest Iowa since the flooding.
United Way of the Midlands has established the Nebraska & Iowa Flood Relief Fund to help people who lost homes or suffered other setbacks during the recent flooding. Text FLOODRELIEF to 41444 or visit unitedwaymidlands.org/floodrelief.
First National Bank of Omaha and the Nebraska Community Foundation have partnered to establish the Rebuild the Heartland Community Fund. All contributions will be used to support recovery efforts in Nebraska, western Iowa and southeastern South Dakota.
South Dakota Grit
Much of southeast South Dakota has also found itself under water. On March 15, Governor Kristi Noem issued an emergency declaration to allow use of special funds for rebuilding communities impacted by the storms. Recently she commended residents for their grit and resiliency in facing the storms.
Sioux Falls is one city facing historic water levels. Flood waters consumed a number of public parks and forced dozens of road closures around the city and beyond. The damage drew visits from Governor Noem as well as
U.S. Senators Mike Rounds and John Thune and U.S. Representative Dusty Johnson.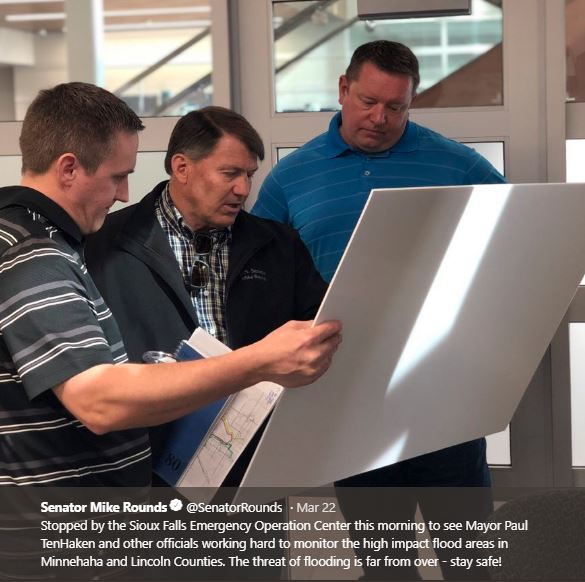 To assist residents impacted by the storm, the Sioux Falls Area Community Foundation established a Flood Recovery Fund. Gifts can be made online or mailed to the Community Foundation at 200 N. Cherapa Place, Sioux Falls, SD 57103. Checks can be made payable to SFACF – Flood Recovery Fund.
Additionally, volunteers and those seeking aid are encouraged to call the 211 Helpline to be connected with resources.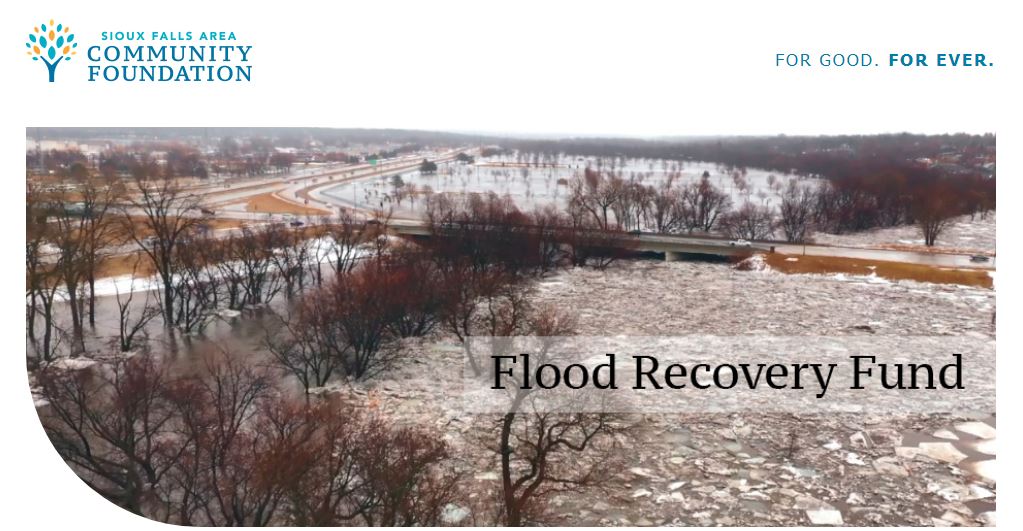 Donations can also be made to the Salvation Army's Western Division to assist with the organization's flood relief efforts from South Dakota to southwest Iowa. Volunteers have already worked over 3,000 hours providing assistance along a 300-mile corridor from Watertown, South Dakota to Fremont County, Iowa. Visit www.salarmyomaha.org and click Donate Now.